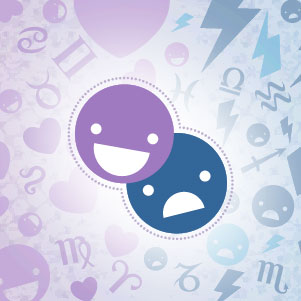 The week starts off with a nonchalant trine between the Sun and Uranus: do the unexpected, take risks, and have fun! Tuesday's Full Moon is opposite Saturn, urging us to leave behind constrictive attitudes and people that are holding us back from being our true selves. All in all, this is a great week to express individuality and buck convention.
Here is a general overview of this week's energy, valid for all. Hearts and Hates for your sign follow below!
♥ Everybody cut footloose
Embrace adventure and spontaneity on Monday when a shining Sun trines renegade Uranus, both in Fire signs.
☹ Beware the blob
At the Full Moon on Tuesday it may be time to move on from people that drain the joy from life, although it could be difficult as they are so clingy and co-dependent.
Your sign's Hearts & Hates Weekly Horoscope:
Aries Horoscope (March 21 - April 19)
♥ Free to be, you and me
Unleash your personality on the world, instead of allowing the universe to impose its outdated restrictions on you.
☹ We need to talk
There are some difficult conversations you have been putting off; you can't sweep things under the rug forever, so talk things out on Tuesday.
Taurus Horoscope (April 20 - May 20)
♥ Finance your dreams
If you have a project you have been tinkering on in secret, Monday is an excellent day to ask for a loan or grant to get it off the ground.
☹ Financial planning
Hard work alone will not solve your economic austerity. You need to make a long-term plan to get things under control.
Gemini Horoscope (May 21 - June 20)
♥ Right under your nose
You could find intoxicating, free-spirited love among your friendship group on Monday. If you have been secretly crushing on someone, perhaps it is time to let them know.
☹ Not too late for goodbye
If you feel trapped by a conservative, restrictive, or demanding romantic partner, nothing you can do will make them change. What you can do, however, is move on.
Cancer Horoscope (June 21 - July 22)
♥ Professional cheerleader
Your sunny disposition and supportive nature can be the secret to success and advancement at the office.
☹ Time for healing
If you are feeling run down and worn out, seek professional help, as well as looking inward in order to deal with emotional causes for your energy depletion.
Leo Horoscope (July 23 - Aug. 22)
♥ New horizons in love
Looking beyond your normal, everyday surroundings could bring exciting love into your life. Monday is a 5-star day for a date or to seek out someone new.
☹ Stealing your mojo
Needy or judgmental friends could be sucking your energy away from romance, as well as making you appear more serious than you really are. Distance yourself from emotional vampires, so that your sunny, passionate nature can shine through and attract a proper suitor.
Virgo Horoscope (Aug. 23 - Sept. 22)
♥ Home birth
If you would like to do repairs or improvements around the house, or search for or make an offer on a new place, Monday is an excellent day to deal with domestic finances.
☹ Step away from the computer
You may need to take some of your focus off work on Tuesday, in order to deal with family issues.
Libra Horoscope (Sept. 23 - Oct. 22)
♥ Pop the question
If you would like to ask that special someone out on a date or for their hand in marriage, Monday is an auspicious time for romantic dialogue.
☹ Back to reality
It is time to take your head out of the clouds and clean up your own backyard, before charting your course to bedazzle the world at large.
Scorpio Horoscope (Oct. 23 - Nov. 21)
♥ Temp work
There are a lot of job opportunities for the holidays that could lead to boost in income. Monday is an excellent day to look for seasonal work.
☹ Stop worrying about the future
Your concerns about long-term finances are actually keeping you from focusing on making money in the here and now. Focus on getting a stable income, and the rest will work itself out.
Sagittarius Horoscope (Nov. 22 - Dec. 21)
♥ Flirt it up
Your magnetism is on fire on Monday, attracting a slew of admirers into your orbit. Don't be afraid to strike up a spontaneous conversation or ask someone out on a date.
☹ Put yourself first
You may need to block out the needs of your romantic partner in order to deal with the overwhelming amount of problems you need to sort out in your own life.
Capricorn Horoscope (Dec. 22 - Jan. 19)
♥ Happy house
Spend as much time as possible with family or snuggling up at home on Monday; it will recharge your batteries and lighten your moody spirits.
☹ Mind over matter
Feelings of physical weariness could be the manifestation of psychological unrest. If you need counseling, Tuesday is an excellent day for treatment.
Aquarius Horoscope (Jan. 20 - Feb. 18)
♥ Friend request
Monday is an excellent day for spontaneous outings or online chats with friends. You could meet new, interesting people through existing connections, so don't be afraid to reach out.
☹ Honey, I'm not home
You may have grown alienated from old friends recently. In order to reconnect, make time for them by stepping out of your couple bubble.
Pisces Horoscope (Feb. 19 - March 20)
♥ Ready to pounce
Monday is an excellent day to negotiate work-related deals, go on a job interview, or seek out new career opportunities. Opportunities could come from unlikely sources, so keep your ears open.
☹ Hello, yellow brick road
There's no place like home ... except the office, which is where you must place all your energy in order to advance to the Emerald City, leaving family members feeling left out and upset.