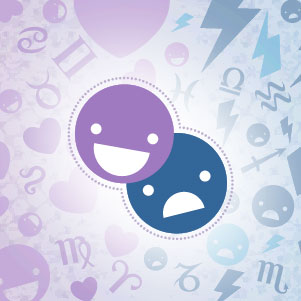 Here are the best and worst days this week! To find out what this week will bring you personally, keep reading for YOUR sign's Heart and Hate Horoscope.
♥ Thursday: The power of love
Compassionate Venus sends an empathic sextile to intense Pluto. There is a feeling of destiny and fate in the air Thursday, making it an ideal moment to seek out like-minded souls, forge alliances, or go on a date.
☹ Saturday & Sunday: Control freaks vs. freedom fighters
Manipulative game-players who try to gain control through bullying and tradition will clash with bohemian free-spirits who desire change at any cost.
Your sign's Hearts & Hates Weekly Horoscope:
Aries Horoscope (March 21 - April 19)
♥ Smooth operator
You will be able to command attention, money, and investments in your professional life this week. Your commanding presence will mask any uncertainty you feel as you go after your dreams.
☹ Work overload
You have so much going on career-wise that you may feel exhausted and stressed out. Stay focused in order to make the most of this auspicious moment.
Taurus Horoscope (April 20 - May 20)
♥ Forge closeness
Instead of chains that bind, you can create strong connections with friends and lovers that are based on shared mental and spiritual interests.
☹ Needy no-no
Your emotional openness may come off as clinginess to a romantic partner with an independent streak. If this is a new relationship, enjoy the moment without bringing too many heavy feelings into play too soon.
Gemini Horoscope (May 21 - June 20)
♥ Strategize your way to a dream job
You could sell ice to Inuits on Monday when charismatic Mercury in your investment zone sextiles fairy-tale Neptune in your career sector. If you are looking for financing for a project, now is the time to make your pitch.
☹ Choose sides carefully
You may be siding with your lover against demanding family members. If so, are you sure you want to throw your lifelong relatives under the bus for the love of your partner?
Cancer Horoscope (June 21 - July 22)
♥ Lost in love
If you have an eye on a romantic prospect, the web you weave now could ensnare a long-term partner. If you are already in a relationship, renew the romance through getting out and doing new things.
☹ Work-love imbalance
Crazy hours at the workplace could lead to arguments with a sweetie on Monday and again at the weekend. You have a chance to solidify your success, so learn how to juggle your time.
Leo Horoscope (July 23 - Aug. 22)
♥ Busy as a bee gathering honey
Hard work will give you a sense of accomplishment, as well as the financial ability to share your bountiful gains with your family and those closest to you.
☹ Planes, trains and automobiles
Holiday travel could cause you nothing but headaches -- quite literally. Refrain from driving while under the influence or when extremely tired, as you could be exceedingly accident-prone on Sunday.
Virgo Horoscope (Aug. 23 - Sept. 22)
♥ Just called to say I love you
Monday and Thursday are extremely positive days for courtly, poetic romance. Compose a love poem or write a song, or just come out say it -- use words to profess the depth of your feelings to your sweetie.
☹ Don't let the perfect be the enemy of the good
You are the most perfectionist sign out there, and your fear of performing like a porn star may keep you from performing at all. Realize that love and intimacy in the bedroom are about a lot more than daring do.
Libra Horoscope (Sept. 23 - Oct. 22)
♥ Spoiler alert
Colleagues will be there for support, or to lend a helping hand in workplace duties. Family members, as well, will offer financial assistance or some plain old kitchen-table guidance, if needed.
☹ Loose lips sink ships
Your need to express every little thing that is going on inside of your inner psyche could lead to over-sharing on Monday; instead of connecting with people through empathy, you could come off as narcissistic and self-absorbed.
Scorpio Horoscope (Oct. 23 - Nov. 21)
♥ Let your love flow
Your heart is bursting with compassion and romance, so make sure you let the object of your desire know how you truly feel on Monday and Thursday.
☹ The Grinch Who Stole Christmas
It's the holiday season again: the parties, the shopping, the exchanging of gifts, the Secret Santa grab bags -- and the added expenses for these frivolities. While you enjoy socializing, you say bah humbug to yuletide expenses.
Sagittarius Horoscope (Nov. 22 - Dec. 21)
♥ Cozy nest
Spending quality time with family will boost your feelings of self-esteem on Monday, something you desperately need in this time of stress.
☹ Can't bring it in fast enough
You are struggling to keep up with all the opportunities flying your way at work, but, still, you can't make money fast enough to keep up with the needs of high-maintenance lovers and spoiled (but adorable) children.
Capricorn Horoscope (Dec. 22 - Jan. 19)
♥ Leader of the pack
Your friends are more than willing to take the backseat this holiday season and let you organize social outings. Companions will also look to you for strength and as an example of right-minded behavior.
☹ Freedom vs. stability
Externally, you are pining for a more inspiring and free-flowing life, yet deep down you are still the same old Capricorn who grasps to conservative values. You want complete independence and security at the same time. Good luck with that.
Aquarius Horoscope (Jan. 20 - Feb. 18)
♥ Corporate coquette
You will be able to charm the socks off anyone that crosses your path in your professional life, leading to a possible boost in earnings on Monday or Thursday.
☹ Binge and splurge
With the festive Sun in your social sector squaring charge-it-up Jupiter in your debt zone, you could easily overdo it when it comes to excessive spending on Monday.
Pisces Horoscope (Feb. 19 - March 20)
♥ Meeting of the hearts and minds
Try to widen your friendship group by meeting like-minded people with similar interests -- sign up for a course or lecture.
☹ Beware the green-eyed monster
Dwelling on the haves could soon turn you into a have-not. Your envy of your friends' material success could have you heedlessly spending in order to keep up.