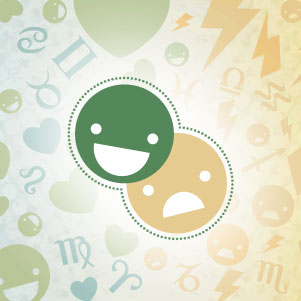 If you are sending out packages for Christmas, you may want to make sure they are tracked, as Mercury turns retrograde on Monday, which could cause mix-ups in mailing. Leave yourself extra time for holiday travel, and be prepared for delays.
On a better note, the skies are sending a Santa's sack filled with positive vibes, from Saturn trine Uranus on Christmas Eve -- which would transform the grumpiest Scrooge into a bundle of cheer -- to a super joyful Venus-Jupiter trine on Christmas Day. Happy holidays!
Here is a general overview of this week's energy, valid for all. Hearts and Hates for your sign follow below!
♥ Comfort and joy
People will easily let bygones be bygones and get into the Christmas spirit. Use the holiday as an excuse to reach out and bury the hatchet with anyone that may have slipped out of your life.
☹ Ball of confusion
Mercury turns retrograde on Monday and through the beginning of January, which can cause crossed wires in communication and headaches when traveling. Be slow and methodical when mailing to make sure you don't make a minor mistake that could slow down your delivery.
Your sign's Hearts & Hates Weekly Horoscope:
Aries Horoscope (March 21 - April 19)
♥ Snuggled up in love
A bounty of good tidings from friends and your romantic partner will help you break free from feelings of existential confinement and stagnation.
☹ Do it right the first time
Rushing through work in order to finish up for the holidays could only cause mistakes that end up eating away your time.
Taurus Horoscope (April 20 - May 20)
♥ Enough for presents
With a little ingenuity, you will be able to come up with the money to buy your loved ones items for under the tree without putting a serious dent in your savings.
☹ Lump of coal
If you've been naughty this year, the universe is gifting you with Mercury Retrograde in your travel sector. You may encounter delays, overbookings, or traffic when traveling, so be prepared and patient.
Gemini Horoscope (May 21 - June 20)
♥ Back to love
Getting your lover out to holiday parties with friends and acquaintances could loosen them up and bring you closer together. If you are single, you have a good chance of meeting someone while on holiday travels.
☹ Cash only
If you pay for presents and parties with credit, you could mindlessly overdo it, leading to debt in the New Year. Use cash so you can keep tabs on your expenditures.
Cancer Horoscope (June 21 - July 22)
♥ Office party
You can bond with icy colleagues over eggnog. Make sure to use the annual company get-together to find common ground with drunken co-workers.
☹ Obsessed with the past
Your lover may be determined to give you the present of opening old wounds this Christmas, due to Mercury Retrograde in your sector of true love.
Leo Horoscope (July 23 - Aug. 22)
♥ Opportunities for love abounds
Use the holidays at home and while traveling to meet stable, yet fascinating, suitors. Attend every party or event, and don't be afraid to chat up your seatmate, it could turn into true love.
☹ Too many tasks
You may have a pile-up of work and chores once Mercury goes retrograde on Monday, forcing you to put in extra hours to clean up the sloppy efforts of your colleagues.
Virgo Horoscope (Aug. 23 - Sept. 22)
♥ Scrooge renaissance
You will be able to stop counting your pennies in order to dote on family, romantic partners, and children with gleeful abandon this Christmas.
☹ Critical overload
You could be on nitpick overdrive. The main thing driving the wedge between you and true love is your own overly judgmental nature. No one is perfect, so learn to find charm in the flaws.
Libra Horoscope (Sept. 23 - Oct. 22)
♥ Christmas closeness
You will be able to connect with your lover and children with warmth and love. If you and your partner have not been connecting verbally lately, you can talk things out easily and clearly over the weekend.
☹ Here's a dollar, now leave me alone
You may feel that no matter how old you grow, you will be perennially seated at the children's table in your family's mind. Mercury Retrograde is kicking up old dramas from childhood; try to let go and move on.
Scorpio Horoscope (Oct. 23 - Nov. 21)
♥ Secret Santa
You will be able to discretely care for your family's Christmas from behind the scenes, and if you have been having trouble making ends meet economically, no one will even notice -- all they will see is your kindness and devotion.
☹ Move on
With Mercury going retrograde in your communications zone, you may feel like drudging up issues from the past -- only problem is, no one else wants to deal with this stuff over the holidays. If you wait until January, neither will you.
Sagittarius Horoscope (Nov. 22 - Dec. 21)
♥ It's a wonderful life
You may have felt a bit stressed and somber recently, but friends, children and lovers will lift your mood and put your sacrifices in perspective.
☹ Day late and a dollar short
Don't count on money until you have it in your hands, as Mercury Retrograde in your earnings sector could cause delays with payment.
Capricorn Horoscope (Dec. 22 - Jan. 19)
♥ Home for the holidays
Surrounding yourself with family will help you break free from feelings of alienation at Christmas. Luckily, new opportunities at work will allow you to lavish your loved ones with pressies.
☹ Christmas pudding
When Mercury goes retrograde in your sign on Monday, you may spend the holidays in a state of muddling introspection. Try to stop navel gazing and enjoy the warmth of loved ones.
Aquarius Horoscope (Jan. 20 - Feb. 18)
♥ Shake it up
Traveling for the holidays can allow you to reconnect with a different group of friends, drawing up feelings of love and acceptance.
☹ Psycho-drama
Ruminating over bygone issues may only cause old pains to resurface without being healed. Instead of dealing with these matters on your own, seek out counseling so you can truly let go.
Pisces Horoscope (Feb. 19 - March 20)
♥ Holiday hustle
If you are seeking funding for a work project, why wait until the New Year? Use the holiday festivities to network and promote yourself. If you seek work now, a lucrative opportunity may arise.
☹ Past imperfect
Catching up with old friends over the holidays can also bring up old feelings of competition and bullying. Try to set boundaries and forget old slights.