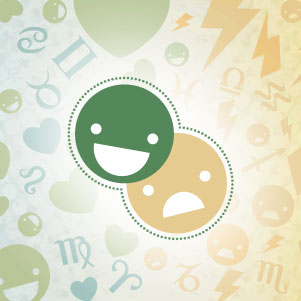 Merry Christmas! Here are the best and worst days this week! To find out what this week will bring you personally, keep reading for YOUR sign's Heart and Hate Horoscope.
♥ Friday: Look to the skies for the best pressie this year
The heavens are offering a major gift this year right on Christmas Day. Whether you observe this tradition or not, there is a lot of good cheer to be had due to a tender Cancer Full Moon trining poetic Neptune, as well as Mercury trining bountiful Jupiter.
☹ None: How's that for a happy holiday!
There are no big disharmonious aspects affecting the major planets this week -- a rare and wonderful occurrence. A slightly melancholy day could be Wednesday, when the Moon forms a T-square with brooding Saturn and overly sensitive Neptune, but since the Moon is in quick-witted Gemini, these feelings will be fleeting and superficial.
Your sign's Hearts & Hates Weekly Horoscope:
Aries Horoscope (March 21 - April 19)
♥ Keep the email on
I hate to tell you this, but Christmas Day is a really auspicious moment for career advancement. While your relatives take a post-turkey nap, you may want to sneak away and catch up on some business.
☹ Bah humbug!
You may grow annoyed with boring conservative types whose judgments trigger emotional insecurities. A brief temper tantrum could vent away your frustrations.
Taurus Horoscope (April 20 - May 20)
♥ Cocoon
You can block out all the stresses of the outside world on Christmas Day and relax with those closest to you. Make sure to invite dear friends over for the celebrations, as they are as important as your romantic interest.
☹ Ho, Ho, Hmmm
You may feel like a character from an O. Henry short story on Wednesday. Your bank account just doesn't offer you much wiggle room for unnecessary social spending.
Gemini Horoscope (May 21 - June 20)
♥ On the first day of Christmas...
Luckily we no longer celebrate 12 days of Christmas, and once you are past the 25th, your budget can breathe a huge sigh of relief to mark the end of the holiday spending season.
☹ The Nag and Badger
Didn't I see you at the new pub around the corner, the Nag and Badger? Your lover may be on your back about your lack of a serious career path on Wednesday, but what else is new?
Cancer Horoscope (June 21 - July 22)
♥ Let thee count the ways
Your partner has been a bit of a control freak lately, but they will dote on you for a change on Christmas Day, filling you with a sense of emotional and existential wellbeing.
☹ Low energy
You may want to ask Santa for some long-life batteries as a stocking stuffer. The holiday travel and preparations may tire you out on Wednesday, but you will bounce back by Christmas.
Leo Horoscope (July 23 - Aug. 22)
♥ Christmas bonus
You may receive a financial boost on Christmas Day -- perhaps you should even flat-out ask for money instead of material gifts. Employee benefits for a job well done are also a possibility.
☹ Not feeling the closeness
Whether it be with friends or in love, you are not feeling the sweet poetic closeness you truly desire. Do I feel a New Year's resolution coming on? If you focus on love these next few years, a committed romance can be yours.
Virgo Horoscope (Aug. 23 - Sept. 22)
♥ Friends and lovers
Instead of just spending Christmas with your romantic partner and family, be sure to invite some friends over to join in the fun; it will bring you and your sweetie closer by showing how lucky you are to have friends whose company you mutually enjoy.
☹ Career preoccupations
You have a hard time being in the moment with family or lovers on Wednesday due to professional concerns.
Libra Horoscope (Sept. 23 - Oct. 22)
♥ Home for the holidays
You will be able to blot out work duties so you can fully focus on taking care of family on Christmas.
☹ Wall of silence
Unless you are a professional psychic, you may be growing weary of the non-stop guessing games going on around the office due to colleagues who do not express themselves verbally.
Scorpio Horoscope (Oct. 23 - Nov. 21)
♥ Kind words
With Pluto in your communications sector for the past several years, your words can often rub people the wrong way, which is why this year's Xmas pressie from the stars is all the more joyful -- on Christmas, you will be able to express the full force of your love to all.
☹ Last-minute shopping
You prefer to express your love through deeds, not material possessions. Unfortunately a big part of the holiday tradition is exchanging gifts, which you must do with your sweetie, at least.
Sagittarius Horoscope (Nov. 22 - Dec. 21)
♥ Not-so-secret Santa
Don the red suit, but, for personal safety, take the door instead of the chimney, because no one wants their Sugar Santie to die in a house fire. With your generosity and good will, you will be happy to shower your family with presents.
☹ The Mysterious Affair at Styles
Your family life may be filled with more intrigue than an Agatha Christie novel on Wednesday. Between your partner's over-sensitivity, and your kin's overall duplicity, you don't know who to trust.
Capricorn Horoscope (Dec. 22 - Jan. 19)
♥ Say I love you
Instead of opening pressies, your biggest joy this Christmas Day will be from opening your mouth. You have been rather uncommunicative with those around you, but you will finally be able to express yourself fluently, especially with your lover.
☹ Moody blues
You may feel isolated, low energy and not much in the mood for socializing on Wednesday. Take a time out, so you can bounce back for Christmas Day.
Aquarius Horoscope (Jan. 20 - Feb. 18)
♥ It's not all about you
You are a bit locked in your own navel-gazing thoughts this week, but on Christmas Day, you will be able to shake yourself loose from your own self-absorption to dote on those around you and shower them with gifts.
☹ 'Tis not the season
The swirl of holiday festivities is only making you realize how boring your "friends" are, and how emotionally draining your romantic partner is -- and how expensive it is to go out with people you don't even enjoy.
Pisces Horoscope (Feb. 19 - March 20)
♥ Romantic getaway
You will be able to blot out all the negative people dotting your social scene, by squirreling away with a romantic interest on Christmas Day.
☹ Where's your Christmas miracle?!
Your daydreaming is getting out of hand. Between idealized visions of family life and a denial of the hard work it takes to build a serious career, you may lose touch with reality on Wednesday.