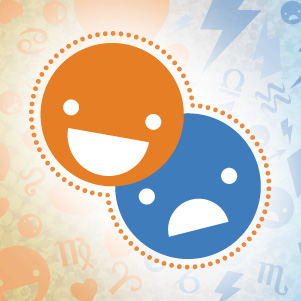 The week starts off with a bang due to the rare opposition of Uranus and Jupiter on Monday; things can blow up out of control at the slightest provocations, so duck and cover.
On a more positive note, the Sun, retrograde Mercury, and the New Moon join up in Capricorn, sending out friendly vibes to Mars and Neptune in Pisces throughout the week. This is a good time for practical problem-solving and conflict resolution.
Here is a general overview of this week's energy, valid for all. Hearts and Hates for your sign follow below!
♥ Atonement week
It's time to let bygones be bygones and negotiate aggressively for peace. Try to erase conflicts through ironclad agreements that benefit all.
☹ Boxing Day
The day after Christmas is filled with erratic, explosive energy. Arguments can be triggered at the slightest provocation, so try to de-escalate aggression at post-holiday sales.
Your sign's Hearts & Hates Weekly Horoscope:
Aries Horoscope (March 21 - April 19)
♥ Closed door meetings
You can hit the reset button on office politics through secret communications with individual colleagues and clients, in order join forces to work together instead of being in constant competition.
☹ The tender trap
You could feel hemmed in by an egocentric and suffocating love partner on Monday, leading to rebellious struggles for freedom.
Taurus Horoscope (April 20 - May 20)
♥ Make new friends
Make the most out of this festive season by going to as many parties as possible; you could meet dynamic, inspirational new social contacts, especially if you are traveling.
☹ Erratic behavior
Inner feelings of anxiety and nervousness could lead to rash, unmindful behavior that could threaten your physical health or cause accidents. Try to be prudent, especially on Monday.
Gemini Horoscope (May 21 - June 20)
♥ Three-martini lunch
Take advantage of the overall good cheer and festive networking opportunities of the holiday season by seeking out investments for an entrepreneurial endeavor.
☹ The not-so-long goodbye
Your friends may finally tire of being thrown under the bus as you bend over backward to please a demanding love partner. Don't flake on social commitments on Monday, or your friends may never reschedule.
Cancer Horoscope (June 21 - July 22)
♥ Pure and simple
If you are traveling back to a place where you used to live, you could reignite a passion with the one who got away. Make sure to reach out and let exes and former crushes know you are in town.
☹ Working holiday
Out-of-the-blue work demands could cause temper tantrums from family members who were looking forward to spending time with you this week.
Leo Horoscope (July 23 - Aug. 22)
♥ Work hard for the money
If you have been working hard to get a project off the ground, it may be time to finally launch it and seek out investors or potential clients.
☹ Travel meltdown
Unforeseen occurrences that arise while traveling this week could cause you to erupt in uncensored anger. Try to remain calm and bite your tongue -- yelling at service agents will not make things any easier.
Virgo Horoscope (Aug. 23 - Sept. 22)
♥ Moonlight and roses
Relationships sometimes settle into boring routines, but this week, romance blossoms. Make an effort to bring some excitement and allure into your partnership -- passion and true love will abound.
☹ Taking credit
You may have the urge to use charge cards to treat yourself to high-ticket material possessions on Monday. Try to resist, or you could blow your recent earnings bonanza and wind up in temporary debt.
Libra Horoscope (Sept. 23 - Oct. 22)
♥ Care home
Offer to help out family members in need this week. You will be able to nurture them back to a state of wellness, while reinvigorating your bonds of closeness.
☹ Two to tango
A couple consists of two people -- yet, you expect to always be the center of attention. Your lover may kick up their heels on Monday in order to get noticed and have their needs heard.
Scorpio Horoscope (Oct. 23 - Nov. 21)
♥ How do I love thee?
Take to poetry and verbal communication to woo your sweetie to your side. If you have an ex-flame who you have always wanted to reunite with, this would be an excellent week to reach out.
☹ Manic Monday
Christmas is over and it is back to work. Monday will be filled with the stress and depletion of having to get back to the old grind.
Sagittarius Horoscope (Nov. 22 - Dec. 21)
♥ Repo man
Use this week to track down payments owed and overdue, and then use your earnings to lavish your family with presents or fix-up your home.
☹ Party monster
Your social popularity could be scaring your romantic partner, as they may fear being left behind or, worse, that a new vixen may catch your eye. Try to reassure them of your love, without sacrificing your friendships.
Capricorn Horoscope (Dec. 22 - Jan. 19)
♥ Getting back in touch with yourself
You can put a whole new face out to the world -- one that looks like the real you from a few years ago, before you turned so serious. This is a great week to promote yourself, send out your resume, and catch up with friends and siblings.
☹ Phone home
You are enthused to be out taking advantage of major new opportunities at the office; unfortunately your family may feel neglected. Make time for them, especially on Monday.
Aquarius Horoscope (Jan. 20 - Feb. 18)
♥ Psych yourself up
Use your own mind to puff up your sense of self. If you believe in yourself, so will everybody else.
☹ Ruining the moment
Your daily fortune cookie reads, "Most people can be silent; only a few at the right time." Monday is a day for expanding the mind through silent study or contemplation, yet your incessant jabber gets in way of the awe.
Pisces Horoscope (Feb. 19 - March 20)
♥ New Year's party!
Your social life is revved up this week, so get out and make merry! Mingling with friends, new and old, will inspire you and bring out your confidence. No need to feel like a shy fishy this New Year's Eve.
☹ Oops, you spent it again...
You could be facing extreme financial anxiety over loans or credit card charges racked up during the holidays on Monday. Stop taking on debt and get back to work.