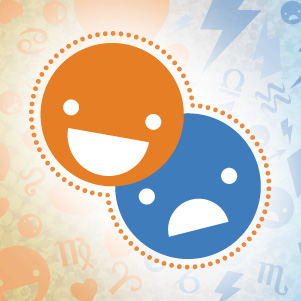 Happy New Year! Here are the best and worst days this week! To find out what this week will bring you personally, keep reading for YOUR sign's Heart and Hate Horoscope.
♥ Wednesday: Light-hearted love
Venus moves from emotionally intense Scorpio into happy-go-lucky Sagittarius on Wednesday, offering a festive and buoyant end-of-year for all.
☹ Tuesday: Quick to comment
Everyone will feel like getting everything off their chest and out in the open on Tuesday, leading to rash statements and hurt feelings.
Your sign's Hearts & Hates Weekly Horoscope:
Aries Horoscope (March 21 - April 19)
♥ Smoothing the harsh edges of your worldview
You have had a relatively cynical and Machiavellian outlook on humankind for the past few months, but from Tuesday, you should be able to detect kindness and compassion once again.
☹ Where is the love?
Talking non-stop about work to a romantic partner will spark their rage on Tuesday. Try to ask how they are doing before babbling on non-stop about your career.
Taurus Horoscope (April 20 - May 20)
♥ Warm up the embers of romance
Venus moves into your sector of physical and emotional intimacy for the next four weeks on Wednesday, promising a toasty warm winter even if it's freezing cold outside.
☹ Want to be anywhere but here
You may want to take a personal day on Tuesday, because you will be incredibly frustrated having to work while the rest of the world is off making merry.
Gemini Horoscope (May 21 - June 20)
♥ Maybe they're not so bad, after all
Once besotted Venus moves into your relationship sector on Wednesday, you will start to remember why you fell in love with your nagging, duty-obsessed partner to begin with.
☹ Longing for a greater intimacy
Your desire for an epic love affair filled with steamy passion may be far from your actual functioning partnership defined by routine and obligations, leading to outbursts and pouting on Tuesday.
Cancer Horoscope (June 21 - July 22)
♥ Comforting routine
You feel your best when you are caring for the ones you love; when nurturing Venus enters your sector of daily chores and service to others Wednesday, you will have many opportunities to support your nearest and dearest.
☹ Triggering discord
Your lover knows just what to do to rile up your family on Tuesday, sparking resentment and anger. Try to keep them separate from each other for the day.
Leo Horoscope (July 23 - Aug. 22)
♥ Belated Christmas pressie
The stars are dropping off a late gift this year when lovey-dovey Venus enters your romance zone on Wednesday. The next month will be filled with many wonderful opportunities for new amour or rekindling the spark in an existing relationship.
☹ No break for the holidays
Work duties will not slow down just because of the festive period, causing you to stress out and erupt in angry outbursts directed at colleagues on Tuesday.
Virgo Horoscope (Aug. 23 - Sept. 22)
♥ Comfort zone
After the swirl and whirl of the Christmas season, you can finally cozy up at home and relax with family when Venus enters your domesticity zone on Wednesday.
☹ The number one reason most couples fight
You are your lover may have major disagreements over money, and how to spend it, on Tuesday. No matter how loud you yell, your partner may still do what they want.
Libra Horoscope (Sept. 23 - Oct. 22)
♥ Poetry jam
For the chattiest sign of the zodiac, you have been quite tight-lipped lately. Luckily, mellifluous Venus will be bringing its dulcet tones to your communications zone for the next month starting on Wednesday. Get out there and freestyle. v
☹ House of intrigue
Family members could be all up in your business, and their judgments and meddling could finally set you off Tuesday. Don't be afraid to tell them firmly to stay out of your affairs.
Scorpio Horoscope (Oct. 23 - Nov. 21)
♥ Indulge yourself
Finances have been giving you a headache for the past few months, but when pampering Venus enters your sector of earnings and material possessions on Wednesday, it is time to buy yourself a well-deserved gift.
☹ Vin brulé
Your spirits could boil over on Tuesday, causing heated words and burned feelings when frustrated Mars in your psychology zone squares vexed Mercury in your communications sector.
Sagittarius Horoscope (Nov. 22 - Dec. 21)
♥ Time to relax
Stress upon stress has been pelting you for the past few months. Once Venus enters your sign on Wednesday, the rough edges melt away and life will take on a softer tone for the next four weeks.
☹ Gatecrasher
You can't think up enough ways to raise the money necessary to cover social spending on Tuesday. You may need to pick a select few events instead of attending everything.
Capricorn Horoscope (Dec. 22 - Jan. 19)
♥ Look to bright side
Gloomy Saturn in your psychology zone has been making you pessimistic since September. Luckily, soothing Venus will be entering this sector on Wednesday, making you more optimistic over the upcoming weeks.
☹ Workout session
You may face mental exhaustion due to excessive work duties on Tuesday, but stay focused because ambitious Mars will be leaving your career sector on January 3rd.
Aquarius Horoscope (Jan. 20 - Feb. 18)
♥ For Auld Lang Syne
Shall auld acquaintance be forgot and never brought to mind? Not this year! Tender Venus enters your friendship sector on Wednesday, promising several weeks of kind-hearted catching up.
☹ Road rage
If you are traveling on Tuesday, you may want to reschedule, and if you can't, take extra caution on the road, because you will be apt to over-react and drive in an irrational manner. Stay within the speed limit.
Pisces Horoscope (Feb. 19 - March 20)
♥ Creative rediscovery
Your professional life has been one long hard slog these recent months, but when inspired Venus enters your zone of professional success on Wednesday, you will once again find motivation and an artistic flair in your work.
☹ A fish and their money
Someone in your social circle may be trying to con you out of your hard-won earnings on Tuesday. Don't allow flattery to goad you into picking up the tab in order to show off.