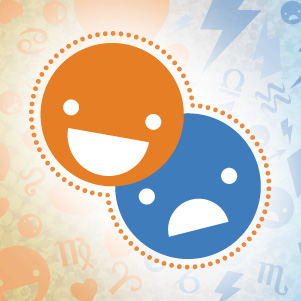 This is a pretty low-key week Astrology-wise. Venus moves into idealistic Aquarius on Wednesday, making the rest of the month an auspicious time for group cooperation. Come Saturday, the Sun conjuncts hyper-focused Saturn as Mercury in solutions-minded Capricorn sextiles utopian Neptune, making this a 5-star day for getting things done.
The only blip on this week's horizon is the fleeting, loose T-square between the Moon conjunct Uranus, Jupiter, and Pluto on Saturday, when control struggles could easily be triggered.
Here is a general overview of this week's energy, valid for all. Hearts and Hates for your sign follow below!
♥ Working hard to make the world a better place
Society will never improve if we always delegate duties to Machiavellian politicians. On Saturday, volunteer or set to work on a project that can lift humanity to a higher plane.
☹ Conflict escalation
Small acts of rebellion against authority can quickly spiral out of control on Saturday. Choose your battles carefully.
Your sign's Hearts & Hates Weekly Horoscope:
Aries Horoscope (March 21 - April 19)
♥ Advanced education
If you want to zoom up the ladder of success, start by stepping up your knowledge and skills. Take a course or sign up for a program of study on Sunday.
☹ Partners in crime
Instead of enjoying exciting adventures with your lover like Bonnie and Clyde on Saturday, you may instead be singing the ballad of Bonnie and Goldman Sachs. Take your mind off business and career success at the weekend or fights may ensue.
Taurus Horoscope (April 20 - May 20)
♥ Super Friends Justice League
If you have a friend in need, you can figure out a way to get them the solid help they require on Sunday.
☹ Log-off lumberjack
You may want to go hiking in the remote wilderness on Sunday, where you are guaranteed no cell phone coverage, or you may get overwhelmed by a glut of work via email.
Gemini Horoscope (May 21 - June 20)
♥ Break in the clouds
A ray of light may momentarily shine into your austere love life on Sunday, when you and your lover can loosen up and enjoy each other's company for a change.
☹ Not ready for the weekend
Your bank balance may not be able to support the hedonistic, devil-may-care spending that your lover and friends seem willing to splash out on partying.
Cancer Horoscope (June 21 - July 22)
♥ Divvy up duties
Sunday is a good day to sit down with your sweetie or housemates to create a fair plan to divide expenses and chores.
☹ Divided and conquered
Your family, lover, and workplace are all vying against each other for your attention on Saturday, making you feel defeated and overwhelmed.
Leo Horoscope (July 23 - Aug. 22)
♥ Create a love plan
You have been super-focused on business recently, but on Sunday, it is time to sort out your romantic life. Set out a game plan for dating and stick to it, or reach out to that certain someone you have been secretly crushing on.
☹ Too much talk
Your inability to control your tongue could lead to conflicts with colleagues on Saturday. Think before you speak.
Virgo Horoscope (Aug. 23 - Sept. 22)
♥ Heart and home
Sunday is a good day to talk with your romantic partner about issues concerning your domestic life, such as moving in together or starting a family.
☹ Disjointed banking
Maybe you and your lover should just keep separate accounts, or arguments about spending could wear you down.
Libra Horoscope (Sept. 23 - Oct. 22)
♥ Homeland reform
Gather the household around for a powwow on Sunday; long-standing disputes can be resolved through open dialogue for greater overall harmony.
☹ Where's the reset?
Lovers and family members may be pressing all your buttons on Saturday; take a time-out to extricate yourself from their drama.
Scorpio Horoscope (Oct. 23 - Nov. 21)
♥ Checks and balances
Sunday is an excellent day to manage finances, set out a long-term moneymaking plan, or search for a better-paying job.
☹ Drowning in duties
You seem to have been appointed the non-stop, designated caregiver to all those around you, which could lead to stress and cross words on Saturday.
Sagittarius Horoscope (Nov. 22 - Dec. 21)
♥ Calling all the sugar daddies and mommas
Doting on family members can lift your spirits considerably on Sunday. Spoiling those you love will only sweeten your relationships.
☹ Slash entitlement spending
Friends who have grown used to you picking up the tag could cause expenses to balloon while out socializing on Saturday. Keep your generosity in check.
Capricorn Horoscope (Dec. 22 - Jan. 19)
♥ Reaching out
Sunday is an excellent day for a heart-to-heart talk to clear the air with those you care about -- and who care about you. Sharing your problems through dialogue can bring relief.
☹ Fork in the road
Career dreams and family demands may be pulling you in two opposite directions on Saturday, leading to arguments and the need to make difficult leadership decisions.
Aquarius Horoscope (Jan. 20 - Feb. 18)
♥ Reconnect with friends
You may have felt alienated and out-of-sorts with your friendship group lately, but on Sunday you can reach out to renew old bonds of love and support.
☹ Angry at the world
Existential angst could cause you to lash out in stress and ire at those around you on Saturday. Deal with your issues instead of unloading on those around you.
Pisces Horoscope (Feb. 19 - March 20)
♥ True grit
Your determination to succeed has never been stronger. On Sunday, reach out to like-minded individuals to build a team that can go the course.
☹ Emotional spending
Splurging while out socializing on Saturday could put a large dent in your bank account. It may be better to stay in, instead.