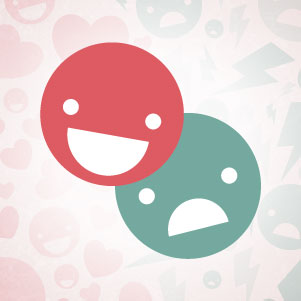 Here are the best and worst days this week! To find out what this week will bring you personally, keep reading for YOUR sign's Heart and Hate Horoscope.
♥ Tuesday: Express yourself and be creative
Dreamers and eccentrics of the world unite! You can let loose and be yourself without caring about the judgy backlash of all those dreary bores.
☹ Thursday: Ping-Pong diplomacy
All efforts to reach harmony and consensus end up backfiring due to the unhinged emotional anxiety of others.
Your sign's Hearts & Hates Weekly Horoscope:
Aries Horoscope (March 21 - April 19)
♥ Inspired and ready to work
Breaking routine on Tuesday could lead to a renewed enthusiasm, including for work. Once Mercury moves into your career zone on Wednesday, you will be filled with innovative ideas.
☹ Failure to launch
The occultation of Venus in your intimacy zone on Monday could lead to emotional distance with your lover. Fireworks that don't go off in the bedroom will lead to pyrotechnical blow-ups and arguments on Thursday.
Taurus Horoscope (April 20 - May 20)
♥ Happy in the crowd
While the couple bubble may get a bit suffocating on Monday, you and your sweetie will bond best by getting out and mingling with others in the fresh air on Friday.
☹ Alienated and anxious
For the better part of the decade, you have felt intensely affected by your surroundings instead of being in control of the world around you. Brooding about this could lead to anxiety and reckless behavior midweek.
Gemini Horoscope (May 21 - June 20)
♥ Holiday cheer
You are always up for a raucous party, and with the holidays -- and the stars -- on your side, opportunities abound to get out and be festive.
☹ Killjoy was here
Your more traditional lover may be nagging you about the amount of time and money you spend socializing. They want you all to themselves, housebound and tending to duties.
Cancer Horoscope (June 21 - July 22)
♥ Get back to love
Thoughts turn to romance when Mercury enters your sector of true love on Wednesday. Friday is one of the best date nights of the year, for both singles looking to meet someone and those in an existing relationship.
☹ Juggling act
New opportunities at work are coming your way all week, making your family feel left out and ignored. The added stress and nagging from loved ones could cause you to drop the ball at the office on Thursday.
Leo Horoscope (July 23 - Aug. 22)
♥ Sowing the seeds of love
Do something crazy and spontaneous to attract romance on Tuesday; by Friday, a new long-term relationship could even be in the works.
☹ Take a deep breath ... and scream
Everything in your world may go topsy-turvy on Thursday, with nothing proceeding as planned, causing you to vent out in anger.
Virgo Horoscope (Aug. 23 - Sept. 22)
♥ Romantic rebound
Confusion abounds with a lover on Monday, so avoid deep talks. Once Mercury enters your romance zone on Wednesday, you will be able to think up ways to make it all right, leading to one of the most romantic nights of the year on Friday. Singles should get out and mingle at the weekend to take advantage of this amorous energy.
☹ And this little piggy ate roast beef
Your piggy bank is not nearly fat enough to fuel your insatiable urge for an endless supply of bacon. If you insist on dining out high on the hog on Thursday, you may run up debts and instability.
Libra Horoscope (Sept. 23 - Oct. 22)
♥ Cool colleagues
Plan a TGIF outing with workmates on Friday to celebrate the kindness and goodwill of supportive collaborators.
☹ Godzilla vs. King Kong
Between your fire-breathing rage and your partner's unpredictable moves, an epic battle could ensue when a rampaging Mars opposes mercurial Uranus in your love zone on Thursday.
Scorpio Horoscope (Oct. 23 - Nov. 21)
♥ Peace, love and understanding
When a besotted Venus trines dream-come-true Neptune in your courtship zone on Friday, sweet-hearted romance is in the cards.
☹ Bull in a china shop
When indelicate Mars in your psychology zone opposes tactless Uranus on Thursday, your frank and aggressive manner could lead to some shattered feelings.
Sagittarius Horoscope (Nov. 22 - Dec. 21)
♥ Body electric
Take a chance on romance Tuesday, when your sunny disposition can super-charge an amorous connection, leading to sparks and swooning.
☹ From all sides
All you want to do is have laidback fun, but in work, love, friendship ... everyone is causing drama and stress, especially on Thursday and Friday.
Capricorn Horoscope (Dec. 22 - Jan. 19)
♥ Unspoken support
You have been having a hard time achieving clarity in your communications with others, but on Friday, your real friends are there to sustain you, even if they don't understand what is going on deep inside of you.
☹ Stay focused
You yearn for a life filled with meaning, and in order to achieve this, you need to realign your inner psyche, as well as your career goals. Don't allow the anxieties of family members to keep you from the change you need.
Aquarius Horoscope (Jan. 20 - Feb. 18)
♥ Ethical earnings
On Friday, you can forge alliances that will help you make money doing what you love, as well as something of benefit for the world, so do not abandon your utopian dreams.
☹ Force fed
Aggressive intellectual polemics can turn to arguments and hurt feelings on Thursday. It's fine to have a difference of opinion, but don't take things so personally or shove your ideas down the throats of others.
Pisces Horoscope (Feb. 19 - March 20)
♥ Dreams of faraway places
Break out of routine by getting away from it all this weekend. Taking a trip out of town will fill you with starry-eyed inspiration. You may even find romance out on the road.
☹ Break the bank
Using a credit card over and over again doesn't magically conjure up money -- those debts have to be paid off eventually. On Thursday, you will be tempted to rack up significant debt in a short span of time. It is better to put off shopping to another day.