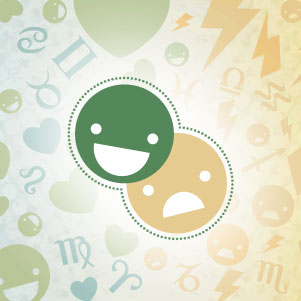 This is an extremely low-key week in the cosmos. People will be feeling moody and belligerent on Valentine's Day, when the Moon opposes Venus and Mars, so don't forget to get your sweetie a present, or face the consequences. Luckily, a solidifying sextile between the Sun and Saturn assures that any tiffs will be fleeting.
Put plans into action at the sextile between Mercury and Mars on Thursday. Then, the Sun's move into Pisces on Saturday promises compassion and creativity during the upcoming month.
Here is a general overview of this week's energy, valid for all. Hearts and Hates for your sign follow below!
♥ Less thought, more feeling
When the Sun transitions from the cold logic of Aquarius to highly-emotional Pisces on Saturday, the first rays of warmth will start to thaw out winter's harsh vibes.
☹ Won't you be mine?
Lovers will need to bend over backward to impress their mates this Valentine's Day; nothing will ever seem to be good enough.
Your sign's Hearts & Hates Weekly Horoscope:
Aries Horoscope (March 21 - April 19)
♥ With a little help from your friends
Motivation and inspirational ideas are at hand, if you reach out to your social circle for a boost.
☹ Orchestral maneuvers in the dark
Your constant attention-seeking could turn off romantic partners, because they are tired of playing second fiddle.
Taurus Horoscope (April 20 - May 20)
♥ Come into the light
Instead of operating in an aura of suspicion and manipulation, over the next several weeks, you will be able to clarify long-standing issues with friends.
☹ Wearing yourself out
You are carrying a suppressed mix of rage and love inside of you, causing a serious depletion of energy levels and vitality. Use Valentine's Day to say how you truly feel and let off some pressure.
Gemini Horoscope (May 21 - June 20)
♥ Time to move and shake
You have had a hard time making your mark at the workplace recently, but the upcoming month gives you a multitude of opportunities to shine.
☹ Forgotten pedestal
You may have elevated your partner so high on a pedestal that you have forgotten they exist. Spending too much time with friends could cause them to feel left out. Make sure to spend one-on-one time this Valentine's Day.
Cancer Horoscope (June 21 - July 22)
♥ Financial motivation
The surest way to hone your ambitions at the workplace is to make a list of economic incentives; this will strip away your inhibitions and spur you to go for it!
☹ Heart into work
Unless you work in a flower shop, there is no excuse to work late on Valentine's Day; if you do, be prepared for a cold shoulder from your loved ones.
Leo Horoscope (July 23 - Aug. 22)
♥ Not the boy next door
If your mind has been beholden by a certain someone who lives at a distance, reach out to them on Thursday. Geography should never come between true love.
☹ Philosophical fury
Differences of opinion could lead to petty arguments and hurt feelings on Tuesday. Try to keep conversations light and non-controversial.
Virgo Horoscope (Aug. 23 - Sept. 22)
♥ Out of the fog
If your romantic partner has been acting dodgy and confusing you, you can reach a new place of clarity and understanding over the coming weeks.
☹ Love don't cost a thing
Splurging on Valentine's Day presents could cause financial anxiety. Try to stay away from credit purchases, and remember that spoken declarations of true love last longer than cut flowers.
Libra Horoscope (Sept. 23 - Oct. 22)
♥ One way or another
Plot and scheme your way to true love on Thursday; you will be able to beguile the object of your affection into taking a chance on a full-blown relationship.
☹ Too good to be true
Your love partner is sexy and charming, which could cause you to fall into a crisis of confidence on Valentine's Day. Try to stay calm and assured.
Scorpio Horoscope (Oct. 23 - Nov. 21)
♥ Days of wine and romance
The upcoming month possesses many opportunities for love. If you are single, shift into high gear in the pursuit of a partner so you don't miss out on these auspicious vibes.
☹ Masochistic misery
Your need to sacrifice yourself in order to take care of those you love could leave you feeling psychologically drained on Tuesday. Do not be afraid to take a time-out from caregiving.
Sagittarius Horoscope (Nov. 22 - Dec. 21)
♥ Happy at home
You may be happiest chilling out at the homestead and recharging your batteries this weekend. It is also a good time to tackle any DIY home improvement projects you've been putting off.
☹ Misters before sisters
Your tendency to put your full focus into love this week could leave friends seething with feelings of neglect and being taken for granted.
Capricorn Horoscope (Dec. 22 - Jan. 19)
♥ Clear the air
Reach out to friends and siblings at the weekend to smooth out any lingering bad feelings that may have arisen due to miscommunication and petty arguments.
☹ Thin line between love and hate
Difficulties between feuding family members could distract your mind from workplace duties on Tuesday. Try to stay focused to avoid mistakes.
Aquarius Horoscope (Jan. 20 - Feb. 18)
♥ Follow the rainbow
If you are seeking a pot of gold, there will be many instances over the upcoming month to negotiate your way to a higher income.
☹ Angry outlook
You will be extremely thin-skinned on Tuesday, leading to emotional outbursts that create a negative worldview. Try not to be overly sensitive.
Pisces Horoscope (Feb. 19 - March 20)
♥ Winter garden
It may still be cold outside, but you will be positively abloom starting Saturday when the Sun enters your sign, bringing you an added dose of charisma and extroversion.
☹ Self-indulgent spending
Your desire to engage in some retail therapy to boost your confidence and pamper yourself could result in overspending. Try to stay away from credit cards on Tuesday.