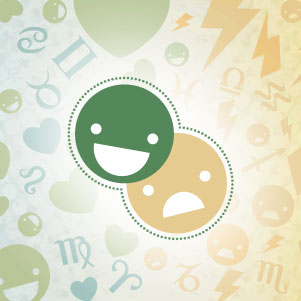 This is a pretty chill week. On Tuesday, Venus moves into Aquarius, making the upcoming weeks an auspicious time for conflict resolutions and working together in groups. Friday sees the Sun move into poetic Pisces, and a Grand Cross in the mutable signs is softened by a Grand Trine in the forgiving Water signs.
Here is a general overview of this week's energy, valid for all. Hearts and Hates for your sign follow below!
♥ Let's all get along
Monday's Grand Trine is in the Earth signs, making this an excellent day for achieving a sense of stability in work and practical matters. A Grand Trine occurs in the Water signs on Friday, an opportune time to tackle emotional matters.
☹ Constantly moving goal posts
Friday can be a day when competitive, win-at-any-cost control freaks are out trouncing on everyone's emotions. Distance yourself from these people for self-protection.
Your sign's Hearts & Hates Weekly Horoscope:
Aries Horoscope (March 21 - April 19)
♥ Charms to soothe the savage beast
Hanging out with loving friends will give a major boost to your self-confidence and help quash your feelings of inadequacy.
☹ Can't they see you're trying to work?
Family may be pouty about the amount of time you spend at the office, causing a minor freak-out as you try to live up to expectations. Buying a gift to show you care will temporarily appease moody kin so you can finish your work.
Taurus Horoscope (April 20 - May 20)
♥ Everyone's best friend
Your charm will allow you to persuade colleagues to back your out-of-the-box visions at work, while your sunny disposition will cut through the nebulous fog that has been hanging over your social acquaintances.
☹ Unwanted words
You may need to deal with verbal bullies that bruise your sense of self-esteem on Friday, sending you into a panic attack.
Gemini Horoscope (May 21 - June 20)
♥ Upbeat attitude
You may have been brooding over life's problems the past week, but now you can take that angst and mold it into art or a higher-level of conscious understanding. Your renewed optimism will help you at the workplace.
☹ Slumping spontaneity
Finances may keep you from cutting loose socially, leading to fleeting moments of resentment on Friday.
Cancer Horoscope (June 21 - July 22)
♥ Emotionally grounded
Sweet and tender moments of intimacy will help bond you and your sweetie, leading to a cheery overall disposition when dealing with the world.
☹ Odious overtime
Having to focus your attentions on last-minute work projects on Friday could send your lover into a seething rage.
Leo Horoscope (July 23 - Aug. 22)
♥ Back to love
You have been so focused on work since the beginning of the year that you may have lost touch with the softer sides of life. Starting Tuesday, you will be able to devote more time to romance.
☹ Domesticated house cat
The Lion was meant to roam free on the vast savannah of life, not be cooped up doing chores. Make time for adventure on Friday or you may risk fleeting moodiness.
Virgo Horoscope (Aug. 23 - Sept. 22)
♥ Help a brother out
Your incredibly evolved compassionate side kicks back to life starting Tuesday. For the past few weeks you have been focused on nurturing romance, but now your love flows to all those in need. If you have wanted to volunteer your time, this is the moment.
☹ Nosy Parkers
Your fear of what others think may keep you from growing more intimate with a relatively new love partner on Friday. Turn off the judgment and jump into closeness.
Libra Horoscope (Sept. 23 - Oct. 22)
♥ Creativity and kisses
Starting Tuesday, your attention will turn to the more hedonistic side of life – seeking romance or losing yourself in art. This will lift your spirits, allowing you to breeze through normally tedious work tasks.
☹ Build a firewall
You will need to set a firm boundary between your professional life and all the drama going on at home or with a lover on Friday, otherwise your work will momentarily suffer.
Scorpio Horoscope (Oct. 23 - Nov. 21)
♥ Home maker
You will be able to transform your home into a cozy nest filled with love and affection. For the next several weeks, feelings of mutual nurturing abound among your family members.
☹ Anger management
An already stressful office environment becomes even more so when temperamental words fly on Friday. If you cannot deal with the incessant work flow, you should at least learn to control your rage.
Sagittarius Horoscope (Nov. 22 - Dec. 21)
♥ Chatty Sadgie
You will be in a talkative mood this week, making it the perfect time to bury the hatchet with estranged siblings, family or acquaintances.
☹ Only so much money
You want to dote excessively on impish children or mesmerizing lovers on Friday, but, unfortunately, you only have a limited cash flow for capricious indulgences.
Capricorn Horoscope (Dec. 22 - Jan. 19)
♥ The true source of happiness
Your mind is on making money this week – the true source of Capricornian bliss. You will be able to charm your way to advantageous contract terms and income boosts starting Tuesday.
☹ Mamma mia!
On Friday, you may need to turn your attention to family drama, leaving your romantic partner feeling left out and alone in the cold.
Aquarius Horoscope (Jan. 20 - Feb. 18)
♥ Mellow Yellow
After a rather brooding and resentful start to the New Year, you chill out considerably starting Tuesday, when your easy-going, laidback demeanor returns.
☹ Jitters and palpitations
If you need to get something off your chest on Friday, just say it, or you may end up engulfed in a panic attack that sends your health momentarily reeling.
Pisces Horoscope (Feb. 19 - March 20)
♥ Time out
You have been incredibly sociable all year, but starting Tuesday, you may need to chill out in order to recharge your batteries.
☹ Lean bacon
Your piggy bank may be tapped out from the high life you have been leading since December. Your lover may feel disgruntled about your need to cut back on spending on Friday, but, at this point, you don't have much of a choice.