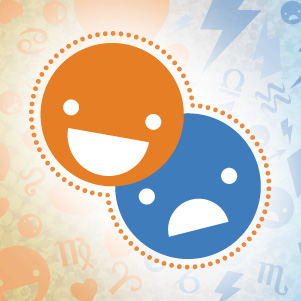 Mercury will be forming a series of auspicious aspects to Uranus, Jupiter, and Saturn, making it a great week for brainstorming and putting your mind to the test.
On a more emotional note, Mars squares Pluto and conjuncts Uranus, creating tension with authority and leading to acts of rebellion. A Solar Eclipse sandwiched between Neptune and Mercury on Sunday adds to this befuddled energy by creating confusion and pushing us to make bad choices.
Here is a general overview of this week's energy, valid for all. Hearts and Hates for your sign follow below!
♥ Mental aerobics
Mercury, the planet of intellect and logic, is working over time this week, leading to solid solutions and ingenious breakthroughs.
☹ A life of surprises
An overload of erratic energy on Sunday stirs up sudden explosions and emotional drama. Hold on tight!
Your sign's Hearts & Hates Weekly Horoscope:
Aries Horoscope (March 21 - April 19)
♥ Smart people have smart friends
If you need advice on romance or finances this week, reach out to friends, whose logical outlook could help you see the light.
☹ Mental meltdown
The Solar Eclipse on Sunday could fill you with feelings of psychological doubt and anxiety, leading you to lash out in diva-like anger at those around you.
Taurus Horoscope (April 20 - May 20)
♥ Think your way out of a box
This is the week to brainstorm innovative solutions that can propel you to financial and professional success at the workplace.
☹ Fed up with fakers
You may finally face the harsh reality that you are surrounded by users and hangers-on in your social life on Sunday, leading to a sudden purge of your friendship list.
Gemini Horoscope (May 21 - June 20)
♥ Follow your mind on love
You have been clinging to a domineering partner out of safety and routine, when your mind knows quite well who truly makes your heart skip a beat. Take a chance by letting them know how you feel.
☹ Lost weekend
Long-term workplace insecurity could push you to overcompensate at the weekend, sending you on a bender of partying and bad choices.
Cancer Horoscope (June 21 - July 22)
♥ House made from stone
You listened quite well as a child to the saga of the Three Little Pigs. By opting to build your house on firm foundations, you can guarantee peace and security for your family. Take care of issues concerning mortgages this week.
☹ Do you know where you're going to?
Your ambition may cause clashes at the workplace, leading to an existential crisis as you contemplate what is truly worthwhile.
Leo Horoscope (July 23 - Aug. 22)
♥ Confess your love
If there is someone you have been eyeing from afar, it could lead to a lasting romance if you just let them know.
☹ Money changes everything
There is nothing you want to do more than explore the world in a state of unfettered freedom -- just one problem, you may not have the financial means to cut footloose and live fancy free.
Virgo Horoscope (Aug. 23 - Sept. 22)
♥ Work it out
Taking on extra chores and duties at the office will help build your reputation and boost your income, bringing security to your home life and investment portfolio.
☹ Share-out
You may grow tired and suspicious of your lover's manipulative games, causing you to abruptly put up walls concerning finances and emotional closeness.
Libra Horoscope (Sept. 23 - Oct. 22)
♥ Talk it up
You have been uncharacteristically reticent recently, but love will boost your confidence; if you have been dating someone and want to take it to the next level, now is good time to bring it up in conversation.
☹ Ikea, where love goes to die
There is nothing more joyless than a couple running errands at a home improvement store. If you insist on tackling chores at the weekend, your excitement-seeking partner may erupt in anger and frustration.
Scorpio Horoscope (Oct. 23 - Nov. 21)
♥ Home builder
Put your mind, money, and spirit into sorting out issues relating to home and family this week. Taking care of your domestic situation will bring a sense of inner peace.
☹ Need & Co.
A manipulative, co-dependent lover may con you into carrying out all their duties and responsibilities this weekend, leading to feelings of resentment and being used.
Sagittarius Horoscope (Nov. 22 - Dec. 21)
♥ Talk your way out of the doldrums
You have been feeling a bit low-energy the past few years. Take your mind off your problems by catching up with friends, siblings, and family this week.
☹ Monsters-in-law
You may want to skip the Sunday family get-together this week, as meddling relatives could cause trouble in your romantic life by passive-aggressively attacking your sweetie, causing them to blow up in self-defense.
Capricorn Horoscope (Dec. 22 - Jan. 19)
♥ Master negotiator
Your ability to create favorable terms on contracts and payments at work can lead to an income boost, as well as lift your inner feelings of accomplishment.
☹ Burning down the house
Your inability to communicate in a clear, unmuddled manner could cause fights to flare up with family members or roommates who didn't misunderstand you on Sunday. Try to stay away from controversial topics or judgments.
Aquarius Horoscope (Jan. 20 - Feb. 18)
♥ Communication breakthrough
You will have a savvy knack of knowing exactly what to say this week, which will allow you to turn the tables on judgy, close-minded friends and draw them to your side.
☹ Penny whistle
Financial worries could see you lashing out in verbal assaults on Sunday, especially toward siblings and neighbors.
Pisces Horoscope (Feb. 19 - March 20)
♥ All about the money, honey
Your ability to quietly pull the strings behind the scenes can lead to a boost in reputation at the office, which could also shore up your earnings.
☹ You are more than money
Financial insecurity could lead to feelings of self-doubt, forcing you to separate what parts of your external identity truly matter.