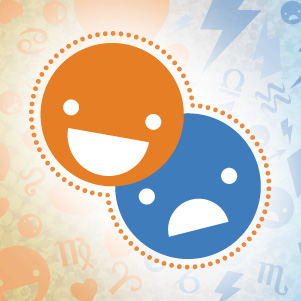 The lesson to learn this week is that loosening the grip on rationality in favor of something more hazy and imaginative can be wondrously creative and productive; so learn to let go of cold logic and dive into the unknown!
Here is a general overview of this week's energy, valid for all. Then keep reading for the Hearts and Hates for YOUR sign this week!
♥ Inspired Sunday
Spend the weekend immersed in art and emotion. Reading a good book or seeing a groundbreaking movie could change your entire outlook on life and give you a much-needed boost.
☹ Haven't got a clue
Confusion, suspicion, and paranoia abound at the Full Moon opposite Neptune on Monday. Sometimes you just have to let go and trust.
Your sign's Hearts & Hates Weekly Horoscope:
Aries Horoscope (March 21 - April 19)
♥ Friendly fire
Socializing with interesting people who stimulate your mind will lift you out of the doldrums, as well as spur your imagination and creativity.
☹ Dazed and confused
You start off the week feeling existentially lost, which could manifest in low physical energy. As the week goes on, your motivation and pep make a comeback.
Taurus Horoscope (April 20 - May 20)
♥ Brainstormer
Don't be afraid to think outside the box at the office. Innovative ideas can lead to viable solutions that pay off in the long run.
☹ Friend or foe
A lover who needs to be the center of attention may try to plant the seeds of suspicion on Monday in a bid to isolate you from your social group. Try to see through the fog.
Gemini Horoscope (May 21 - June 20)
♥ Cinema verité
Stock up on a baguette, fromage, and some vintage vin. Try to live your life like a French movie this week, filled with complex, intellectual conversations with your friends and lover. Nourishing your mind will inspire you at the workplace.
☹ Home brew
Moodiness is fermenting among family members on Monday due to your lack of pragmatism in terms of career. Stay true to your dreams.
Cancer Horoscope (June 21 - July 22)
♥ Money order
Serve up a side of inspiration with a main of hard work and you will have a bounteous plate of financial success.
☹ Words can't describe
You will have a hard time verbalizing your worldview on Monday, largely due to the fact you don't understand it yourself. You feel you are on the brink of an epiphany, but you may not get there until Friday.
Leo Horoscope (July 23 - Aug. 22)
♥ Pragmatism and pizzazz
If you set your sites on true love, you will be able to attract a mate who is invigorating, as well as responsible and loyal.
☹ Shoestring budget
You have wide-eyed fancies of sharing the wealth, but panic may set in when you realize your earnings can't cover your financial plans on Monday. Tighten the belt or seek funding.
Virgo Horoscope (Aug. 23 - Sept. 22)
♥ Taking care of business
Your analytical mind is on overdrive this week, allowing you to breeze through that pile-up of chores at the office and at home.
☹ Love with a proper stranger
You may feel like you have met the right partner, yet they still remain completely elusive and mysterious, leading to fleeting feelings of anxiety on Monday.
Libra Horoscope (Sept. 23 - Oct. 22)
♥ Time for the talk
Your heart may be beating, but your tongue has not been wagging. It is time you declare to your sweetie the true depth of your feelings.
☹ Lazy and unfocused
You are having a hard time concentrating on work. You have lots of lofty dreams but no idea how to turn them into reality, leading to feelings of defeat on Monday. By Sunday, however, you will be churning on full cylinders.
Scorpio Horoscope (Oct. 23 - Nov. 21)
♥ Kitchen table entrepreneur
If you have a dream of making some extra money or starting your own business, transform your abode into a home workplace and start making it happen.
☹ Lovers only
Your clingy co-dependence could exasperate friends who feel left out and ignored at the weekend. Make sure to make time for those who care.
Sagittarius Horoscope (Nov. 22 - Dec. 21)
♥ Talking your way out of a dark place
You have more than your fair share of stresses, leading to an overly serious demeanor. Luckily, you are surrounded by kindred spirits who are open for a chat and who can help you place your problems in perspective.
☹ You don't like Mondays
Good feelings abound at home on Monday, making it difficult to transition back into the working week.
Capricorn Horoscope (Dec. 22 - Jan. 19)
♥ Start-up incubator
You have a lot of serious ideas in regards to your life direction. This week would be an excellent time to draft a business plan so you can work toward your economic goals.
☹ Silence is golden
If you have no idea what you are talking about, perhaps it is better to keep your mouth shut until your concepts are more clear. If you insist on sharing your confused ideas with the world, you may make the wrong impression on Monday.
Aquarius Horoscope (Jan. 20 - Feb. 18)
♥ Firm friends
You have been feeling cut-off and out of touch with your friends lately. If you make an attempt to reach out to estranged companions, you can reinvigorate your bonds.
☹ Rainbows and unicorns
Unless you are named Lisa Frank, your fanciful dreams of creating money from rainbows may seem depressingly impossible on Monday. Don't stop believing.
Pisces Horoscope (Feb. 19 - March 20)
♥ Income boost
While you have been working hard, your income has been up and down. If you strategize and negotiate this week, you can finally get paid for all your efforts.
☹ Overly active imagination
Your lover may grow exasperated at your fanciful fairytale dreams on Monday. Just realize that they are living in reality, not swimming in the limitless oceans of creative possibility that the Fish inhabits.