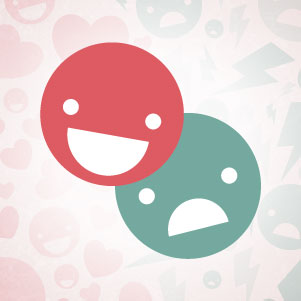 Confusion, frustration, and anger flare this week, causing people to put up walls in order to gain emotional distance. Uranus is still in conjunction with Mars and in exact opposition to Jupiter, causing angry rebellion against zealots and despots. With both the Sun and Mercury conjunct Neptune, confusion and denial could be the methods of escape people use to deal with all this disruptive energy.
When Venus turns retrograde on Saturday, there could also be a lack of compassion and diplomacy that lasts through mid-April. The entire Venus Retrograde phase is not a good period for any difficult-to-reverse beauty procedures, such as plastic surgery or a radical new haircut or color.
Luckily, when Mars trines stable Saturn on Sunday, a sense of peace and logic is restored.
Here is a general overview of this week's energy, valid for all. Hearts and Hates for your sign follow below!
♥ Fighting for sanity and logic
There is a lot of crazy, unhinged energy this week, but stability can be restored if you seek the truth and let it be known.
☹ Anarchist's cookbook
Zealous, judgmental energy abounds; everyone will think their ideas are the right ones, leading to fights and a breakdown of compassion.
Your sign's Hearts & Hates Weekly Horoscope:
Aries Horoscope (March 21 - April 19)
♥ Broadened horizons
Try to break free from romantic drama this week by exploring new neighborhoods and ideas.
☹ Stolen mojo
Your romantic partner may buck your authority, causing arguments, tantrums, and a momentary crisis in confidence.
Taurus Horoscope (April 20 - May 20)
♥ Golf course wheeling-and-dealing
Use Sunday socializing to pitch ideas to people with money, whose investments can make your dreams become reality.
☹ Beauty sleep
Overwork and unhealthy eating could lead to physical exhaustion and weight gain, making you feel worn out and unattractive. Choose healthy dietary options to get back feelings of control.
Gemini Horoscope (May 21 - June 20)
♥ Perfect pairing
No matter how stale you may find your romantic partner, they are the key to social acceptance this weekend.
☹ Public outrage
You may desperately be seeking an exit strategy from a stifling relationship. Your flirtatious manner could cause friends to turn on you in consternation. Try to keep your dalliances to yourself.
Cancer Horoscope (June 21 - July 22)
♥ Sunday success
You can get a lot accomplished on Sunday if you put in extra hours to plow through backed-up chores and duties.
☹ Heart not in your work
Your need to deal with family and home issues could cause anger and resentment at the workplace. You may need to detach yourself from your ambition over the next few months to regain balance.
Leo Horoscope (July 23 - Aug. 22)
♥ Sunday getaway
A short daytrip on Sunday could be the perfect date, allowing you to get to know someone on a deeper level. If you're in a relationship, hitting the road for a shared adventure will cement your bonds.
☹ Open mouth, closed minds
The more you talk, the more people will fight against your ideas. You may need to check out of the drama at the weekend by keeping your opinions to yourself.
Virgo Horoscope (Aug. 23 - Sept. 22)
♥ Putting logs on the hearth
This is an excellent week to take care of financial issues regarding mortgages, renovations, and family.
☹ Afraid of sharing intimacy and money
Your partner may be bullying you to share the wealth, when you are more concerned about padding your savings account. Take care of your monetary needs first, even if it may create emotional distance.
Libra Horoscope (Sept. 23 - Oct. 22)
♥ Time for the talk
A solid heart-to-heart talk could go far in mending strains in your relationship after all of this week's drama.
☹ The ego has landed
Your confidence could be mistaken for self-absorption, leading romantic partners to buck against your authority and check out emotionally.
Scorpio Horoscope (Oct. 23 - Nov. 21)
♥ Hustle it up
The harder you work, the more money you can bring in, so put in the extra hours to help ease the financial austerity you have been facing.
☹ Take a break from caregiving
You have been busy volunteering for an abundance of chores to help out those in your community, but are now facing burnout. It is ok to cut back for a few weeks to recharge.
Sagittarius Horoscope (Nov. 22 - Dec. 21)
♥ Creativity boost
Nothing will help lift your sagging spirits more than dedicating yourself to an artistic project, going to a museum, or surrounding yourself with children on Sunday.
☹ Going cold turkey from co-dependence
A demanding romantic partner may go ballistic over the amount of time you spend with your friends. It may be a good time to draw boundaries and take a timeout to protect your social life.
Capricorn Horoscope (Dec. 22 - Jan. 19)
♥ Off the radar weekend
Spending time on Sunday fixing up your house and taking care of domestic chores will allow you to take your mind off the more complex issues you are currently facing.
☹ Focus away from family
Your career requires your full focus. The window of opportunity to soar to the top will close come October, so you may need to take more time away from family than you like now, causing arguments as relatives fight for your attention.
Aquarius Horoscope (Jan. 20 - Feb. 18)
♥ Chatty and chilled out
Spend a kicked-back Sunday hanging out with friends. You do not need to organize elaborate activities, as laid-back conversation will bring feelings of closeness for all.
☹ Angry at the world
You may grow enraged at the crazy political and social climate we are currently living in, and let everyone know it. Fights could ensue over differences of opinion, especially with neighbors and siblings.
Pisces Horoscope (Feb. 19 - March 20)
♥ Jockeying for position
You have been working extremely hard at your career for the past year or so. It is now time to seek out a raise or better paying gig.
☹ Spending cuts
Bloating debt and out-of-control everyday expenses could cause feelings of financial frustration, forcing you to cut out all nonessential spending over the upcoming weeks.