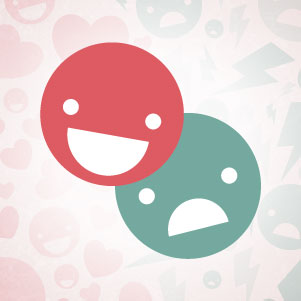 Peace and love are easy in theory, but not so much in practice. Harmonious vibes early on in the week can turn to frustration on Friday as everyone strategizes to come out ahead. Major shifts in energy on Saturday could be too much, too fast for those who love routine.
Here is a general overview of this week's energy, valid for all. Hearts and Hates for your sign follow below!
♥ You'd like to teach the world to sing in perfect harmony
Monday and Wednesday are extremely tuneful days, when the vibes of the universe are getting on in a cooperative and compatible way.
☹ Anger and domination
Tempers may flare on Friday, leading to a stony Saturday, when many may prefer to walk on eggshells in order to maintain the status quo and evade further fights.
Your sign's Hearts & Hates Weekly Horoscope:
Aries Horoscope (March 21 - April 19)
♥ Golf course networking
Some of the best deals are made out of the office. Mingle with colleagues who you wish to impress on Sunday in order to make powerful allies.
☹ Social democrat
While the week starts off with good cheer and abandon, by Friday, you may wonder why you are the one who is always picking up the tab when out with friends.
Taurus Horoscope (April 20 - May 20)
♥ Mover and shaker
You can rally the troops at the office on Monday and Wednesday. Your easygoing charm will solidify your standing as well as energize those around you.
☹ The Hangover
You may have been spending on socializing like Bradley Cooper at a bachelor party the past few weeks. On Saturday, you may wake up with a headache and a doozy of a bar bill.
Gemini Horoscope (May 21 - June 20)
♥ Peace keeper
Your laid back attitude can lasso in flakey friends, as well as soften up stiff romantic partners who are critical of your career direction.
☹ Not advancing fast enough
While you have been working very hard the past several weeks, all your ambition and elbow grease have not resulted in instant accolades. Stay focused and be patient, success rarely comes overnight.
Cancer Horoscope (June 21 - July 22)
♥ Money makes the world go 'round
Your working life has been a combination of a ceaseless inundation of thankless tasks, along with seat-of-the-pants unpredictability. This stress will be more bearable by focusing on the goodies you can buy due to the fruits of your labor.
☹ What weekend?
You may need to work on Saturday, which could drain you of your vitality and optimism.
Leo Horoscope (July 23 - Aug. 22)
♥ Let love rule
Your focus continues to be on the softer side of life. Your nurturing generosity will increase bonds of trust with romantic prospects, as well as be non-threatening enough to allow for spontaneity and joy.
☹ Cold shoulder
You long to be swept away on an epic romantic adventure like Bonnie and Clyde, but your partner could be too reserved to meet your passionate expectations of intimacy on Saturday.
Virgo Horoscope (Aug. 23 - Sept. 22)
♥ Care worker
Some family members could be in deep need of your assistance and love. Helping those closest to you will prove relaxing and life-affirming.
☹ No support
While you are happy to help a relative out, you may not be receiving the same uplifting encouragement from self-obsessed romantic partners.
Libra Horoscope (Sept. 23 - Oct. 22)
♥ Speak from the heart
Tight-lipped Saturn in your communications zone is making you more quiet than usual, but on Monday and Wednesday, you will have no trouble communicating your love through non-verbal means.
☹ Ineffective communication
You are naturally friendly, but sometimes your extroversion makes people think you are not deep. You're having a hard time finding the right tone for communicating with colleagues -- too serious or too frivolous.
Scorpio Horoscope (Oct. 23 - Nov. 21)
♥ Filling your coffers
You may have had to make do with less lately. Luckily, with go-getter Mars entering your income sector on Saturday, you will have several weeks to boost your earnings.
☹ Home wrecker
Your house could turn into a battlefield on Friday. Arguments could erupt, especially if you feel a relative is conniving against you, or if you refuse to give up any control. Try to negotiate.
Sagittarius Horoscope (Nov. 22 - Dec. 21)
♥ Spring renaissance
When dynamic Mars zooms into your sign on Saturday, you will receive a much needed boost of energy after a rather solitary and low-energy winter.
☹ Lighten up
Your depressive demeanor could take the wind out of the sails of well-meaning relatives on Saturday. Try to put up a front of good cheer and thanks when family members do gestures of caring.
Capricorn Horoscope (Dec. 22 - Jan. 19)
♥ Bank of Mom and Dad
You could receive a surprise boost of cash on Wednesday from a family member. If you need to ask for financial help, a relative could be your best bet.
☹ Buyer's Remorse
You have been extremely social the past few months and may have gone a bit off budget. On Friday, you may regret the amount of money you have dished out recently. It may be wise to tighten non-necessary spending.
Aquarius Horoscope (Jan. 20 - Feb. 18)
♥ Friend request
This is a great week to extend your network, both in real life and via social media. You may have felt surrounded by overly rigid and cold acquaintances lately, but you can attract some eccentric individualists if you search for them.
☹ Is it even worth it?
You have been working hard and your ambition is on fire, but you may wonder if all the sacrifice of time and effort is worth it. Hang on; when Mars leaves your career sector on Saturday, your workload will subside.
Pisces Horoscope (Feb. 19 - March 20)
♥ On the right path
You have a lot of dreams when it comes to career and money. Recently, you have been working very hard but have yet to achieve economic stability. If you keep on doing what you're doing, things will pay off eventually.
☹ Down the drain
You have been throwing so much of your mojo into your work that you may have none left for other aspects of your life on Saturday. Turn off the laptop and chill out.