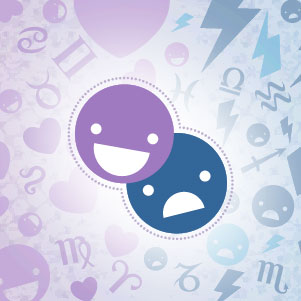 The week is bounding with bounteous, upbeat energy, starting with Monday's Lunar Grand Trine in the Air signs, followed by Friday's Full Moon Lunar Grand Trine in the fiery signs of Leo, Aries, and Sagittarius. If you want to make changes to your life, plot things out early in the week, and takes risks at the end.
The weekend is also cheery and buoyant with the Sun's trine of Jupiter on Saturday. The only blip on the radar is the Cardinal Lunar Grand Cross on Wednesday, pulling in Pluto, Jupiter, and Uranus, when tempers may flare.
Finally, Mercury moves into cool-headed, logical Aquarius on Tuesday, making the upcoming weeks auspicious for cooperation and working things out.
Here is a general overview of this week's energy, valid for all. Hearts and Hates for your sign follow below!
♥ Unleash your inner werewolf
The Full Moon on Friday is the perfect time to unleash the full force of your power and dare to make changes in your life. Don't be shy.
☹ Battle for pole position
Everyone could be revving their engines to prove their dominance on Wednesday. This will likely be harmless grandstanding, so try not to get too caught up in the drama.
Your sign's Hearts & Hates Weekly Horoscope:
Aries Horoscope (March 21 - April 19)
♥ Social smarts
Your attentions continue to turn to friends and networking. Set limits with clingy romantic partners on Friday, in order to have the vibrant social life you crave.
☹ Home is not where the heart is
Your career ambitions could cause jealousy and pouting from family members and romantic partners who feel overlooked.
Taurus Horoscope (April 20 - May 20)
♥ Take the Bull by the horns
Nothing makes a Taurus feel better than hard work. You will shine at the workplace, allowing you to put financial anxieties relating to home behind you.
☹ Woe is you
You are feeling worn out and stressed, both physically and psychologically, midweek. If you insist on bringing everyone down with your words, you may find yourself shunned.
Gemini Horoscope (May 21 - June 20)
♥ Shake it off
Breaking free from stagnant routines could fill you with energy, as well as bring the possibility of new, or invigorated, romance.
☹ Emotional spending
Social invitations or romance could see you splashing out midweek with money you do not have. Try to stay aware of how much you are splurging.
Cancer Horoscope (June 21 - July 22)
♥ Taking care of business
This is a great week to get your finances in order so that you can splurge on your beloved family members or spruce up your nest.
☹ Out of the loop
Everyone seems to have so much going on in their lives that you feel like just a sidekick, causing feelings of jealousy and envy.
Leo Horoscope (July 23 - Aug. 22)
♥ New horizons for romance
You may wake up to the fact that your romantic life is in a slump. Hit the road and change your surroundings so you have the chance to meet new romantic partners.
☹ Fear of change
There are lots of things going on in your world that are requiring you to step out of your shell and get more engaged with life, stirring up feelings of anxiety.
Virgo Horoscope (Aug. 23 - Sept. 22)
♥ Work hard for the money
New sources of revenue abound, so do not be afraid to take on new tasks or projects. Over the next few weeks you will feel extremely productive and can up your income.
☹ Smitten and silly
Your friends may be disapproving of how love seems to be the full basis of your identity recently, especially if you are foolishly lavishing money on your partner.
Libra Horoscope (Sept. 23 - Oct. 22)
♥ Weekend bed-and-breakfast
Break free from the social pack to spend some cozy one-on-one time with your sweetie this weekend. Love will fill you with confidence and joy.
☹ Vacuum packed
While family and love issues are hoovering up your full attention, your boss could be disappointed at your lack of focus at work.
Scorpio Horoscope (Oct. 23 - Nov. 21)
♥ Secret benefactor
You may quietly wish to help out a family member this week. Your kindness will be appreciated and make your hard work feel worthwhile.
☹ Wintertime shut-in
You are starting to feel stir-crazy, submerged in a never-ending pile-up of chores and work duties. The lack of warmth and sunshine isn't helping the matters.
Sagittarius Horoscope (Nov. 22 - Dec. 21)
♥ Say it loud
This is an excellent week to reach out to friends, as well as market your services to clients and prospective employers. You will be able to make an excellent impression on Monday and Friday.
☹ Bank (mis)management
While friends and lovers will love you for how much moolah you lavish on them, financial consultants will be more concerned about your spendthrift ways
Capricorn Horoscope (Dec. 22 - Jan. 19)
♥ Home-grown productivity
Your desire to create a secure nest for you and your family will be all the motivation you need to go for your ambitions at the workplace.
☹ All about you
Lovers will grow exhausted of having to change their lives to suit your goals and ambitions.
Aquarius Horoscope (Jan. 20 - Feb. 18)
♥ Escape the embrace
It is time to put the emotional drama of toxic love relationships behind you so you can live fully and joyfully in the world, and stop isolating yourself from your true friends. Seek out new romance on Monday.
☹ Stop making sense
Existential and psychological crises will drain you of your physical vitality mid-week, causing misguided, poorly thought-out miscommunications.
Pisces Horoscope (Feb. 19 - March 20)
♥ Invest in mental well-being
Over the next few weeks, you will be able to experience psychological renewal that will allow you to seek out true intimacy and trust. Don't be afraid to try out counseling.
☹ Opting for the safe bet
There is more to love than money. Your longing for financial security could lead to feelings of regret for not going after the one who truly makes your heart skip a beat.