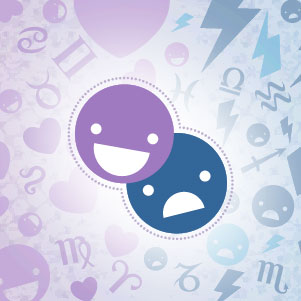 The week starts off with an angry New Moon -- control freaks will be more stubborn than ever, while gentler souls quiver in the shadows in fear. Harmonious energy bounces back quickly on Tuesday.
Valentine's Day on Sunday is a mixed bag -- a nagging, aggressive tone that's longing for passion and desire, fights against pragmatic feelings of acceptance as to the limits of reality in love.
Here is a general overview of this week's energy, valid for all. Then keep reading for the Hearts and Hates for YOUR sign this week!
♥ Risk to relate
Wednesday and Saturday are auspicious days to break out of your shell and meet new people.
☹ Back to first base
The week is bookended by angry, stubborn energy. Issues that arise on Monday may resurface on Sunday, with nobody willing to compromise
Your sign's Hearts & Hates Weekly Horoscope:
Aries Horoscope (March 21 - April 19)
♥ Midas touch
You have the ability to transform all your hard work into hard savings. Meet with a financial advisor so you can invest your earnings into a long-term source of passive income.
☹ High cost of beer
Social opportunities may conflict with your strong desire to save money and sort out your financial life. You are not in the mood for frivolous spending, yet you can't bear missing out on the fun.
Taurus Horoscope (April 20 - May 20)
♥ Escape
If you feel like your love affair has become nothing but a worn-out recording, you may want to make plans to escape duty-bound routines by exploring new horizons filled with piña coladas and walking in the rain on Wednesday and Saturday.
☹ Missed signal
Opportunity knocks, but your romantic partner may be screaming their demands so loudly that you don't hear the buzzer. Monday brings massive opportunities in terms of career; you are right to dig in your heels against your sweetie in order to get ahead.
Gemini Horoscope (May 21 - June 20)
♥ Full house
By pulling together and working toward shared prosperity, your home can be filled with more cheesy good cheer and love than a 90s-era Olsen-fueled sitcom.
☹ Worn out and overworked
New experiences beckon, but your ambition is trapping you into a workaholic lifestyle. If you don't let in inspiration, you may end up psychologically tapped out by Sunday.
Cancer Horoscope (June 21 - July 22)
♥ Have I told you lately that I loved you?
You will have no problems letting your sweetie know how much you care -- over and over and over again.
☹ Friendly ire
Friends may grow fed up of having to listen to you gush about your love drama. Remember to ask how they are doing, as well.
Leo Horoscope (July 23 - Aug. 22)
♥ Home work
If you have an entrepreneurial kitchen-table start-up, things could start to go very well, indeed, leading to an increase in earnings. Burn the midnight oil this week to take advantage of this auspicious energy.
☹ Your true love is not named Mac
You may need to back away from your ambition -- and your computer -- this weekend. Lovers are demanding your time, and if you are single, you could meet a promising prospect.
Virgo Horoscope (Aug. 23 - Sept. 22)
♥ Shy no more
You have cast off your normal demure nature in recent months. This has helped you go for it in the love department, leading to one of the hottest, most ardent Valentine's on record.
☹ New developments, new stress
You thrive on routine, but new opportunities at the workplace on Monday could cause you to lash out verbally at colleagues as you struggle to regain control of a shifting situation.
Libra Horoscope (Sept. 23 - Oct. 22)
♥ Bed, bath and beyond
Try a little retail therapy on Friday; splurging on some luxuries for the home will do much to lift your spirits.
☹ What's yours is yours
You are extremely motivated to boost your earnings this month -- but not as inspired to share your bounty with your lover.
Scorpio Horoscope (Oct. 23 - Nov. 21)
♥ Myspace Tom
You are everyone's number-one friend by default this week. Making efforts to increase your social network will pay off on Wednesday and Saturday.
☹ All about you
Your partner may feel bulldozed by your aggression and control-freak tendencies on Valentine's Day. They may prefer to seek out fun with friends, leaving you pouting at home.
Sagittarius Horoscope (Nov. 22 - Dec. 21)
♥ Unleash your dreams
Don't be afraid to hustle to make your career dreams a reality. Let the powers-that-be know what you hope to achieve in terms of professional advancement and they may open doors to get you there.
☹ You're a little teapot
All that anger and aggression you are carrying around inside needs to come out somehow. On Monday and Sunday, you may need to let off a little verbal steam.
Capricorn Horoscope (Dec. 22 - Jan. 19)
♥ Six degrees of...
You have the ability to make powerful connections with people who have powerful connections. It will be much easier to get where you want to go and increase your personal influence when allied with like-minded, ambitious people.
☹ The thought doesn't count
Don't be surprised if your sweetie is insulted by your gift of a homemade Valentine's card -- considering the amount of money you are splurging to impress social acquaintances.
Aquarius Horoscope (Jan. 20 - Feb. 18)
♥ No one ever makes it alone
Your ambition and work ethic are at a two-year high. Luckily, you can attract powerful backers to help you make your dreams a reality.
☹ Ego in the way
You may need to sacrifice a little of your ego in order to advance in your career. Luckily, by Tuesday, graciousness and humility make a comeback.
Pisces Horoscope (Feb. 19 - March 20)
♥ Break out of a rut
Dare to explore new neighborhoods and intellectual horizons. You can make entertaining new contacts -- even in love -- if you break from set routines and social circles.
☹ Still in the chrysalis stage
You long to be a fluttering butterfly, but are still in an incubatory stage. You may have to deal with some soul-searching and self-confinement before you can truly be free.