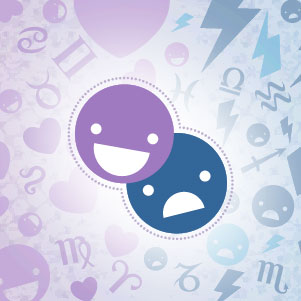 The skies are amazingly positive all week, with no major negative transits. A light-and-loose lunar square on Thursday is the biggest bump, but it will barely be felt against that day's amazing upbeat vibes.
Here is a general overview of this week's energy, valid for all. Then keep reading for the Hearts and Hates for YOUR sign this week!
♥ Gonna Fly Now
Dare to take risks, especially in love, on Tuesday, while Thursday is a 5-star day for finding innovative solutions to lingering long-term problems regarding work and stability.
☹ What's the catch?
Things are so easy on Thursday, it may seem too good to be true. Go after your dreams without hesitation; this is for real.
Your sign's Hearts & Hates Weekly Horoscope:
Aries Horoscope (March 21 - April 19)
♥ First play, then work
Things are a bit backward this week. Get the playfulness out of your system on Tuesday by going out and exploring new places or ideas, which can fill you with inspiration. On Thursday, turn your attention to work; you can finally find the right solution to a lingering problem.
☹ Little engine that could
You may feel a bit overwhelmed by work on Thursday, but the opportunities for reward and advancement are tremendous -- so rise up to the task!
Taurus Horoscope (April 20 - May 20)
♥ Primp and pimp
As long as you don't overdo it, a little retail therapy could be a huge mood booster on Tuesday. Investing in revamping yourself will pay off on Thursday when you can be whisked away by amour if you break away from routine.
☹ Spread thin
You only have so much money to spend on socializing and love -- choose romance.
Gemini Horoscope (May 21 - June 20)
♥ Piggy bank
There is no better place to invest your earnings than in your home and family. Thursday is a perfect day to drop some coin in order to help out a relative, buy furniture, take on a mortgage or sign a rental agreement.
☹ But what about work
As much as you would love nothing more than to cocoon away at home with family and romantic partners on Thursday, you can't fight faint feelings of unease due to your vague career direction.
Cancer Horoscope (June 21 - July 22)
♥ Words can be stronger than kisses
Lingering problems in your relationship can be solved through open, honest dialogue and understanding.
☹ Quel ennui!
You may be feeling totally bored at the office on Thursday. At least you can escape to the water cooler to kill time chatting with colleagues.
Leo Horoscope (July 23 - Aug. 22)
♥ The big payback
You can do wheelin', you can do dealin', and now it is time to get some sweet Benjamins in return. Thursday is a great day to negotiate better pay.
☹ Living in a material world
While work and money are going well, you may feel fleetingly cut off from life's softer side, including creativity and romance, on Thursday.
Virgo Horoscope (Aug. 23 - Sept. 22)
♥ Positivity conquers all
If you have had some misunderstandings in your love life, reaching out to a current or former partner with honesty and optimism can help bring mutual comprehension and forgiveness.
☹ Monsters-in-law
Even if you and your sweetie can work things out, there is still lingering doubt whether your lover and family will ever be able to accept each other.
Libra Horoscope (Sept. 23 - Oct. 22)
♥ Cleaning out your closet
On Thursday, you will be able to say you're sorry Momma and work out family drama more successfully than a rap by fellow Libran Eminem.
☹ Too tired to talk
You will be feeling physically drained from all your deep mental ponderings on Thursday, and won't be in the mood for idle chitchat with friends and acquaintances.
Scorpio Horoscope (Oct. 23 - Nov. 21)
♥ Remember me?
Reach out to old friends who may have dropped off your radar over the years on Thursday. You can quickly re-establish solid bonds of bonhomie.
☹ What about me?
Lovers may be pouty about the amount of money you spend socializing instead of doting on them on Thursday. It's your money, so make sure to continue to cultivate and nourish friendships.
Sagittarius Horoscope (Nov. 22 - Dec. 21)
♥ The gravy train finally pulls into the station
If you are owed some money that was due last month, it may finally arrive on Thursday.
☹ Home is where the heart is
You have to spend so much time at the office due to an overwhelming workload that you may feel some melancholy over lost family moments on Thursday.
Capricorn Horoscope (Dec. 22 - Jan. 19)
♥ Mandala mindset
The world is your oyster on Thursday. Inspiration and ingenuity abound, and you can find enlightenment in almost anything, so open your eyes -- along with your mind -- and soak in the wonderment.
☹ Solitary Buddha
Enlightenment is often a solitary journey, and you may have a hard time expressing your relevatory sensations to those around you.
Aquarius Horoscope (Jan. 20 - Feb. 18)
♥ Divine intervention
You may have been wallowing in your own thoughts lately, but you will be able to open your mind to new levels of conscious awareness on Thursday that will help rehabilitate your interior psyche.
☹ New Year's budget
You may regret how much you overspent during the holidays, because it may keep you from a social outing on Thursday, but it is better to recalibrate your finances than to party on endlessly and heedlessly.
Pisces Horoscope (Feb. 19 - March 20)
♥ Reaching out
If you are in a relationship, don't suffocate in your couple bubble! Call up old friends or make new ones, Thursday is a great day for socializing. If you are single, get in touch with a former secret crush; it may work out this time.
☹ Conflicted
You may be torn between love and career on Thursday. You love what you do, even if it may be demanding, but your partner may be even more demanding than your job, insisting that you make concessions so they can follow their dreams.