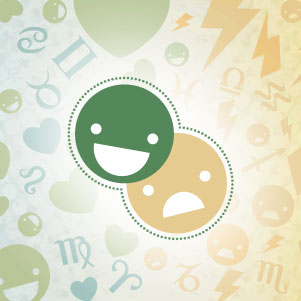 This is a pretty low-key week astrologically, but frustrations will run high on Thursday when aggressive Mars butts heads with stubborn Saturn, shortly before the Sun enters Aquarius later in the day.
The only other major aspect this week is Venus' sextile to Pluto on Friday -- a bit of a twist on last week's sextile between Mars and Pluto. While the latter pushed us to take risks and boldly go after our goals, this week's energy is urging us to use charm and diplomacy to achieve our desires.
Here is a general overview of this week's energy, valid for all. Hearts and Hates for your sign follow below!
♥ Attract more bees with honey than vinegar
Sometimes a soft approach is the most effective. Instead of bossing people around in order to get your way on Friday, try to use sweet talk as a means to an end.
☹ Impossible to advance
When a strong offense meets an impenetrable defense on Thursday, everyone will be clashing, but no one will be breaking through.
Your sign's Hearts & Hates Weekly Horoscope:
Aries Horoscope (March 21 - April 19)
♥ See what the boys in the backroom will have
Behind-closed-doors wheeling and dealings, along with clubby socializing, will help you gain the admiration of higher ups. Not everyone in the office needs to know everything you do.
☹ Hello, cold world
You are bursting with inner-confidence and enthusiasm, but no one seems to care. Stop surrounding yourself with stick-in-the-mud bores.
Taurus Horoscope (April 20 - May 20)
♥ Connected with friends and the universe
Hanging out with creative, artistic people will give you a more soulful view of the outside world, filling you with inspiration and purpose.
☹ Friends without benefits
Social acquaintances may be jockeying for a piece of your pie. This is not a good time to mix business or money with friendship.
Gemini Horoscope (May 21 - June 20)
♥ Money talks
Your negotiating skills are on fire Friday, making it a 5-star to discuss contract terms and benefits.
☹ Passion is in your work
You are finding work infinitely more enjoyable and energizing than love at the moment. A joyless romantic partner could pick up on this and try to tear that shred of happiness away from you, as well.
Cancer Horoscope (June 21 - July 22)
♥ Road to milk and honey
Take off on a romantic adventure on Friday evening. A rendezvous away in a quaint bed and breakfast could heighten feelings of love with your sweetie.
☹ Competitive gridlock
Threatened colleagues could cut you out of workplace camaraderie, mistaking your unbridled enthusiasm for competition.
Leo Horoscope (July 23 - Aug. 22)
♥ Birth of a salesman
Instead of feeling awkward talking about money, you will be able to speak naturally in a way that piques people's interests, guaranteeing a deal.
☹ Fire vs. ice
Your passion is at odds with the conservative, dull outlook of current romantic suitors. It's as if you are magnet for inert energy.
Virgo Horoscope (Aug. 23 - Sept. 22)
♥ Kiss and make up
You can erase the lingering effects of domestic squabbles through passionate cuddles on Friday. Spend the evening in and put the time to good use.
☹ The battle of the kitchen sink
Your lovely yet lazy partner may refuse to do their fair share of cleaning up around the house, leading to massive struggles over who will do the dishes.
Libra Horoscope (Sept. 23 - Oct. 22)
♥ Family ties
Spend Friday helping out a family member in need; your bonds of kinship will strengthen, guaranteeing a reliable ally for the future.
☹ Can't argue with a brick wall
Colleagues will be up for a fight this week. While tuning them out with silence and a turned cold shoulder will help you stay out of the fray, it will also increase their frustration and ire.
Scorpio Horoscope (Oct. 23 - Nov. 21)
♥ Talk is cheap, but productive
The best way to woo a romantic target on Friday is through an engaging heart-to-heart talk. You will be so engrossed in each other's words that the backdrop will melt away, so don't waste money on an expensive locale.
☹ Hit a vein
Gold diggers will soon learn they have tapped the wrong target, as you will have none of their saucy, manipulative temptations.
Sagittarius Horoscope (Nov. 22 - Dec. 21)
♥ Fixer upper
Indulge in some luxury baubles to revamp your homestead. Pretty pressies will also calm the nerves of feuding family members.
☹ House broken
Domestic squabbles this week will cause you to feel isolated and emotionally detached from relatives. Try to ignore their drama, as you already have enough to deal with.
Capricorn Horoscope (Dec. 22 - Jan. 19)
♥ Holding court
Loving serfs will be lining up to kiss your ring on Friday. Your leadership ability is on overdrive and people are more than willing to bow to your dominance.
☹ Cold soul, hot words
Inner feelings of pointlessness and alienation could cause you to lash out in tyrannical bursts of anger this week.
Aquarius Horoscope (Jan. 20 - Feb. 18)
♥ Pull on the pampers
Treat yourself to something nice on Friday. A little material decadence will boost your confidence, making you feel empowered.
☹ Throwing good money after bad
No matter how much you wine and dine them, your self-righteous, haughty cohorts will not be impressed. Spend your money on someone who will appreciate it -- yourself.
Pisces Horoscope (Feb. 19 - March 20)
♥ Knock more than the socks off
Your enchanting magnetism can charm a soul mate to your side on Friday. Make sure to schedule a date or a night out with friends so you can meet someone new.
☹ Barriers to advancement
Your ambitions are grand, but progress to the top of the career ladder is slow. Keep plugging away -- success rarely comes overnight.