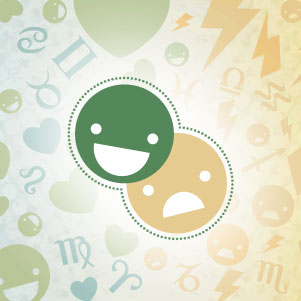 There are two Grand Trines happening this week. These are relatively rare, super harmonious aspects that make everything easier!
Here is a general overview of this week's energy, valid for all. Then keep reading for the Hearts and Hates for YOUR sign this week!
♥ Feeling grounded and groovy
Monday's Grand Trine is in the Earth signs, making this an excellent day for achieving a sense of stability in work and practical matters. A Grand Trine occurs in the Water signs on Friday -- an opportune time to tackle emotional matters.
☹ Power mad
Friday can be a day when competitive, win-at-any-cost control freaks are out trouncing on everyone's emotions. Distance yourself from these people for self-protection.
Your sign's Hearts & Hates Weekly Horoscope:
Aries Horoscope (March 21 - April 19)
♥ Financial affairs
Endless hours spent cooing with your bank manager could lead to a much more robust economic strategy. You are definitely on the road to career success; now is the time to secure your earnings for the long-term.
☹ Emancipation proclamation
Your excessive workload is making you feel lazy and crazy, leading to hurt feelings on the homefront Friday. Luckily, the Sun moves into your social sector midweek, giving you opportunities to get out and have some fun.
Taurus Horoscope (April 20 - May 20)
♥ Sea of Love
You will be drowning in romantic opportunity this week; Tuesday and Friday are both 5-star date nights. If you are crushing on a friend, get up the courage to let them know how you feel.
☹ Dutch treat
Nothing kills the vibe of romance faster than counting pennies when the bill arrives. If you really dig your sweetie, dig into your pockets and ante up some money to show you're really invested.
Gemini Horoscope (May 21 - June 20)
♥ Dig your own hole
Your career direction is all over the place, but Mars in your get-it-done sector is urging you to do something -- any movement will propel you further than just standing around confused, especially on Monday and Friday.
☹ A fool and his money
Be wary of fair-weather social acquaintances seeking handouts this week, or you may find yourself being financially exploited.
Cancer Horoscope (June 21 - July 22)
♥ Hey, Good Looking!
You will have plenty of romantic prospects cooking up your stove this week. Your magnetism is at a 2-year high, allowing you to attract dreamy suitors your way.
☹ Bring a mop
Love drama could adversely spill over into your work life, leaving colleagues skittish and running for the door every time they see you walking their way. Resist talking non-stop about your personal life to avoid feelings of alienation.
Leo Horoscope (July 23 - Aug. 22)
♥ Dream home
If you have been thinking about moving, this is a good week to scout out a new abode. Renovations and repairs can also go smoothly and efficiently.
☹ Feel like bustin' loose
Your incredible focus on work is setting you up financially, but it could be hemming you in romantically and in terms of overall life-experience. Make time for the softer side of life.
Virgo Horoscope (Aug. 23 - Sept. 22)
♥ BTWITIAILWU
Break out your SMS-to-English dictionary, because you will be wanting to find a thousand new ways to say By The Way I Think I Am in Love With You to your sweetie.
☹ Back away from the spreadsheet
Even in love, you have a hard time turning off your finicky mind. If you insist on keeping a running tab of who paid how much and for what, you shouldn't be surprised by your lover's anger and obstinacy.
Libra Horoscope (Sept. 23 - Oct. 22)
♥ Out of the box
Creative thinking could lead to a boost in income and job opportunity this week. Try out ideas that are not only one-of-a-kind, but also make the world a better place and help others. This is a rare moment when idealism can pay off.
☹ Home brew
All the drama bubbling up at the homefront could spill over, effecting your work and love life. Learn how to compartmentalize family strife.
Scorpio Horoscope (Oct. 23 - Nov. 21)
♥ Straight path to love
Don't waste your time game-playing; being forthright and direct about feelings will lead to emotionally nourishing and bonding connections. A friendly frog could even morph into Prince Charming, if you dare to give them a kiss on Monday.
☹ Deep pockets or Deep Throat
Guilt-induced acts of generosity toward friends on Monday could lead to an explosion of resentful, angry words later in the week, as your mind obsesses compulsively over a seemingly one-way flow of money. Don't pick up the tab if you expect something in return.
Sagittarius Horoscope (Nov. 22 - Dec. 21)
♥ Rest home
You may want to clear your social schedule this week to relax at home and recharge your batteries.
☹ Lazy and crazy
You will be less than inspired to tackle your overwhelming workload on Monday. Unfortunately, high-strung, high-maintenance partners are demanding you bring home the bacon in ever increasing amounts. At the Full Moon on Saturday, you may finally say "no" to the sharing.
Capricorn Horoscope (Dec. 22 - Jan. 19)
♥ Social worker
Getting out and meeting people will make you go up in your lover's eyes, as they will admire your ability to forge new networks and create interesting outings.
☹ Home court advantage
You want to get out and expand your horizons but may not be able to summon up the courage to go new places, largely because needy people at home are making you second-guess your wanderlust by playing on your fears and anxieties.
Aquarius Horoscope (Jan. 20 - Feb. 18)
♥ Rainbows and unicorns ... and dollars and cents
You have a lot of idealistic dreams about making money by making the world a better place. It's time to roll up your sleeves and get to work to make it happen.
☹ Say what?
You may regret a certain argument you had in the lead-up to Christmas. Your attempts to reach understanding this week, however, only lead to more confusion and cross words.
Pisces Horoscope (Feb. 19 - March 20)
♥ New horizons
If you open your mind to new vistas through travel, study, or art, you can unlock profound levels of inspiration in your inner-psyche.
☹ Social climbing
You may have second thoughts about whether it is worth the money you have been shelling out recently to keep up with the Joneses.