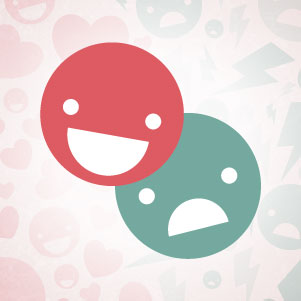 The first energy shift of the year occurs on Tuesday, when diplomatic Venus moves into sensitive Pisces. Fighting and anger grow tiresome after a while, and when the Sun conjuncts Pluto in Capricorn on Saturday, it may be time to pull together in strength in order to achieve objectives and security. Mercury retrogrades back in to Sagittarius on Wednesday, dredging up issues from early last autumn. Luckily, the planet turns direct on Sunday, and mental clarity returns.
Here is a general overview of this week's energy, valid for all. Hearts and Hates for your sign follow below!
♥ Peace, love, and understanding
With Mercury turning direct and Venus moving into a sign that's all about harmony, cooperation can be achieved by the end of the week.
☹ Don't taze me, Bro
The occultation of Mars on Tuesday acts like a stun gun, dazing ourselves to the pains of aggression.
Your sign's Hearts & Hates Weekly Horoscope:
Aries Horoscope (March 21 - April 19)
♥ #bossgirl (or guy)
Put in some extra hours at the weekend, because your leadership abilities will impress everyone at the workplace.
☹ Self-medication
You may take any means necessary to anesthetize to the psychological pains of your existence early in the week. If you have problems with alcohol or drugs, reach out for help or seek out counseling before you fall off the wagon.
Taurus Horoscope (April 20 - May 20)
♥ Friendly cease-fire
Petty arguments may have blown up with friends over the holidays. Put aside your competitive urges to make peace.
☹ The bill has finally arrived
If you racked up some credit charges in November, you may finally have to pay the proverbial piper this week.
Gemini Horoscope (May 21 - June 20)
♥ Easy-bake oven
Your laidback charm and ability to work together in harmony will be the keys to success at the office this week. Turn your aggressive setting to low, in order to bake solid bonds with colleagues.
☹ Thinking with your...
Obsessing over an ex-lover could cause you to make some unwise decisions regarding your love life. Hold off on action until Sunday, when Mercury turns direct and clarity returns.
Cancer Horoscope (June 21 - July 22)
♥ The power of love
Saturday is one of the best date nights of the year. It is especially auspicious for taking a relationship to the next level or proposing a marriage.
☹ Road bump
Be especially careful when traveling on Tuesday, or you could end up in a minor fender bender. Try not to let delays or cancellations frustrate you.
Leo Horoscope (July 23 - Aug. 22)
♥ Dirt devil
Set to work on clearing out your backlist of chores on Saturday. You will be able to plow through them easily, without breaking a sweat.
☹ There must be some way outta here
You have been guarding your watchtower far too strictly for far too long. If you let no one into your world, you are also blocking out love. It is time to lower the security alert to relieve your romantic confusion.
Virgo Horoscope (Aug. 23 - Sept. 22)
♥ Make love, not war
If you and your romantic partner have been at odds for the past few weeks, you can finally put down your arms for a warm romantic embrace.
☹ Domestic struggles
You may start obsessing over worries about home or family that plagued you last fall. Instead of spinning into anxiety, try to think out long-term solutions starting Sunday.
Libra Horoscope (Sept. 23 - Oct. 22)
♥ House warming
Staying at home relaxing on Saturday will allow you to recharge your batteries and give you the energy boost you need.
☹ Low energy
You may feel drained and tired on Tuesday. Try not to push yourself too hard or feel you need to take care of everyone else's problems.
Scorpio Horoscope (Oct. 23 - Nov. 21)
♥ Hello world!
You will be filled with more communicative optimism than the debut entry of a brand-new blog at the weekend. Send out your resume, get in touch with friends, and promote yourself.
☹ Money worries
Your mind may dwell upon financial woes starting on Wednesday. Do not make any rash decisions affecting your income until Mercury turns direct on Sunday.
Sagittarius Horoscope (Nov. 22 - Dec. 21)
♥ Home repair
Recent squabbles with family members will calm down so you can work on restoring peace and harmony around the homestead.
☹ Moody & Co.
You may start to brood over problems that were haunting before the holidays. Luckily, starting Sunday, your usual Sagittarian optimism returns.
Capricorn Horoscope (Dec. 22 - Jan. 19)
♥ The force awakens
You will be able to tap into the full power of your identity this weekend. Your magnetism will be high, allowing you to pull powerful allies and lovers to your side.
☹ Weak words
You have been talking a big game for the past few weeks, but may have a hard time putting your words into action on Tuesday.
Aquarius Horoscope (Jan. 20 - Feb. 18)
♥ Internal combustion engine
Your inner sense of self roars to life this weekend, filling you with confidence and awakening your mind to the full unlimited potential that life offers. Stop listening to close-minded friends and make things happen!
☹ Spending spree
You may over splurge on luxury items this week, especially on Tuesday. Think before you buy.
Pisces Horoscope (Feb. 19 - March 20)
♥ Party central
Make sure to get out and socialize this weekend. You will be extroverted and magnetic, and could attract some powerful, lasting, and inspirational people into your life.
☹ Back to the grind
After the festive holiday season, you may start to worry you have fallen behind on your work and have a hard time shifting gears back to the office. Starting Sunday, you will be able to focus again.