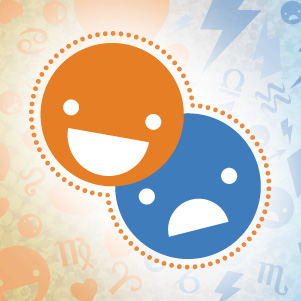 This is a great week for figuring out your own ego needs, but a dreadful week for playing fair with others! Here is a general overview of this week's energy, valid for all. Then keep reading for the Hearts and Hates for YOUR sign this week!
♥ It's all so clear now...
Mercury turns direct on Monday, putting an end to all the confusion that has been sapping the collective energy reserves since early January. Then everyone figures out what they want on Saturday, when Mercury conjuncts emboldened Pluto.
☹ What I want is what I want
Everyone is fighting for their rights on a prickly and stubborn Sunday.
Your sign's Hearts & Hates Weekly Horoscope:
Aries Horoscope (March 21 - April 19)
♥ Career clarity returns
Instead of a Dragon's Den filled with entrepreneurial gung-ho, your workplace may have felt more like a viper's pit filled with cutthroat manipulation since early January. The aura of suspicion eases considerably starting on Monday, leading to an enhanced sense of power and control.
☹ Calling you out
Your colleagues and bosses haven't been the only players on the workfront. If you have been doing your own devious machinations to get ahead, these may come to light late this week.
Taurus Horoscope (April 20 - May 20)
♥ Au revoir, Jean-Paul!
For all of January, you have been brooding with more existential angst than Sartre himself. An upbeat and positive attitude filled with possibility and power finally returns.
☹ Anxious over wasted time
You may grow antsy over all the weeks you spent ruminating instead of acting. Stay calm; you have all of 2016 to implement your goals.
Gemini Horoscope (May 21 - June 20)
♥ Sayonara, Paranoia
You may have felt all your friends were after you for your money these past few weeks. A clearer, more trusting outlook returns now.
☹ Working the phones
You better take to your smart phone to make up for your recent stupid behavior. Friends may have grown suddenly alienated due to your distrustful attitude toward sharing, and deserve an apology this weekend.
Cancer Horoscope (June 21 - July 22)
♥ Back in baby's arms
Suspicion and mind games may have kept you and your lover at arm's length recently, but this week you can finally stop messing around and start ... messing around. On Saturday, you can find honesty is the greatest aphrodisiac.
☹ It's always something
Now that you have resolved your love issues, it frees your mind to fret over your career direction on Saturday. Try to take your mind off things by escaping into romance.
Leo Horoscope (July 23 - Aug. 22)
♥ Up and at 'em
You have been bogged down in a build-up of old chores that were preventing you from moving on to new projects. On Monday, the new year will officially start workwise, and you can finally get projects off the ground.
☹ FOMO
Your focus has been, and continues to be, on work, which may make you fear you are missing out on living. This is a rare moment to boost your income, so don't lose this opportunity for fleeting pleasures.
Virgo Horoscope (Aug. 23 - Sept. 22)
♥ Stop projecting
You have been on nitpicking overdrive the past few weeks. Potential suitors are not nearly as bad as you have been making them out to be. At the weekend, you can put down your defenses and let love in.
☹ Fear of intimacy
Perhaps you have been finding fault in your lover as a means of deflecting of your true fear -- opening up yourself to vulnerability and sharing, both intimately and financially.
Libra Horoscope (Sept. 23 - Oct. 22)
♥ Goodnight John-Boy
The Miracle of Christmas comes a month late to Walton's Mountain this year. You and your kinfolk may have been feuding more than the Hatfield's and McCoys, but from Monday, understanding and loyalty return.
☹ Not one of us
Even though you are reconnecting the bonds of family with your relatives, that doesn't mean they are extending the openness to your romantic partner. You may want to skip Sunday family dinner.
Scorpio Horoscope (Oct. 23 - Nov. 21)
♥ Debate captain
After a few weeks of misunderstandings and arguments, you will be able to once again channel your inner Cicero. By Saturday, you will be delivering powerful oratory, proving that words are more powerful than might.
☹ Unplugged
Stay away from work emails on Sunday, as your blunt, forthright speech, written in haste, could hurt some delicate nerves on the receiving end. Save a draft and wait until Monday to send communications after re-reading them, or to talk in person.
Sagittarius Horoscope (Nov. 22 - Dec. 21)
♥ Economic leverage
You have been a bit of a softy when it comes to money the past few weeks, especially by allowing yourself to be manipulated by charming lovers and children. That all changes Monday, and by Saturday, the power over the purse strings will be all yours.
☹ Spoiled rotten
On Sunday, you may need to deal with temper tantrums from offspring and romantic partners who have gotten used to wrapping you around their finger.
Capricorn Horoscope (Dec. 22 - Jan. 19)
♥ Get up, stand up
Perhaps birthday-time blues had you overly thinking your life's direction, allowing family members to play on your fears in order to keep you close to home. Starting on Monday, you will be able to clear your head and set your own course.
☹ Family Feud
Your desire to take command over your own life could meet with major resistance from panic-stricken family members, who are more concerned about their own fears and needs than your desire for experience and self-determination.
Aquarius Horoscope (Jan. 20 - Feb. 18)
♥ Cut the cord
It is time to stop navel-gazing and tap back in to your inner life source. After ruminating obsessively for the past few weeks, you can finally work through your emotions to achieve strength and personal power.
☹ Dumping ground
While getting things off your chest and not repressing your emotions is a good thing, you could go overboard on Sunday, causing frayed emotions, especially with siblings.
Pisces Horoscope (Feb. 19 - March 20)
♥ Super Friends
You may have been worried about the closeness of some social acquaintances, but things get cleared up starting on Monday. By Saturday, you will be assured of the reliability of your friendship group.
☹ Cost of admission
When cultivating companions, you need to spend money to participate in outings. You may be worried that too many "no" RSVPs will cause the invites to dry up. Be honest about your shaky finances to your firm friends, so that they can understand the reasons for your absences.