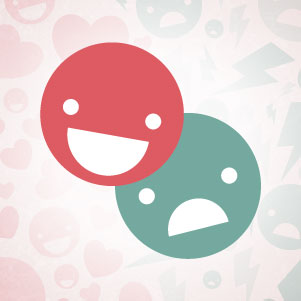 There is an overload of overthinking, mental energy this week as ponderous Mercury forms a T-Square that draws in Pluto, Uranus, and Jupiter from Tuesday through Thursday. Obsessive thoughts could cause people to act out in erratic ways.
Once Venus enters Aries on Friday, things take on a more upbeat, dynamic tone. Venus will be hanging around in Aries for a whopping five months, due to retrograde motion. This week's Heart will give you the low-down on this rare, super-long transit, so you can put its energy to use!
Here is a general overview of this week's energy, valid for all. Hearts and Hates for your sign follow below!
♥ Be bold in love
The weekend promises many opportunities for flirtation and seduction. Do not be afraid to make the first move or ask someone out on a date. Forget about long, sit-down dinners; do something active and daring.
☹ The game of Risk
Everyone will be plotting global domination this week. Fear and audacious courage abound in equal measure, making it next to impossible to predict your opponent's next surprising move.
Your sign's Hearts & Hates Weekly Horoscope:
Aries Horoscope (March 21 - April 19)
♥ Belle of the ball
The planet of beauty and charm, Venus, moves into your very own sign on Friday. For the next five months, you will have a certain easy-going allure that will draw people into your orbit. It is also an excellent period to revamp your look.
☹ General Electric
Your tyrannical leadership at the office could be masking inner feelings of anxiety and feeling like a fraud. Your partner could be growing tired of your focus on work, instead of on them.
Taurus Horoscope (April 20 - May 20)
♥ Time for a facelift from within
Over the next several months, you can reconnect with the beauty of your soul by tapping into your compassionate nature and leading a life based on kindness and graciousness.
☹ Existential crisis
Thinking too much about your place in the world could lead to feelings of increased anxiety and reckless behavior that could take a toll on your health. Try meditation instead rumination.
Gemini Horoscope (May 21 - June 20)
♥ You've got a friend
Over the next five months, repairing strained relationships will be foremost on your agenda. Your charm and sparkling wit will make you the cohesive center of any social group.
☹ Division of wealth
You may be worried about how you can financially support your booming social life, as well as your demanding lover. Make sure you take care of saving and investments first.
Cancer Horoscope (June 21 - July 22)
♥ Business angel
Your career has been on shaky, ever changing ground for many years now. During the next five months, you will be able to build solid bonds with colleagues and bosses. Make sure to keep in touch with former co-workers, as well, as a source of potential job leads.
☹ It takes more than love
You may be worried about how a controlling partner's total dominance is undermining your career, along with your ties to your family. If you feel you are being isolated or made overly dependent, confide in a concerned relative for help.
Leo Horoscope (July 23 - Aug. 22)
♥ Life is beautiful
For the past several years, the world may have seemed like a scary, unpredictable place. You can get back in touch with inspiration and joy during the next five months.
☹ Stress-related injury
A huge work overload could have you snapping out at those around you in order to release pent-up energy midweek, causing avoidable arguments and rifts.
Virgo Horoscope (Aug. 23 - Sept. 22)
♥ Easy investing
If you need to deal with issues relating to finances such as investments, mortgages, loans, or scholarships, you will be able to gain a solid rapport with those that can help you during the next five months.
☹ Money pit
You and your lover cannot dig yourselves out of the hole of arguing about finances and who should pay what. You are fearful of sharing your hard-earned wealth.
Libra Horoscope (Sept. 23 - Oct. 22)
♥ Love is in the air
For the first half of 2017, your ruler, Venus, will be transiting your house of true love, making this an extremely auspicious time for relationships.
☹ Meddling relatives
Family members or in-laws may be plotting ways to influence your romantic relationship; do not let them come between you and your partner.
Scorpio Horoscope (Oct. 23 - Nov. 21)
♥ A time for healing
If you have been feeling under the weather or worn out by life's stresses, the first half of 2017 offers many opportunities to relax and regain a sense of physical equilibrium.
☹ Escalation of words
You may be overthinking your communications, leading to words that are slightly intimidating. If you have problems to resolve, just say what you feel casually, instead of inflating everything into a big deal.
Sagittarius Horoscope (Nov. 22 - Dec. 21)
♥ Sending an angel
Opportunities for new romance abound during the first half of 2017. If single, make sure to put yourself out there to take advantage of this rare opportunity.
☹ More money blues
More money often causes more headaches, instead of resolving them. Friends, children, and lovers equally want a piece of your pie, making you feel suspicious and slightly used.
Capricorn Horoscope (Dec. 22 - Jan. 19)
♥ Feathering your nest
The next five months are great moment to redecorate your home to make it a cozy safe haven for you and yours.
☹ Holding onto the reins
It's taking a lot of force to drive your chariot. Opposing forces of home and career are seeking your attention, putting your leadership skills to the test.
Aquarius Horoscope (Jan. 20 - Feb. 18)
♥ Call to say I love you
You've been having a hard time effectively verbalizing your thoughts and feelings for several years, which could have led to estrangements. Over the next five months, you will be able to re-establish bonds with those you have alienated.
☹ Need to recalibrate
Your surroundings may not be the right setting for realizing your ambitions and goals. It is time you face the harsh reality and get about making some changes.
Pisces Horoscope (Feb. 19 - March 20)
♥ Treat yourself
You have been working very hard, but long-standing money issues have kept you from enjoying your earnings. Treat yourself to some baubles and luxuries -- you have earned them.
☹ Social climbing
Savings in your bank account may fall as you plot your ascent to the heights of social success. Try to keep things in balance.