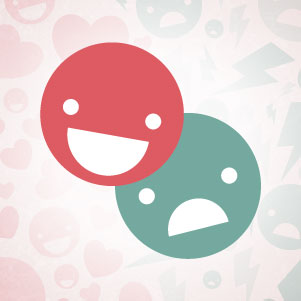 The first week of the New Year brings lots of opportunities for advancement, so get over your fears and go for it! Here is an overview of this week's energy for everyone. To find out what this week will bring you personally, keep reading for YOUR sign's Heart and Hate Horoscope!
♥ DysFunctional relationships
With the Moon, Saturn, and Venus meeting up in the warm-hearted sign of Sagittarius on Thursday and Friday, it will be an auspicious time to make peace and erase all the drama from our emotional lives in order to forge nourishing connections based on empathy and reliability.
☹ False starts
We start speeding off toward new horizons with the New Year, but when Mercury turns retrograde on Tuesday and backpedals into Capricorn on Friday, we need to revisit unfinished business from last year, leading to bouts of anxiety.
Aries Horoscope (March 21 - April 19)
♥ Start at the top
The New Year gets off with a bang career-wise. Your ambitions and opportunities dovetail nicely, so make a grab for power on Monday and Saturday.
☹ Performance anxiety
Even the most talented performer gets jitters before they take their place center stage. You may be invaded by butterflies in your tummy as you orchestrate your ascent in the workplace -- but your commanding performance ensures that no one ever sees you sweat.
Taurus Horoscope (April 20 - May 20)
♥ Romance warrior
Get out to new neighborhoods at the New Moon on Saturday. This is an incredibly magical day to find love off the beaten path. If you are in a relationship, a you-and-me-against-the-world weekend away will invigorate your bonds.
☹ Penny loafer
You may tire of deadbeat friends who owe you money or are constantly expecting you to pick up the tab. Set economic boundaries of self-protection on Thursday and Friday.
Gemini Horoscope (May 21 - June 20)
♥ New Year's armistice
It's time to call a ceasefire on all the manipulative game playing and jockeying for control in your relationship. A little compassion and understanding can melt the harshness that has overtaken your love life.
☹ Keeping up with the ... what's their name again?
Beware of quickly piling up debt in order to impress superficial "friends" who, in the end, really don't care. Instead, use your money to spruce up your home at the New Moon on Saturday.
Cancer Horoscope (June 21 - July 22)
♥ Reach out and touch somebody's hand -- instead of your smart phone
With Mercury retrograding back into your sector of true love on Friday, your thoughts may turn to repairing a damaged relationship. The New Moon on Saturday is an excellent time to reach out -- just don't be checking your work messages while doing so, or your efforts may backfire.
☹ All work and no play
An unending pile of duties on the workfront is keeping your from exploring life's more poetic byways, which may cause momentary, yet fleeting, feelings of melancholy on Tuesday.
Leo Horoscope (July 23 - Aug. 22)
♥ Follow your heart -- and your head
It's time for some sensible choices in the love department for a change. You may be shocked to realize that a long-term relationship is more feasible when you choose a partner based on both passion and less glamorous qualities such as reliability and stableness.
☹ Trapped by work
You may feel like a mouse lost in a cubicle maze. You have many desires for travel and intellectual expansion, but can't find a moment free due to a pile-up of chores. You are in a rare auspicious moment for work, and if you toil to plant the seeds now, they will blossom in the future
Virgo Horoscope (Aug. 23 - Sept. 22)
♥ So in love it's scary
Your confidence is at a 12-year high, and your charisma can attract a soulmate to your side. Don't allow your fear of intimacy to keep your from true love.
☹ Manic Monday
Confusion and arguments abound at the workplace on Monday, so try to keep a low profile, as the situation gets much better on Tuesday.
Libra Horoscope (Sept. 23 - Oct. 22)
♥ King (or Queen) of your castle
Shut out the world and cocoon at home on Saturday. A little downtime away from the whirl of the world pampering yourself will do much to recharge your batteries. Your romantic partner may feel left out, but put your own needs for psychological renewal first.
☹ Used and confused
Kindness and compassion could be a one-way street on Monday. If you offer to help out around the office or volunteer in the outside world, you may end up feeling exploited.
Scorpio Horoscope (Oct. 23 - Nov. 21)
♥ Life of the party
You may want to throw a New Year's party at the first New Moon of the year on Saturday. You will be incredibly charismatic, making this one of the most sociable nights of the year.
☹ Penny lover
There may be significant strain on your romantic life on Monday, over your suspicious nature concerning finances and your partner's true motives. True love is trust and generosity, so learn to share.
Sagittarius Horoscope (Nov. 22 - Dec. 21)
♥ Feel the love
Saturn in your sign is making you a bit more serious and sulking than is usual, but come Friday, compassionate Venus will soften life's harsh edges and give you an emotional boost.
☹ Money matters
Love doesn't exist in a vacuum; concerns about finances also enter into the equation. This week, your focus returns to gaining control of the purse strings when dealing with spoiled lovers and children.
Capricorn Horoscope (Dec. 22 - Jan. 19)
♥ Fly the coop
It's time to start living for your own goals and dreams, and if that means leaving home or moving to a new city or country, this is the time to make that resolution a reality.
☹ Woe, ho ho!
If you insist on throwing a pity party instead of a birthday party, don't be hurt if no one shows up. Your woe-is-me attitude on Monday could backfire, leading to alienation instead of sympathy. Luckily, by Friday, you will learn to buck up.
Aquarius Horoscope (Jan. 20 - Feb. 18)
♥ Friendly alliances
For the past few months, you have felt increasingly cut-off and fed-up with your social group. When Venus, the Moon, and Saturn come together on Thursday and Friday, warm feelings of connection and caring return.
☹ The volcano awakens
With Mercury retrograding back into your psychology zone on Friday, you start brooding about all those issues you vowed to leave behind at the New Year. You could finally erupt in a verbal tirade on Saturday, but at least it will get out all those pent-up frustrations.
Pisces Horoscope (Feb. 19 - March 20)
♥ Strange, you've seen that face before
A friend may turn out to be a surprising soulmate. When looking for love on Saturday, start by checking out your established circle of acquaintances.
☹ Cinderella complex
You may feel mired in a tsunami of thankless chores at work, when you dream of being the Belle of the ball. Hate to break it to you, but pumpkin chariots don't exist, and career success is only the result of a continuous stream of hard work.