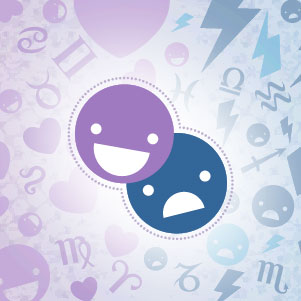 The Sun-Uranus square on Tuesday is reinforced by a challenging Full Moon Grand Cross on Thursday that draws in three of the outer planets: Jupiter, Pluto, and Uranus. Emotions will be running high, and things can spin easily out of control, so expect the unexpected this week. These points will be triggered by a series of Lunar T-squares in the upcoming weeks that will push us to work on issues relating to control, flexibility, and childish entitlement -- we can't always have it our own way and must learn to negotiate.
On the positive side, a lightly harmonious sextile occurs between Mars in Pisces and Pluto in Capricorn on Wednesday, pushing us to go for our ambitions, helped by Mercury's entry into Capricorn on Thursday. Venus' conjunction with Neptune on Thursday assures, at least, a modicum of tact and diplomacy.
Here is a general overview of this week's energy, valid for all. Hearts and Hates for your sign follow below!
♥ If you believe it, you can achieve it
If you put your mind to making your New Year's resolutions a reality, you will be able to lay the groundwork for your dreams this week.
☹ All at odds
No one will be up for compromise on Thursday, yet everyone will be absolutely convinced of the righteousness of their own convictions. Try to see the other side.
Your sign's Hearts & Hates Weekly Horoscope:
Aries Horoscope (March 21 - April 19)
♥ Inspiration and strategy
Your unbridled motivation and tactical thinking will allow you to make a play for your deepest career ambitions.
☹ Quest for dominance
Power struggles at the workplace could shake your confidence, while leaving the demands of love partners and the needs of family members out in the cold.
Taurus Horoscope (April 20 - May 20)
♥ Time out for fun
Wednesday is an excellent day to spend time socializing with old friends, as well as making new ones. You will be able to feed off other people's energetic enthusiasm and inspiration to refresh your worldview.
☹ Unplugged
Stresses from work and study could overwhelm you on Thursday. Instead of getting sucked into drama and arguments, go offline for the day.
Gemini Horoscope (May 21 - June 20)
♥ Work it up
Hard work will help you start saving for the future. If you need to renegotiate benefits or make decisions about investments, do so starting Friday.
☹ Too much of a good thing
While you may have enjoyed many good times out with friends and romantic interests over the holidays, you need to rein in your spending and extravagance now.
Cancer Horoscope (June 21 - July 22)
♥ Midweek date night
Do something spontaneous and non-routine with your sweetie on Wednesday. Adventure, passion, and excitement await, if you dare to try something new.
☹ So submissive
Be it in love, at work, or with family, you are putting everyone's needs above your own, causing others to take you and your kindness for granted.
Leo Horoscope (July 23 - Aug. 22)
♥ Pennywise
Plot out your business plan this week, you will be able to come up with pricing strategies that will lead to success. Wednesday is an excellent day to talk to your employer about your workplace benefits.
☹ Not a day for negotiations
Your emotions could get the best of you on Thursday, causing you take make a fool of yourself in front of colleagues. Try to maintain a low profile and think before you speak or email.
Virgo Horoscope (Aug. 23 - Sept. 22)
♥ Passion fruit
Intoxicating moments spent in each other's arms will greatly increase the bonds of romance between you and your partner. If single, a new long-term amour could be in the cards, so schedule or seek a date on Wednesday.
☹ Cuts in social spending
With the money you have to pay on children or romantic partners, along with mortgage payments and investments, you may need to decrease the amount of cash you spend on going out with friends now.
Libra Horoscope (Sept. 23 - Oct. 22)
♥ Shelter from the storm
Volunteer to help out family members who need some help on Wednesday. It will bring the entire clan together.
☹ Can't help it you are so wonderful
Your confidence could come off as arrogance to family, lovers, and colleagues this week. Try to tone it down, so as not to incite jealousy and backbiting.
Scorpio Horoscope (Oct. 23 - Nov. 21)
♥ Cooing and wooing
Schedule time for a tête-à-tête or sexy Skype session with your lover on Wednesday. Passion will run high from slinky whispers.
☹ Words hit hard
Overbearing words could send colleagues scattering for cover. Fallout shrapnel could lead to a long-lasting sense of fear and insubordination at the office.
Sagittarius Horoscope (Nov. 22 - Dec. 21)
♥ Under the mattress
Invest your money in what matters most -- your home and family. You will increase your feelings of security and togetherness.
☹ Cut up the credit cards
The temptation to splurge on children, lovers, or rousing nights out with friends is too strong. Keep easy accesses to debt, such as credit cards, out of reach.
Capricorn Horoscope (Dec. 22 - Jan. 19)
♥ Agent provocateur
Dare to get out the word about yourself in a big, bold way. Don't be afraid to differentiate yourself when marketing your abilities or sending out your résumé.
☹ Can't always have it your way
Your focus on putting your desires first in terms of home and career may cause your lover to finally scurry off to a place where their needs are taken into consideration.
Aquarius Horoscope (Jan. 20 - Feb. 18)
♥ Fuel your dreams
Make sure to take some of your earnings in order to fund a long-held goal, be it a class or a project you would like to get off the ground. Wednesday would be an excellent day to get the ball rolling.
☹ Too much on your plate
You may need to let go of some work or volunteer obligations. You already have an overload of lofty intellectual ambitions, and the added stress may be causing you to lose focus or snap at others.
Pisces Horoscope (Feb. 19 - March 20)
♥ Social coordinator
You are feeling hyper-confident and extroverted this week, especially on Wednesday. Make time for friends and mingling.
☹ Letting go
A lover may have no place in your current social sphere and it may be time to move on. Your feelings of connection with a larger group, along with your preoccupation with career and making your own money, may have you realize how little they fit in with your true life goals.