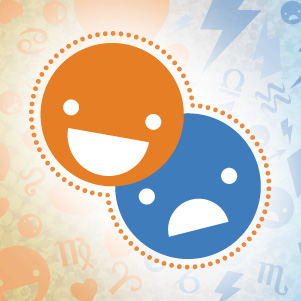 This is a very rare week as it is almost devoid of any major astrological energy. On Monday, the Sun opposes Pluto, causing clashes between individuals and authority.
The only other major aspect is Mercury's sextile of Jupiter on Friday, making it an excellent moment for brainstorming and communication. This absence of vibes from above makes it a great time to maneuver, unburdened by outside influences. Enjoy the summer sun!
Here is a general overview of this week's energy, valid for all. Hearts and Hates for your sign follow below!
♥ Midsummer night's dream
This week's energy is so mild that it creates an oasis of tranquility and idealism, perfect for idling and play.
☹ I don't like Mondays
It will be hard to get back into the work mood on Monday, leading to bosses clamping down on uninspired workers.
Your sign's Hearts & Hates Weekly Horoscope:
Aries Horoscope (March 21 - April 19)
♥ Ooh la love!
If you put on your mind on romance, you will be able to think of strikingly original ways to sweep your sweetie off their feet -- and have them swooning at yours.
☹ Lay down the law
You are not sure who made you judge and jury, but it is up to you to write the rules regarding how much time you spend at work or with family -- and career is trumping all else at this moment.
Taurus Horoscope (April 20 - May 20)
♥ Happy homemaker
On Friday, place your thoughts on taking care of all the chores and domestic duties that have piled up around the house, so you can get organized over the weekend.
☹ Can't control the message
No matter how hard you try to get your message of positivity heard, forces that be will manipulate what you say to their ends on Monday. Be extra careful with communications, especially of a legal matter.
Gemini Horoscope (May 21 - June 20)
♥ Venus fly trap
You will be oozing with words so sweet and syrupy that besotted lovers will get stuck on you, with no possibility of escape.
☹ Hogtied by your own purse strings
If you share a joint banking account, your partner may make very sure you are not able to spend your earnings on lavish guilty pleasures.
Cancer Horoscope (June 21 - July 22)
♥ Sprucing up the house
If you have any extra cash in your kitty, think of ways to brighten up your home and make it cozier.
☹ Partner or dictator?
Your lover is spending more time telling you what to do, rather than whispering sweet nothings in your ear. Do not let their domineering nature squash your spirit on Monday.
Leo Horoscope (July 23 - Aug. 22)
♥ Savvy communicator
Friday is an excellent day to tackle your email backlog or writing projects, as well as revamping your resume and promoting yourself.
☹ Low energy
You will be more lethargic than Jeb Bush on Monday. Your inability to rally the troops could stem from your own psychological exhaustion. Get rest and lay low.
Virgo Horoscope (Aug. 23 - Sept. 22)
♥ Cash calculator
Your mind will be a virtual abacus on Friday, allowing you to figure out how to plan your way to higher wages.
☹ Killjoy was here
Your romantic partner could ruin a fun evening out with friends, due to their jealousy and need to be the center of attention. Keep your love and social lives separate.
Libra Horoscope (Sept. 23 - Oct. 22)
♥ The life of the party
Your confidence and joy is bursting forth, putting you on the minds of everyone in your social circle, who want to bask in your positivity this weekend.
☹ Undermining your success
Jealous family members may use backhanded means to belittle your achievements at the workplace. Remain confident and do not let their lack of support get you down.
Scorpio Horoscope (Oct. 23 - Nov. 21)
♥ Lucid dreaming
Fire up your synapses and let your imagination fly on Friday. A good brainstorming about your career direction will put you in touch with your greater dreams.
☹ You would attract more bees with honey
If you insist on spewing vinegar at everyone around you on Monday, you cannot be shocked if they end up distancing themselves from you out of resentment and anger.
Sagittarius Horoscope (Nov. 22 - Dec. 21)
♥ Psychic friends network
You and your social group will be on the same page intellectually on Friday. Make sure to spend a pleasant evening catching up through conversation.
☹ When two become one
If you are in a committed relationship, your partner may kick up their heels over your sturdy control of the purse strings. You may need to learn how to loosen up and start thinking in terms of "ours" not "mine."
Capricorn Horoscope (Dec. 22 - Jan. 19)
♥ Master negotiator
You will be able to get the best terms and conditions on workplace contracts on Friday, so put off signing on the dotted line until the end of the week.
☹ All ist klar, Herr Kommissar
Your despotic aura of self-importance could cause your lover to lash out in anger. Part of being in a couple is making mutual decisions, not expecting others to merely follow your lead.
Aquarius Horoscope (Jan. 20 - Feb. 18)
♥ Cast a wider net
Your longing for romance could see your thoughts turning to someone who lives far away from you. Reach out and start the conversation -- don't let distance stand in the way of true love.
☹ Internal combustion engine
You are dealing with non-stop, deep-seated psychological drama that could be draining you of your physical vitality on Monday. Take things slow and don't overexert yourself.
Pisces Horoscope (Feb. 19 - March 20)
♥ Boost your benefits
When negotiating at work, do not focus strictly on salary. This is an excellent week to get a better deal on your medical plan or pension.
☹ Shut out
Your friends may not approve of your new romantic interest. Perhaps it is better to keep your sweetie and your pals separate to avoid unnecessary complications in your love life.