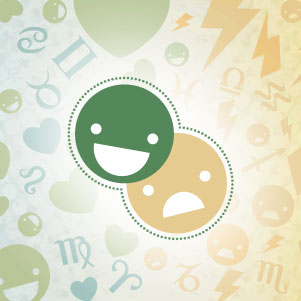 This week marks a shift from nervous, anxiety-prone energy to creative, daring courage. Neurotic Mercury and the Sun in worrywart Cancer square skittish Uranus on Monday and Saturday. Luckily, Venus and Mercury both move into bold Leo mid-week and join forces on Saturday, promising a weekend filled with brightness and laughter. Also on Saturday, the Sun sends a harmonious trine to adventurous Mars, which can help us overcome shyness and push us out of our safety zone to try something new and fun.
Here is a general overview of this week's energy, valid for all. Then keep reading for the Hearts and Hates for YOUR sign this week!
♥ Reinvent yourself
Saturday afternoon is a perfect time for a dramatic makeover. Revamp your look by trying out new clothing styles or experimenting with makeup.
☹ Nervous Nelly
Feelings of timidity and self-judgment can cause flare-ups of apprehension on Monday and early Saturday.
Your sign's Hearts & Hates Weekly Horoscope:
Aries Horoscope (March 21 - April 19)
♥ Heart and mind collide
You can have a meeting of romance and intellect on Saturday. Amorous suitors will both respect you, as well as be knocked out by your flirtatious charm.
☹ Smells like teen spirit
You will be more rebellious against your family than an insubordinate and cocky adolescent this week. Your need for total independence could blind you to the support and love of your long-suffering kin.
Taurus Horoscope (April 20 - May 20)
♥ 5-star family
You will be able to relax and be yourself at home this week. Spending time with relatives will boost your confidence and motivate your mind.
☹ All talk
You may take to nervous chattering to try to make up for feelings of insecurity, but your babbling could come off as confusing and unhinged. Think before you speak this week.
Gemini Horoscope (May 21 - June 20)
♥ Wonder twin power activate
You will have enough personality for two on Saturday. Your charm and extroversion is on overdrive when chatty Mercury and sociable Venus meet up in your communications zone.
☹ Hey big spender
Everyone wants to spend a little time with you, but it has more to do with the depth of your pockets rather than any depth of affection. Keep a tight rein on social generosity to avoid overspending.
Cancer Horoscope (June 21 - July 22)
♥ Indulge yourself
Boost your self-esteem by buying yourself a me-present on Saturday. You deserve it.
☹ Can't charm your way to the top
Your career may be on shaky ground, but, unfortunately, no amount of hustle will magically shoot you to the top. If you want true progress, you are going to have to work for it.
Leo Horoscope (July 23 - Aug. 22)
♥ Let it roar
Release your inner Lion on Saturday when magnificent Venus and talkative Mercury meet up in your identity zone. It's time throw off the shackles of shyness and let your personality shine.
☹ Not finding your place in the world
You may feel as if you do not really fit in with your surroundings. Existential pressures ease considerably from the weekend, so hold tight.
Virgo Horoscope (Aug. 23 - Sept. 22)
♥ Baggage handler
You will be able to proactively confront and do away with nagging psychological issues on Saturday.
☹ Bank account too low for the high life
You may be struggling to keep up with the luxurious social demands of your friends. Is long-term austerity and financial anxiety worth it for fleeting fun? Resist the temptation to charge now and pay later.
Libra Horoscope (Sept. 23 - Oct. 22)
♥ Saturday soiree
Plan a social event on Saturday drawing together your most interesting and most loved friends. It is one of the most festive evenings of the year for you, so don't sit home.
☹ Anxious associates
Business partners may be nothing but a jumble of nerves, making you work double-time to keep things calm and peaceful. Stay your ground, as increased earnings may arrive at the weekend
Scorpio Horoscope (Oct. 23 - Nov. 21)
♥ Career contentment
You may want to put in some extra hours on Saturday, because Mercury and Venus are joining forces in your zone of professional success. You will have the savvy and flair to get things done.
☹ Go Greyhound
You may want to leave the driving to someone else on Monday and Saturday, as Mercury and the Sun in your travel sector square off against accident-prone Uranus in your wellness zone.
Sagittarius Horoscope (Nov. 22 - Dec. 21)
♥ Born free
You have been cooped up and downcast for far too long. When Venus and Mercury come together in the sign of Leo the Lion on Saturday, it's time for you to roam the savannah looking for adventure.
☹ Love you, but not that much
The diva demands of your lover or children could be testing the limits of your generosity this week.
Capricorn Horoscope (Dec. 22 - Jan. 19)
♥ Knack for investing
You will know the best way to use your money for future economic growth on Saturday.
☹ Home or heart?
You have much love for your sweetie, but unfortunately you can't seem to agree about long-term decisions concerning living arrangements.
Aquarius Horoscope (Jan. 20 - Feb. 18)
♥ Love bug
You've been bitten and now you are smitten. Love is on your mind in a big way on Saturday; make sure to spend it with your sweetie.
☹ Crazy talk
Rattling off at the mouth and sharing all your most eccentric ideas could alienate you from delicate colleagues on Monday and Saturday. You may want to try out the "save to draft" feature, and reflect before you communicate.
Pisces Horoscope (Feb. 19 - March 20)
♥ Whistle while you work
If you have to work on Saturday, you will be able to do so with high spirits, and surrounded by joyous coworkers. If only employment could always be this fun.
☹ High maintenance
Your financial instability could be causing problems with a romantic interest who doesn't want to end up having to always foot the bill for you.