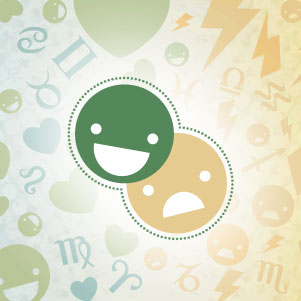 Here's a peek into the best and worst days in Astrology this week!
♥ Heart: Monday, July 13: Dream Away
With Mercury in Cancer trining Neptune in Pisces, it's a great evening to rest at home and escape from the world with a movie.
☹ Hate: Wednesday, July 15: Subterfuge
The New Moon in Cancer plus the Mercury-Mars conjunction opposing Pluto in Capricorn means everyone will be fighting to get ahead -- by walking crablike, sideways. Watch your back, as manipulation abounds...
Now read on for YOUR horoscope sign's Hearts & Hates for this week!
Aries (March 21 - April 19)
♥ Heart: Evening in
Start the week off by catching up on your rest. When Mercury in your domestic sector trines dreamy Neptune on July 13, stay at home with a good book or inspirational movie to recharge your batteries.
☹ Hate: Fire and ice
You are feeling highly romantic with lovey-dovey Venus in zesty Leo, but when it squares dispassionate Saturn in your intimacy sector on July 14, your partner will be all flannels and frigidness.
Taurus (April 20 - May 20)
♥ Heart: Blinded by love
Your love life has been obligation and duty for the past two years, but at the Lunar Occultation of Venus on July 18th, you can be deliriously swept away by amour.
☹ Hate: You vs. the world
You will be protesting against authority more noisily than a Libertarian at a Ron Paul rally on July 15 when Mercury and belligerent Mars in your 3rd House of Communication shore up against tyrannical Pluto.
Gemini (May 21 - June 20)
♥ Heart: You're so money!
Your 2nd House of Money is chock-a-block with amazing influences. New revenue sources could arrive at the New Moon on July 15 that can blossom throughout the year.
☹ Hate: Keep it in your pants
...your wallet, that is. When Mercury and extravagant Mars oppose Pluto in your credit zone on July 15, whipping out the plastic could leave you seriously in debt.
Cancer (June 21 - July 22)
♥ Heart: Fight for your rights
When courageous Mars and intelligent Mercury oppose domineering Pluto on July 15, you will be able to wrest back your life from a controlling business or love partner.
☹ Hate: Can't Buy Love
No matter how much money you throw at children or high-maintenance romantic prospects, they will only give you shade on July 14 due to indulgent Venus' square with never-satisfied Saturn.
Leo (July 23 - Aug. 22)
♥ Heart: Psychological Renewal
Introspective Mercury will conjunct get-positive Mars in the sector of your inner psyche one day after the regenerative New Moon on July 15, allowing you to ditch baggage and start anew.
☹ Hate: Dysfunctional family
Killjoy relatives will be bringing down your buzz when realistic Saturn in your 4th House of Family squares imaginative Venus in your identity sector on July 14.
Virgo (Aug. 23 - Sept. 22)
♥ Heart: Get out and mingle
With boisterous Mars in your 11th House of Socializing, you are super extroverted now. The new friends you make at the New Moon on July 15 will sustain you in the year to come.
☹ Hate: Aren't you the charmer?
Seductive Venus moves into your sign on July 18, transforming you into an alluring Lorelei, but shyness may keep you from using your smooth moves at the Occultation of Venus later that day...
Libra (Sept. 23 - Oct. 22)
♥ Heart: Take the elevator
No need to climb the ladder of success when you can zoom straight to the top as strategic Mercury conjuncts ambitious Mars on July 16, the day after the auspicious New Moon in your 10th House of Career on July 15.
☹ Hate: Friends with money
You may not have the funds to hang out with your glamorous, hedonistic friends around July 14 when decadent Venus in your 11th House of Friends squares tightwad Saturn.
Scorpio (Oct. 23 - Nov. 21)
♥ Heart: Get inspired
Open your eyes to the variety of the world around you on July 14, when wondrous Mercury conjuncts adventurous Mars in your 9th House of Expanded Horizons, followed the next day a mind-expanding New Moon.
☹ Hate: Lighten up
You're surrounded by lots of love and diplomacy in the workplace, so why are you making things so difficult on July 14 when Venus in your career sector squares stubbornly Saturn?!
Sagittarius (Nov. 22 - Dec. 21)
♥ Heart: Home improvement
When Mercury in your 8th House of Investments trines dream-come-true Neptune in your domestic sector on July 13, it's the perfect moment to start renovations, go house hunting, take out a mortgage, or sign a lease.
☹ Hate: Back away from the email
The occultation of Venus in your communications sector on Saturday could cause a harmless joke or innocuous comment to be mistaken as an insult. It's better to spend time offline with friends and family.
Capricorn (Dec. 22 - Jan. 19)
♥ Heart: Push the reset button
Your lover has been bucking your authority, causing many arguments, but luckily the New Moon in your 5h House of True Love on July 15lets you start afresh with no hurt feelings.
☹ Hate: Haters gonna hate
Over the past year, savvy investments, grants, or loans have procured you a source of passive income. Are friends happy for you? Nope, not with critical Saturn in your social zone squaring Venus on July 14...
Aquarius (Jan. 20 - Feb. 18)
♥ Heart: Get in shape
With focused Mercury conjuncting determined Mars in your 6th House of Health on July 15, it's time to get in shape. Regimes put in place at the New Moon the next day will stick over the next year.
☹ Hate: Get your gaze off your computer
You are so doggedly concentrated on your work that you've taken yours eyes off your love life, causing hurt feelings when Venus squares workhorse Saturn on July 14.
Pisces (Feb. 19 - March 20)
♥ Heart: Go for what -- and who -- you want
When conniving Mercury conjuncts go-for-it Mars in your 5th House of Romance on July 15, you'll have the determination and wiles to get what you desire in love.
☹ Hate: Love meltdown
You are pouring so much of your energy into chasing after romance that on July 18 you may go full-tilt at the Occultation of Venus in your 7th House of Relationships. Relax, love is supposed to be fun, not stressful.