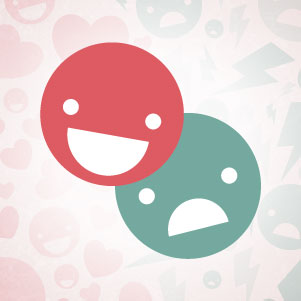 After a very mellow period last week, the skies are once again bursting with energy. Things get off to a moody start on Monday when daydreaming Venus squares dissipating Neptune, while a frustrated Mars squares ungrounded Uranus; nothing seems to take hold, leading to feelings of self-defeat, weakness, and confusion.
Things pick up Tuesday when Venus trines cheerful Jupiter, followed Mercury's solution-oriented trine of Saturn on Wednesday.
On Thursday, anxiety could rule early on when the Sun squares Uranus, but enthusiasm comes bursting back with Mars' entry into confident Leo later in the day. The Sun also enters Leo on Saturday, building up to a glorious New Moon on Sunday, very close to Mars. This is a great day to launch ambitious, creative, or entrepreneurial projects and watch them bloom over the course of the next year.
Here is a general overview of this week's energy, valid for all. Hearts and Hates for your sign follow below!
♥ Roll the dice
With the Sun and Mars moving into fiery Leo, the world is your casino. Dare to take risks and go after your most audacious dreams over the next month.
☹ Feeling helpless
The first half of the week could stir up feelings of inadequacy and the inability to summon up the courage to face life's challenges. Wait it out, as this energy completely disappears by the weekend.
Your sign's Hearts & Hates Weekly Horoscope:
Aries Horoscope (March 21 - April 19)
♥ Second honeymoon
If you have a heart-to-heart with your sweetie on Tuesday, you will be able to put recent ego clashes behind you and reignite the flames of romance over the weekend. For singles, Sunday is an excellent day to look for love.
☹ Hatfields and McCoys
Feuding relatives who are not open to any attempts at diplomacy or understanding could be getting on your last nerve through Thursday.
Taurus Horoscope (April 20 - May 20)
♥ Home base
Make a plan to invest your resources into improving your home mid-week, and then spend the weekend doing DIY and spending time with family.
☹ Come undone
The stress and anxiety you are carrying around on the inside could cause you to burst out in anger, causing hurt feelings with friends.
Gemini Horoscope (May 21 - June 20)
♥ The big reveal
Romance is on your mind, as well as your tongue. Talking things out and letting your true feelings be known is the surest path to lasting commitment.
☹ One more for the road
You want nothing more than to live a carefree life filled with joy and good times, and may overspend accordingly on decadent nights out. You may feel slightly melancholic that your current career direction doesn't cover your bar tab.
Cancer Horoscope (June 21 - July 22)
♥ Me money
Go on a spending spree on Sunday, splurging on hedonistic guilty pleasures to boost your self-esteem. You have been working hard, and deserve the self-gift.
☹ Job identity loss
You may be feeling overworked and undervalued at your career, and the amount of time you put into it may no longer vibe with who you are and what you truly value.
Leo Horoscope (July 23 - Aug. 22)
♥ There you are!
You have been laying low for several weeks, but once the Sun and Mars zoom into your sign later this week, you will be back at center stage -- vibrant, confident, and in charge.
☹ Panic at the disco
When moving and shaking through life during the first half of the week, you may be prone to panic attacks and anxiety. Your confidence rebounds this weekend so lay low until then.
Virgo Horoscope (Aug. 23 - Sept. 22)
♥ Energizer bunny
Starting Wednesday, you may want to hide out at home to refresh your batteries and replenish your life force.
☹ Explosive mix
It would be less volatile to invite your besties over for a Molotov cocktail than loaning them money. Keep friends and finances separate.
Libra Horoscope (Sept. 23 - Oct. 22)
♥ Take a walk on the wild side
Things could get epic if you go out with friends this weekend and cut as loose as possible. Instead of making plans, let things spontaneously unfold -- and explode.
☹ Knocking you down a rung
Your lover may cause drama about the amount of time you spend climbing the ladder of success. Don't allow their antics to cause you to lose your focus, as your current capacity to hustle won't peak again for another two years.
Scorpio Horoscope (Oct. 23 - Nov. 21)
♥ The devil wears Prada
Take a few pointers from fellow Scorpio, Anna Wintour, and fight your way to the top through sheer ambition and an excellent wardrobe.
☹ Out of control
You love nothing more than order, yet you are being overwhelmed by a nonstop swirl of duties and chores. Try to keep up as things calm down at the weekend.
Sagittarius Horoscope (Nov. 22 - Dec. 21)
♥ Jump into the unknown
Your heart may be swept away by someone you meet in your social circle on Tuesday; if single, dare to let your feelings be known. This weekend, turn off the GPS, and do some adventurous, spontaneous travel.
☹ Performance anxiety
A lot of out-of-the-ordinary sexual experiences are yours for the taking early this week, but your partner's unbridled sensuality may leave you feeling inadequate. Stop worrying and lose yourself in passion.
Capricorn Horoscope (Dec. 22 - Jan. 19)
♥ Delegation of duties
If you have some drudge work you want to get off your plate, an admiring colleague could be influenced by your charisma to pick up the slack on Tuesday. Spend Sunday working out a financial plan for the upcoming year.
☹ Sparring partner
Your lover and your family may be at odds, as they jostle for pole position in your heart. Try to stay out of the drama, which will subside by the weekend.
Aquarius Horoscope (Jan. 20 - Feb. 18)
♥ Out of hibernation
You are like a bear roaring to life under the summer Sun. You mind will be on romance, with Sunday being one of the best date nights of the year. A sturdy friend could grow into a reliable life partner.
☹ Office politics
There is competition overload at the office, as everyone want to impress and move up the hierarchy. Stay focused on the job at hand, and don't get swept into petty squabbles or water cooler gossip.
Pisces Horoscope (Feb. 19 - March 20)
♥ Back to work!
After being swept away by romance for the past several weeks, your energy returns to career. You may have let your duties slide recently, and it is time to catch up.
☹ Wine and roses don't come cheap
Try to keep yourself on a budget or you may end up squandering your unsteady resources on romance.