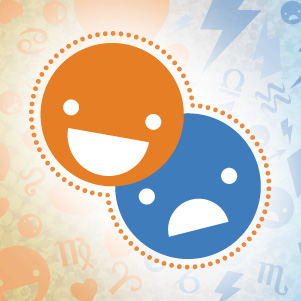 Get ready for a laidback yet exciting week. Not much is going on in the cosmos, with only four major astrological happenings in seven days.
Mercury and Venus in Leo send a bolstering vibe to Saturn in fellow Fire sign, Sagittarius, on Tuesday and Wednesday, while the Sun enters Leo on Friday. All this Leo energy is pushing us to take risks, be confident, and express ourselves. The only drawback -- who feels like working? The Full Moon in Capricorn is squaring get-out-of-a-rut Uranus on Tuesday, and work tasks may take a backseat to the softer side of life.
Here is a general overview of this week's energy, valid for all. Then keep reading for the Hearts and Hates for YOUR sign this week!
♥ Summer holiday
The Fire signs are taking over this week, urging us to get out, get adventurous, and enjoy life!
☹ Play hooky
With all the fun, flirtatious opportunities swirling around us, something's got to give. Office work can be recalibrated to low priority at the Full Moon in workaholic Capricorn on Tuesday.
Your sign's Hearts & Hates Weekly Horoscope:
Aries Horoscope (March 21 - April 19)
♥ New lease on life
Your curmudgeonly attitude can morph into a sense of determination and drive midweek, when a renewed sense of romance gives you a renewed sense of purpose.
☹ Unfollow the leader
You may grow tired of having to motivate the entire office on Tuesday and decide to cut back your availability so you can spend more time with family and loved ones.
Taurus Horoscope (April 20 - May 20)
♥ Mommy or Daddy's little helper
Family can come to your financial rescue on Tuesday or Wednesday. If you are having a hard time paying off bills or debts, a loving, caring relative may be willing to help you sort things out.
☹ So close, and not so far
Your mind has been so focused on the grand scheme of things that you may have about life's little pleasures nearby. Make time for siblings and close neighbors on Tuesday.
Gemini Horoscope (May 21 - June 20)
♥ Tete-a-tete and heart-to-heart
It's time to close the icy distance that has been separating you from your lover by talking things out rationally and compassionately midweek.
☹ Stop sharing
You may have had to deal with a lot of control issues regarding joint finances for quite a while now. At the Full Moon in your shared resources sector on Tuesday, it's time for you to forget about everyone else and take care of your own economic wellbeing.
Cancer Horoscope (June 21 - July 22)
♥ Merit badge
If you have been working overtime taking care of everyone else -- while wearing yourself out -- your brownie points have added up. Cash them in midweek by treating yourself to a decadent pressie.
☹ Obsession overdose
While you live for romance, you may finally want to check out of an overly obsessive love situation midweek in order to concentrate on your own needs.
Leo Horoscope (July 23 - Aug. 22)
♥ Love lift off
Your overly austere love life may have been dragging you down recently. Luckily, with fascinating Mercury and charming Venus trining interested Saturn on Tuesday and Wednesday, you can prepare for a romance relaunch.
☹ All work and no play
At the Full Moon on Tuesday, it's time to stop focusing on boring work tasks as a means to fill up your time and deflect from real issues. You need to look inward and deal with long-standing life imbalances.
Virgo Horoscope (Aug. 23 - Sept. 22)
♥ It's all worth it
Your family may have required a large amount of caregiving in recent months, but you fully realize this week how much their love and wellbeing means to you and your own inner wellbeing.
☹ Romance withdrawal
You have been totally caught up by love recently, but on Tuesday, you should make some time for platonic friendships, even if your sweetie gives you the shakes for it.
Libra Horoscope (Sept. 23 - Oct. 22)
♥ So deep
Profound conversations with friends can serve as an intellectual glue that bonds you together due to shared ideologies.
☹ Home alone
Family members may need to deal with you working overtime in order to advance your career this week.
Scorpio Horoscope (Oct. 23 - Nov. 21)
♥ Dig your way out of a hole
That financial abyss you have been trapped in can start to get filled with solid ground if you work for it. On Tuesday and Wednesday, you will have the savvy and flair to advance your career success and earnings.
☹ Tone it down
Your overbearing speech patterns may have brought you control, but also alienation. On Tuesday, you may find a soft approach brings you more followers.
Sagittarius Horoscope (Nov. 22 - Dec. 21)
♥ Free your mind
Drinking in new knowledge and exploring unknown horizons will lift your spirits and confidence on Tuesday and Wednesday.
☹ Let someone else pick up the check for a change
You may have been using money to express your love for those you care about -- but also as an unconscious means to gain control and adoration. On Tuesday, you may decide to let other people contribute to the tab so you can see who is really on your side.
Capricorn Horoscope (Dec. 22 - Jan. 19)
♥ Getting your money's worth
Financial dealings will give you a secure sense of self-esteem. Tuesday and Wednesday are excellent days to deal with investments, mortgages, and other fiscal matters.
☹ Admit defeat
You may need to cede ground to a lover's desires, especially regarding a domestic matter, at the Full Moon on Tuesday. While you may lose the battle, you will win the war, as authoritarian Pluto in your sign is playing the long game.
Aquarius Horoscope (Jan. 20 - Feb. 18)
♥ Social outreach program
You haven't been in a festive mood lately, and your stodgy friends only add to the feeling of oppression. Luckily, your sweetie will be happy to step in and smooth the ruffled feathers of acquaintances who feel shut out and ignored.
☹ Moody blues
You may be wailing more wistfully than a '70s prog rock concept band on Tuesday when the Full Moon in your melancholy zone squares Uranus in your communications sector.
Pisces Horoscope (Feb. 19 - March 20)
♥ Helping hands
While you may have a lot of work to tackle, you also have the support of colleagues who are ready to assist you and ease the load.
☹ Bye Felicia!
You may have had to deal with some passive-aggressive, bullying friendships lately. At the Full Moon on Tuesday, you may finally be done with riding a rollercoaster of self-worth and decide to send a toxic friend packing.