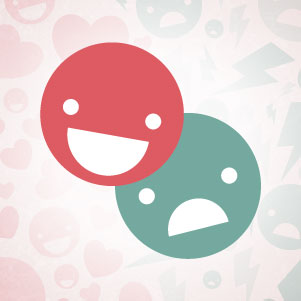 Here are the best and worst days for the week of Monday July 20-26, 2015! This week's Hearts and Hates horoscope for everyone is here -- then keep reading for your own sign's horoscope...
♥ Heart: Wednesday/Thursday: Fired up
After the laid-back, nurturing Cancer energy of the past month, a more extroverted and energized vibe takes over when the Sun and Mercury both move into fiery Leo! Plan outings, go shopping, and have fun!
☹ Hate: Saturday: Eruption of old wounds
Dredging up old slights could cause some major, unforeseen arguments when the love planet Venus turns retrograde and Mars and Uranus square off. Stay positive and focus on the future.
Now read on for YOUR horoscope sign's Hearts & Hates for this week!
Aries (March 21 - April 19)
♥ Lovin' on your mind
With an alluring Sun and strategic Mercury entering your romance zone, your attention turns to finding or reigniting love. Thursday is a perfect date night, due to the conjunction of these two planets.
☹ Domestic discord
A family member will know how to push your buttons on the days around Saturday, when a belligerent Mars in your home zone sends difficult vibes to tinder-keg Uranus in your identity sector.
Taurus (April 20 - May 20)
♥ Homeboy (or girl)
You are a contented homebody by nature, and this week brings extra joy to your nest when a cheery Sun conjuncts Mercury on Thursday. Connect with family or work on home-based renovations.
☹ Lashing out
On Saturday an overly sensitive Moon forms a T-square with high-strung Uranus in your psychology zone, and bossy Mars. You could lash out verbally at those around you due to inner-anxiety.
Gemini (May 21 - June 20)
♥ Team building
There may not be a lot of warmth among colleagues at your workplace, but with the Sun and Mercury sending out solidifying vibes to Saturn this week, you can pull together as a team through honest, effective communication.
☹ Shake the flake
You may pick up the tab as a way of attracting friends, but all you will gain is an empty bank account, because you are surrounding yourself with superficial flakes instead of truly kind compadres.
Cancer (June 21 - July 22)
♥ The secret
Creative visualization may not make gobs of money miraculously appear, but when tactical Mercury conjuncts the make-it-happen Sun on Thursday, thinking up a long-term earnings strategy can bring economic bounty.
☹ Crossed wires
Don't try to explain things online if you can do it in person. With peace-seeking Venus retrograde in your communications sector starting on Saturday, written diplomatic efforts could be misunderstood, leading to further hurts.
Leo (July 23 - Aug. 22)
♥ Shine on
You won't need a spotlight to take center stage once the glistening Sun enters your sign on Wednesday. When it conjuncts opinion-maker Mercury on the Thursday, the masses will be hanging on your every fascinating word.
☹ Shaky ground, shaky temper
Living in a world of constantly expanding and shifting horizons can be intoxicating, but it can also cause a lot of inner anger, as you feel you cannot truly control your outer existence.
Virgo (Aug. 23 - Sept. 22)
♥ Inner understanding
You have been on introspection overdrive for the past year. As the confident Sun and insightful Mercury enter your 12th House of Contemplation, some massive healing and letting go can happen on Thursday.
☹ Social spending skyrockets
You might want to sign up for a lecture on fiscal conservatism when party-hearty Mars in your social 11th house squares a shaky Uranus in your debt sector on Saturday.
Libra (Sept. 23 - Oct. 22)
♥ Negotiate terms
You have been motivated and inspired at the workplace, and when the Sun and Mercury trine bottom-line Saturn in your 2nd House of Money on Tuesday and Wednesday, you can negotiate a wage that will lift you out of your economic slump.
☹ Keep your eyes on the prize
When ambitious Mars in your 10th House of Career squares prima-donna Uranus, romantic partners may feel ignored, but stay focused on work, because you are at a two-year in terms of achieving professional success.
Scorpio (Oct. 23 - Nov. 21)
♥ Self help
Two years' worth of never-ending problems could have put you in a perennially somber mood. Lift your spirits by opening yourself up to greater horizons and knowledge when the Sun and Mercury trine Saturn midweek.
☹ Accident prone
Pay particular attention when traveling or doing sports on Saturday due to reckless Mars' square of bumbling Uranus in your zone of bodily wellness.
Sagittarius (Nov. 22 - Dec. 21)
♥ Expanded horizons
With Mercury and an exuberant Sun entering your zone of conscious enlightenment and travel, you will slowly awaken to the call of adventure and put an end to your sense of isolation.
☹ Gold dug
High-maintenance, capricious lovers may have you whipping out the charge cards when devil-may-care Mars in your zone of debt and credit squares impetuous Uranus in your 5th House of Romance on Saturday.
Capricorn (Dec. 22 - Jan. 19)
♥ Shake yer moneymaker
There is nothing you enjoy more than strategizing long-term economic investments. With the Sun and Mercury entering your finance zone, you can plot out your monetary growth plan for the next year.
☹ None direction
You and your partner are just not on the same page when it comes to establishing a home and setting down roots, and their angry pushiness as they try to make you live by their wishes won't help matters.
Aquarius (Jan. 20 - Feb. 18)
♥ Choose love
With Mercury entering your 7th House of Relationships, you realize what you really need in a suitable life partner. Nearby Jupiter gives you the chance to seize your romantic destiny -- go for it!
☹ Hair-trigger temper
Try not to spend the weekend doing chores and duties, or you may end up raging at everyone around you due to angry Mars' square to loose-lipped Uranus on Saturday.
Pisces (Feb. 19 - March 20)
♥ Reach out to the one that got away
Once Venus turns retrograde in your 7th House of Relationships on Saturday, you may be pining for lost amour. Try to get in touch -- you may rekindle an old flame.
☹ Can't afford wine and roses
Even though romantic opportunities abound, financial resources don't. When passionate Mars squares unstable Uranus on Saturday, you may have to settle for water and field daisies instead of fancier dates.