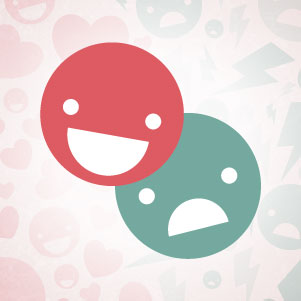 What starts as a carefree, devil-may-care week grows increasingly resentful and paranoid as time goes on.
Wednesday is an incredibly ebullient, exhilarating day, with open-minded Mercury trining maverick Uranus in the fiery signs Leo and Aries. On the same day, a warm-hearted Lunar Grand Trine occurs in the Earth signs, bringing sincerity and gratitude.
By Friday, however, Mercury squares off against angry Mars in suspicious Scorpio, dredging up obsessive doubts. Once Mercury moves into Virgo on Saturday, a more cautious attitude will prevail.
Here is a general overview of this week's energy, valid for all. Then keep reading for the Hearts and Hates for YOUR sign this week!
♥ The stability to try new things
It's always easiest to take risks when you're feeling particularly grounded. Wednesday is such a day, when emotional security allows for experimentation.
☹ Deeply disgruntled
Tinder-keg Uranus turns retrograde on Friday, and resentful feelings can pop up to the surface, as neurotic Mercury is squaring offended Mars on the same day.
Your sign's Hearts & Hates Weekly Horoscope:
Aries Horoscope (March 21 - April 19)
♥ Doting and dazzled
Thinking up clever ways to delight your sweetie with surprises and romance on Wednesday will fill you with a sense of excitement and energetic purpose. You've worked hard for your money and can afford to splurge.
☹ Too much of a good thing
Unfortunately, your partner may see your generosity as an open invitation to raid the bank account. By Friday, you may feel financially used and need to set firm economic boundaries.
Taurus Horoscope (April 20 - May 20)
♥ At home and happy
Spend Wednesday night in, surrounded by your closest family or just chilling by yourself. You can energize your batteries and feel refreshed by some much-needed downtime.
☹ Couch potatoes aren't sexy
Your significant other may find your lounging ways a turn off and long to get out of the house, causing fights over weekend plans.
Gemini Horoscope (May 21 - June 20)
♥ Social butterfly
Come out of your chrysalis on Wednesday; your chatty ways will make you the life of any party, and you will be able to attract equally eccentric and fascinating people into your orbit.
☹ Office politics
Gossiping, bullying, and anger could all erupt at the workplace on Friday. Try to stay out of the drama.
Cancer Horoscope (June 21 - July 22)
♥ Didn't see that coming
Wednesday is an excellent time to think up innovative ways to increase your earnings. Use unusual tactics in negotiations to gain the upper hand.
☹ Custodian of love
High-maintenance lovers and children may be cleaning up your bank account. On Friday, you may have had enough and say so; get ready for a temper tantrum.
Leo Horoscope (July 23 - Aug. 22)
♥ Imagine all the people
You will be able to get inspired by allowing your mind to soak in new influences and knowledge on Wednesday.
☹ House arrest
You may feel trapped and sapped of all energy due to issues regarding home and family on Friday. Nagging relatives or just a feeling of being cooped up could set off arguments. Try to get out and enjoy.
Virgo Horoscope (Aug. 23 - Sept. 22)
♥ Start-up incubator
You can hatch plans to bring together shared monetary resources to nurture your own dreams on Wednesday.
☹ Repression aggression
You tend to shy away from forthright dialogue, but nitpicking others with your passive judgments will cause those around you to explode in rage on Friday.
Libra Horoscope (Sept. 23 - Oct. 22)
♥ In love and out-and-about
You are happiest with a lover who leaves the couple bubble and interacts well in a large group of festive people. Wednesday is an excellent time to bring your sweetie and friends together for socializing. If single, you may meet someone through friends midweek.
☹ More friends than money
All that partying could leave you penniless. On Friday, you may have to shout "No!" to invitations to upscale nightspots.
Scorpio Horoscope (Oct. 23 - Nov. 21)
♥ Human resource manager
You will have a knack for getting people to do your bidding at the office on Wednesday.
☹ Anger management
On Friday, however, you can easily lose your cool when people don't do exactly what you want, how you want, and when you want.
Sagittarius Horoscope (Nov. 22 - Dec. 21)
♥ Love is a many splendored thing
Your romantic life can have as many hues as the rainbow on Wednesday. Get out with your sweetie and explore new avenues to increase your sense of shared mutual wonder. If single, you could meet someone new while travelling or hanging out in a new neighborhood.
☹ Existential crisis
You may feel you are not living to your full potential on Friday, leading to sentiments of anger and frustration.
Capricorn Horoscope (Dec. 22 - Jan. 19)
♥ Shoring up shaky foundations
If your domestic life is in a bit of a disarray, you will be able to figure out financial ways to secure a more stable future.
☹ Keep your money to yourself
Squandering money on superficial, fleeting festivities is not in your best interest this weekend. Be aware, however, if you decide to sit things out, friends could feel slighted.
Aquarius Horoscope (Jan. 20 - Feb. 18)
♥ Love and rockets
You can bring an energetic boost to your relationship through the fuel of joyous communication on Wednesday. Sharing a good laugh will bring you closer together.
☹ Disassociated anger
Your mind is on love this week, so you may grow grumpy at how much time and energy is being sucked up by work on Friday.
Pisces Horoscope (Feb. 19 - March 20)
♥ Mind over money
Setting your focus on getting the job done can help you negotiate for better terms on Wednesday.
☹ Cubicle confinement
You could feel resentment at having to be chained to your desk when the entire world beckons you on Friday. Sit tight, the weekend is almost there.