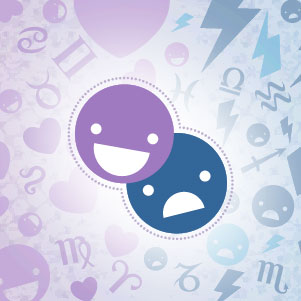 Check out the best and worst days for the week of Monday July 27- August 2, 2015! This week's Hearts and Hates horoscope for everyone is right here -- then keep reading for your own sign's horoscope...
♥ Heart: Sunday: Things start moving
As Saturn turns direct in Scorpio and Mercury trines Uranus, this is a great evening to rest at home and escape from the world with a movie.
☹ Hate: Saturday: Subterfuge
When the Moon creates a T-square with both Jupiter and Venus in Leo, plus Saturn, the individual and the control freak are fighting to gain power. Opt out of the drama by spending time alone.
Now read on for YOUR horoscope sign's Hearts & Hates for this week!
Aries (March 21 - April 19)
♥ Hey hey, Cray Cray
Sometimes the crazy ones are the most exciting. A mentally inscrutable lover may be manipulative, but they will also keep you on your toes when Mercury in your romance zone trines hotwired Uranus on Sunday.
☹ Love goggles
You may be so infatuated with love that you forget about your friends at the Lunar T-square on Saturday, leading to hurt feelings and shade being thrown back your way.
Taurus (April 20 - May 20)
♥ Make peace
Make peace with estranged family members when diplomatic Venus retrogrades back into your domesticity zone on the Friday. Have the confidence to reach out, and loving bonds can bloom once more.
☹ Unplug at the weekend
Turn off all your devices on Saturday when the Moon in your career sector T-squares Venus and Saturn in zones of family and love. While you may feel fleeting anxiety, there is nothing that can't wait until Monday.
Gemini (May 21 - June 20)
♥ Turn the world on with your smile
When diplomatic Venus retrogrades into your communications sector on the Friday, you will be the glue that brings everyone together. Work this to your advantage to gain long-lasting connections.
☹ World weary
A blasé Moon in your sector of cosmopolitan meanderings will leave you feeling jaded and uninspired when it squares ho-hum Saturn in your sector of ordinary existence on Saturday.
Cancer (June 21 - July 22)
♥ Pounce on opportunity
Your chances are hot when now-or-never Uranus in your career sector comes knocking on eagle-eyed Mercury in your wages zone on Sunday. Sudden shifts at the workplace could lead to an income boost.
☹ Go Dutch
No amount of money will make your heart's desire soften up at the Lunar T-square on Saturday, so keep your money in your pockets instead of wasting it on pointless wooing.
Leo (July 23 - Aug. 22)
♥ The world is your lotus
Ever-opening horizons capture your imagination to motivate and inspire you when cerebral Mercury trines spontaneous Uranus in your zone of conscious enlightenment on Sunday.
☹ Step away from the scalpel
When pretty Venus retrogrades back into your identity zone from the Friday to September 6, don't do any superficial beauty treatments, such as plastic surgery or a radical new haircut, or you could get irreversibly negative results.
Virgo (Aug. 23 - Sept. 22)
♥ Sex therapy
Achieve psychological renewal by opening yourself to profound intimacy and passion when enlightened Mercury in your zone of the subconscious trines electrified Uranus in your 8th House of Intimacy on Sunday.
☹ Psychosomatic
Inner anxiety may manifest as outer fatigue at the Lunar T-Square on Saturday. Isn't it getting exhausting bottling up all your emotions? If you'd learn to let go and share, you would find you are not so alone.
Libra (Sept. 23 - Oct. 22)
♥ Blind date
If you are single, try to get a friend to set you up on a romantic rendez-vous when tactical Mercury in your social zone trines intoxicating Uranus in your sector of physical intimacy on Sunday.
☹ Lover's quarrel
Your lover may be upset that you are spending what little money you have on socializing with friends instead of doting on them at the Lunar T-square on Saturday, affecting your romance, wages, and friendship zones.
Scorpio (Oct. 23 - Nov. 21)
♥ Inspiring leadership
Get others to do your work for you by motivating your colleagues to execute your stimulating ideas when wily Mercury trines fired-up Uranus in your work zones on Sunday.
☹ Don't take it out on those closest to you
At the Lunar T-square on Saturday family members could bare the brunt of your dismay caused by workplace stress. Try to lighten up.
Sagittarius (Nov. 22 - Dec. 21)
♥ Spontaneous Sunday
Take an unplanned road trip with your sweetie when Mercury trines impromptu Uranus in your 5th House of Romance. The sense of adventure and fun will bring you closer. Singles could meet someone new while out and about.
☹ Lashing out won't bring people closer
You're feeling shut out and unloved at the woe-is-me Lunar T-Square on Saturday, which could lead to some heavy conversations. Keep your neediness in check.
Capricorn (Dec. 22 - Jan. 19)
♥ The best revenge
Increasing your social status through money and investments will be the best way to beat back against judgmental frenemies when shrewd Mercury trines stand-offish Saturn in your social zone on Sunday.
☹ Feeling outcast
Even though money is on your side, you may still feel pangs of low self-esteem as a result of the shade thrown at your by aloof members of your social group at the Lunar T-square on Saturday.
Aquarius (Jan. 20 - Feb. 18)
♥ Flirt up a storm
When fascinated Mercury in your true love zone trines coquettish Uranus in your communications sector on Sunday, make your romantic partner feel as besotted as the first day you met by flirting up a storm.
☹ Where's the spotlight?
You have been working non-stop, yet it's your partner who is stealing your shine, leading to fleeting moments of envy at the Lunar T-square on Saturday.
Pisces (Feb. 19 - March 20)
♥ Negotiate contracts, ask for a Raise, or pitch an idea
With silver-tongued and shrewd Mercury in your work sector trining windfall Uranus in your wages zone, you can talk up money for all your hard work on Sunday.
☹ Going through the motions
The lack of inspiring stimulation in your surroundings could leave you feeling listless and in a rut at the Lunar T-square on Saturday.