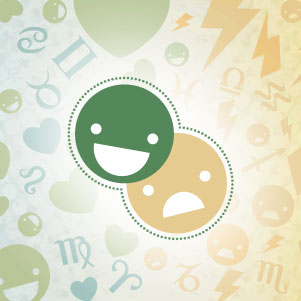 The week starts off with a heartfelt Grand Trine in the Water signs on Monday, making this an excellent day to catch up with close friends and family. The 4th of July sizzles when Venus moves into social Gemini, yet Mercury's square of Uranus could cause a pervasive air of paranoia to cloud the day.
Mercury moves into generous, upbeat Leo on Wednesday, and the upcoming weeks are auspicious for creativity. The Sun soon trines idealistic Neptune in dreamy Pisces before squaring Jupiter in Libra; it is easy to dream too big and become overwhelmed by grandiose plans. Take things slow.
The Full Moon right next to control-freak Pluto on Sunday is a bit of tinder keg, as it drags in cantankerous Mars and explosive Jupiter. Fights could ensue causing premature endings. Try not to insist on having your way.
Here is a general overview of this week's energy, valid for all. Hearts and Hates for your sign follow below!
♥ Dive into emotional well-being
Put logic and action over feelings this week, and work to clean up old psychological messes and reach a point of understanding and liberation.
☹ Fight back against fear and control
The Full Moon on Sunday is pushing us to move away from paranoia and anxiety by standing up to authoritarians and bullies.
Your sign's Hearts & Hates Weekly Horoscope:
Aries Horoscope (March 21 - April 19)
♥ Long holiday weekend
With the 4th of July falling on a Tuesday, you may want to take Monday off, so you can relax at home and grow close with family.
☹ Power mad
Your erratic behavior could cause resentment and fights with family members. Just because you are the boss around the office doesn't mean you can be so at home.
Taurus Horoscope (April 20 - May 20)
♥ A separate peace
Instead of fighting a solitary revolution, it may be better to throw up a white flag and make amends with friends who have let you down.
☹ Going down in a blaze of glory
You will be on fire at the office -- and not in a good way. Small sparks of discord with colleagues could burst into full-blown conflagrations. Be careful to not let angry words undermine your long-term goals.
Gemini Horoscope (May 21 - June 20)
♥ Double-paid overtime
If you put in extra hours over the 4th of July holiday, you could be rewarded with a boost in pay, as well as the lasting admiration of your boss.
☹ Magnet for takers
If you try to impress romantic partners by indulgently throwing money and gifts in their direction, you may end up used and your bank account bruised.
Cancer Horoscope (June 21 - July 22)
♥ Holiday elopement
Take Monday off, and steal away with your sweetie to a romantic getaway for snuggles and the intoxication of true love. If single, you could meet someone while out celebrating the 4th of July, so keep your eyes open!
☹ Diary of a discontented housewife
Egocentric demands of family and lovers could push you over the edge at Sunday's Full Moon. While you are one of the most nurturing signs out there, you also need to fight for your rights in order to stop being taken for granted.
Leo Horoscope (July 23 - Aug. 22)
♥ Off the radar
You may want to lay low over the holiday, as this a better time to relax and recharge your batteries, rather than running on empty.
☹ Seething inside
Demanding, competitive colleagues may be trying to grab power through gossip campaigns, and your attempts at honest, open communication could only make things worse, leaving you filled with repressed rage.
Virgo Horoscope (Aug. 23 - Sept. 22)
♥ Festive Fourth
You will be in an extremely social mood through Wednesday, so make sure you accept all invitations to parties, or throw one of your own.
☹ The old ball and chain
You want to go out and have fun, while your demanding lover wants you -- and your cash -- all to themselves. Put your foot down on Sunday, and spend time with friends.
Libra Horoscope (Sept. 23 - Oct. 22)
♥ Baby, you're a firework
With the Sun, Mars, and Mercury all crowded in your house of career success, you've got to ignite the light and let it shine like the 4th of July.
☹ Can get to the top by sitting at home
Your confidence, drive, and ambition could see you charge ahead at work, leaving family members nagging for you to come home. This auspicious energy will dissipate by the end of the month, so put your foot down and work extra hours on Sunday, if needed.
Scorpio Horoscope (Oct. 23 - Nov. 21)
♥ Co-dependence day
There is nothing more refreshing to you than the recycled air of your couple bubble, so turn down invitations in order to break away with your romantic partner. If single, you could meet someone while traveling, so don't be afraid to strike casual conversation.
☹ Dragged kicking and screaming into the outside world
There is nothing you want more than to hide away and lay low, but worldly concerns and legal issues are breaking your tranquility, leading to harsh arguments.
Sagittarius Horoscope (Nov. 22 - Dec. 21)
♥ Bury it in the garden
Instead of squandering money on nights out, use your savings to pamper your family and establish the home of your dreams.
☹ Austerity plan
Your year-long social binge could be taking a serious toll on your bank account. It is time to start cutting back and looking to lead a slightly quieter life.
Capricorn Horoscope (Dec. 22 - Jan. 19)
♥ Full of passion and poetry
Fireworks will not only be in the sky this 4th of July, but also in your heart; a feisty, fiery lover is there by your side to inspire for the long run. If single, network for love through friends.
☹ Fighting over the future
Your One True Pairing may not be happy with your career goals. Fights could ensue about work/life balances and finding a job with more regular hours.
Aquarius Horoscope (Jan. 20 - Feb. 18)
♥ Spreading the wealth
Your idealism will push you to share your economic bounty with those in need during this week's festivities. Just make sure not to spend what you don't have and to stay in budget.
☹ Overdoing it
Your desire to get fit and tackle your buildup of chores and duties could leave you absolutely exhausted and drained by the weekend.
Pisces Horoscope (Feb. 19 - March 20)
♥ New love abounds
The pounding of your heart will drown out all other noise during the week's 4th of July festivities. The skies are bursting with new opportunities for romance, so allow yourself to be swept away.
☹ Drop 'em like it's hot
Your friends may feel dropped faster than a hot potato. If you concentrate completely on reinvigorated romance, you could find your pals have decided to move on by the time you get around to fitting them in your schedule.