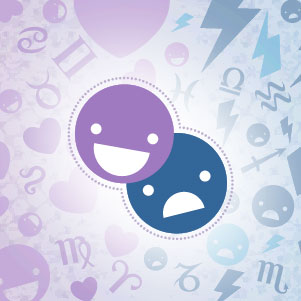 The sky is bursting and ablaze with astrological fireworks during the week of July 4th. A pile-up of planets in Cancer will be sending positive vibes to Neptune, Mars, and Jupiter, while clashing up against game-changers Pluto and Uranus. Many awe-inspiring shades of love and compassion will light up the planets this week -- as well as a few scary-sounding bangs that could shake things up.
Here is a general overview of this week's energy, valid for all. Then keep reading for the Hearts and Hates for YOUR sign this week!
♥ Need to nurture
The New Moon on Monday will wake up the collective need to actively care for our fellow human beings. Throughout the entire week, people can come together for mutual support, with the shared goal of making the world a better place.
☹ Thirsty Thursday
Everyone may be plotting to gain the most followers in the Instagram-of-life on Thursday -- and sometimes getting ahead can only be achieved by cutting down others. Watch your back.
Your sign's Hearts & Hates Weekly Horoscope:
Aries Horoscope (March 21 - April 19)
♥ Water your garden
It's time to pour all you have into your home and family. This is an excellent week to take out a mortgage or lease, as well as finalize a home renovation project. Getting away from it all by relaxing at home will bring a sense of inner harmony and peace.
☹ Looming work duties
Even if you hole up at home and pull all the blinds, you will not be able to escape the menacing shadow of your work responsibilities. This could lead to arguments with neglected loved ones on Thursday.
Taurus Horoscope (April 20 - May 20)
♥ Break out the bullhorn
Your communication abilities will be on fire starting at the New Moon on Monday. If you have anything you need to get off your chest to friends or lovers, do so this week; harmony and passion can be restored.
☹ Angry at the world
On Thursday, don't misdirect your inner feelings of anxiety and alienation by getting mouthy with those you care about, or hurt feelings will abound.
Gemini Horoscope (May 21 - June 20)
♥ Silver-tongued
You can negotiate your way to the top this week. The New Moon, shrewd Mercury, and charming Venus in your earnings zone are sending Powerball vibes to jackpot Uranus and go-for-it Mars in your work sectors.
☹ The not-so-fine print
Make sure that when charming the socks off business associates they are not surreptitiously pulling the wool over your eyes. There could be strings to long-term financial arrangements that give a larger-than-usual piece of the pie to investors or partners.
Cancer Horoscope (June 21 - July 22)
♥ Summer is heating up
The New Moon, Mercury, and Venus in your sign are sending out sizzling vibes to fiery Mars in your romance zone and dreamy Neptune in your sector of new horizons. Your charm is on overdrive, so passion can be yours if you seek it.
☹ Heart-burned
Committed romantic partners, colleagues, and bosses could try to steal your shine on Thursday by covertly and overtly jockeying for positions of power. Stay strong.
Leo Horoscope (July 23 - Aug. 22)
♥ Dream home
If you are not happy with where you are, now is the moment to make a change -- seek out new digs, plan a move, search for a new home, or spruce up an old one.
☹ Blinded by work
Your focus on work -- especially detail-oriented tasks and chores -- is blinding you to life's greater landscape. Try to make space for fun and romance.
Virgo Horoscope (Aug. 23 - Sept. 22)
♥ Joy to the world
A vibrant, celebratory social life filled with dynamic conversation is yours for the taking. Make sure you get out and network on Monday and the rest of the week. If you do, a friendly flirtation could morph into lasting romance.
☹ No kidding around
If you have children, they will not be amused by the amount of time you are spending with friends and lovers. They want your full attention, all the time, every day, 24/7.
Libra Horoscope (Sept. 23 - Oct. 22)
♥ The Get Along Gang
Your ability to create a peaceful, harmonious work environment that dissolves all infighting and drama is your key to upping your income this week.
☹ Home is not a harbor
Unfortunately, your domestic sphere is not as lovey-dovey as the office. Volatile partners with their diva demands, along with manipulative, control-freak family members, could keep you working long hours as a means of escape.
Scorpio Horoscope (Oct. 23 - Nov. 21)
♥ Break from routine
Try to break free from obligations and regimented habits. Exploring new horizons from Monday could energize you -- and your love life.
☹ Volunteer army
Having to always take care of other people and their problems could send you onto the battlefield of rage of Thursday. Be careful with your words and outbursts of anger.
Sagittarius Horoscope (Nov. 22 - Dec. 21)
♥ Spoiler alert
Doting on beloved family members or sprucing up your home will make all that excessively hard work you have been coping with for the last year all worthwhile.
☹ Betrodden benefactor
Your generosity may exceed your bank balance on Thursday, especially if you allow high-maintenance lovers or petulant children to take advantage of your largesse.
Capricorn Horoscope (Dec. 22 - Jan. 19)
♥ Friendly fire
A spark with a social acquaintance could erupt into a full-blown conflagration, with the possibility of morphing into a lasting committed partnership, so get out and mingle.
☹ Out with the old
If you are in a committed relationship, you may be growing tired of all the power games and differences of opinion regarding domestic issues. If you want out already, a break could be in the cards on Thursday.
Aquarius Horoscope (Jan. 20 - Feb. 18)
♥ The little engine that could
A boost in earnings as well as added duties and responsibilities at the office could be a reward for all your hard work recently.
☹ Still haven't found what you're looking for
Unfortunately, a lot of the success you are achieving is in a sphere that doesn't really fuel your dreams. The routine, prosaic nature of your tasks could be far from your inner ambitions. Try to keep your true goals alive.
Pisces Horoscope (Feb. 19 - March 20)
♥ Falling in love again
New possibilities for romance appear at the New Moon on Monday and will sweep you off your feet into a dream world. Try to break from routine to explore new, exciting horizons, and passion will find you.
☹ The high cost of romance
You could get so caught up in love that you forget your friends. If you shut them out, don't be surprised if they return the same behavior back at you. Moreover, love may be free, but courtship isn't, and you may oversplurge on romance on Thursday.