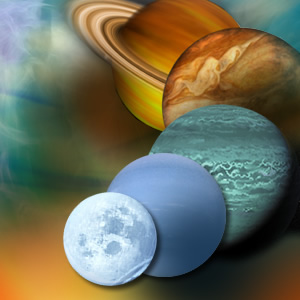 Here's a peek into the best and worst days from July 6-12, 2015:
♥ Heart: Wednesday, July 8: Build a Better World
As Mars in Cancer trines Neptune in Pisces, and Mercury enters Cancer, it's a great moment to think about family and the need to fight for a better, more idealistic world for future generations.
☹ Hate: Saturday, July 11: Willful Weekend
It's a moody, stubborn day with the Moon in Taurus creating a T-Square with Saturn, Venus and Jupiter.
Now read on for YOUR horoscope sign's Hearts & Hates for this week!
Aries (March 21 - April 19)
♥ Heart: Call you Casanova
You will find potential partners swooning at your feet around July 8 when the seductive Moon connects with charismatic Uranus in your identity zone, and trines no-boundaries Jupiter and besotted Venus in your 5th House of Romance.
☹ Hate: Work/life imbalance
When ambitious Pluto in your 10th House of Career opposes an easily combustible Sun in your family sector on July 6, fights may be brewing about the amount of time you spend at work.
Taurus (April 20 - May 20)
♥ Heart: Social butterfly
July 6th is a 5-star day to connect with friends when a nurturing Pisces Moon conjuncts dreamy Neptune in your social sector, while trining extroverte
d Mars and a cheery Sun in your 3rd House of Communication.
☹ Hate: Call of duty
With a gotta-get-it-done Taurus Moon forming a T-square to Venus in your 4th House of Domestic Life and workaholic Saturn, your weekend may be all chores and shopping expeditions to Home Depot.
Gemini (May 21 - June 20)
♥ Heart: Wolf of Wall Street
When savvy Mercury zooms into your 2nd House of Money on July 8, joining go-for-it Mars and trining an easily-manipulated Neptune in your career sector, you will be able to talk up money from thin air.
☹ Hate: Don't roll those dice
Even though you are pulling in the moolah, you are small-fry compared to Big Finance. Stay away from one-percenter investments when a cocky Sun opposes power-player Pluto on July 6.
Cancer (June 21 - July 22)
♥ Heart: You're on fire
A blazing Sun, emboldened Mars, and in-the-know Mercury are crowding your 1st House of Identity, filling you with confidence and flair. Pass out Kevlar vests to your friends for protection, 'cause you are smoking hot.
☹ Hate: Beware the green-eyed monster
Your partner turns red with rage because your personal charisma outshines theirs when a lustrous Sun opposes seething-with-envy Pluto on July 6.
Leo (July 23 - Aug. 22)
♥ Heart: Inspiration from within
If you are looking for spiritual enlightenment, gaze within yourself on July 8 when an empowered Mars in the sector of your inner psyche trines illuminated Neptune in your 9th House of Consciousness.
☹ Hate: Stir crazy
Mercury, Mars, and the Sun are piled up in 12th House of Isolation. As much as you want to enjoy the summer good times, you may need to work from home this weekend.
Virgo (Aug. 23 - Sept. 22)
♥ Heart: Love is closer than you think
Ask a close pal to set you up on a date around July 8 when passionate Mars in your friendship zone trines swooning Neptune in your 5th House of True Love.
☹ Hate: Take a deep breath
If you're in a relationship, you risk suffocating in the stale air of your couple bubble when an extroverted Sun opposes "there's-only-room-enough-for-me" Pluto in your 5th House of Romance on July 6.
Libra (Sept. 23 - Oct. 22)
♥ Heart: Take the reins
There has been a chronic lack of organization at the office, but when dominant Mars in your 10th House of Career trines chaotic Neptune on July 8, you can take the lead without ruffling feathers.
☹ Hate: The cupboards are bare
When Old Mother (or Father) Libra goes to the cupboard to offer her friends a glass of vodka on July 11, there may be nothing left. Excessive socializing has depleted your already meager bank account...
Scorpio (Oct. 23 - Nov. 21)
♥ Heart: Escape into love
Take a break from routine on July 8 when passionate Mars trines storybook Neptune in your 5th House of Romance. Travel will bring many opportunities to find amour -- or invigorate an existing bond.
☹ Hate: Not enough of you to spread around
Work duties consume all your energy at the lunar T-Square on July 11, leading to feelings of neglect for your lover.
Sagittarius (Nov. 22 - Dec. 21)
♥ Heart: You will meet a tall, dark stranger...
This astrological cliché could actually come true around July 8 when the Moon conjuncts happenstance Uranus in your 5th House of Romance, while trining besotted Venus and Jupiter in your 9th House of The Exotic.
☹ Hate: Don't dive into debt
It may seem so easy to whip out the plastic when the Sun in your credit sector opposes Pluto on July 6. Unfortunately, it won't be as easy to pay it all back...
Capricorn (Dec. 22 - Jan. 19)
♥ Heart: Feather your nest
July 8 is a perfect day to invest in home-based renovations or grow closer to your family, when a nurturing Moon conjuncts Uranus in your domesticity zone while trining loving Venus and Jupiter.
☹ Hate: Coup d'Etat
Your lover could be screaming out against your authority louder than the Sex Pistols at a 1980s punk-era Battle of the Bands when the Sun opposes despotic Pluto in your 1st House of Identity.
Aquarius (Jan. 20 - Feb. 18)
♥ Heart: Teamwork leads to personal economic gain
Working together is key when get-it-done Mars in your 6th House of Daily Routine trines an easily inflated Neptune in your earnings sector on July 8.
☹ Hate: No rest for the wicked
Between love and work, you have no time to just chill out, which is what you really need to do when an exhausted Moon in your 4th House of Home forms a T-square to Saturn, Jupiter and Venus on July 11.
Pisces (Feb. 19 - March 20)
♥ Heart: Rose-colored glasses
Red-hot love is possible when a highly romantic Neptune trines passionate Mars in your 5th House of Romance on July 8. Use your imagination to plan an out-of-ordinary evening for your sweetie.
☹ Hate: Sabotaged
Keep your relationship to yourself when the Sun opposes a bullying Pluto in your 11th House of Friends and Groups on July 6, or you could be the victim of envious attempts to sabotage your love affair.