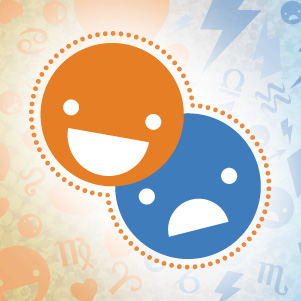 This week is marked by an overall feeling of exasperation. While mental expansion and inspiration abounds due to Mercury's trine of Jupiter on Tuesday, which pulls in the Moon for a Grand Lunar Trine, things quickly start to unravel. Mercury's square of Neptune, on the same day, leads to a feeling of weakness and an inability to put plans into practice.
Out-of-the-box thinking is backed into a corner when the Sun and Mercury oppose rigid Saturn on Thursday and Sunday; those hostile to change may actively fight against new ways of thinking and doing.
Here is a general overview of this week's energy, valid for all. Hearts and Hates for your sign follow below!
♥ Think big
Tuesday is a great day for brainstorming and coming up with ambitious, unique solutions that can shake the world.
☹ Overambitious and frustrated
While ideas are overflowing, it may be difficult to actually implement them, due to overextension and resistance.
Your sign's Hearts & Hates Weekly Horoscope:
Aries Horoscope (March 21 - April 19)
♥ Garner the courage to say I love you
If you dare to tell your heart's desire how you truly feel on Tuesday, it could lead to an epic long-term romance.
☹ Fear may get the better of you
You may be held back from saying what is truly in your heart by your own fear of rejection. You may also be afraid that society will look down on your maverick choices in love.
Taurus Horoscope (April 20 - May 20)
♥ Terms and conditions
Tuesday is an excellent day for contract renegotiations. You have been working up a storm, and could smooth-talk your employer into giving you a bump up in pay.
☹ But when they got there, the cupboard was bare
You may feel like splurging on luxury material goods and nights out on the town. While a little present to yourself is fine, your long-view, austere budget does not allow for too much indulgence.
Gemini Horoscope (May 21 - June 20)
♥ The world's embrace
If you are single, there will be a myriad of intoxicating, new romantic opportunities awaiting you on Tuesday. Schedule a date night, or try to search for new love.
☹ Stealing your shine
The situation isn't so rosy for those in committed relationships. Your partner could be threatened by your confidence and charm, and try to break your spirit through isolation, control, or excess criticism, so you don't stray.
Cancer Horoscope (June 21 - July 22)
♥ Home spa
Spend as much time as you can at home, surrounded by family, so you can recharge your batteries and stay grounded.
☹ Exhausted and confused
You are working extremely hard, but may not understand for what, leading to a depletion of physical and mental resources.
Leo Horoscope (July 23 - Aug. 22)
♥ Say hello!
You will be number one on everyone's friendship list this week. On Tuesday, make an effort to expand your social network, both online and in real life.
☹ Bar tab anxiety
You may be worried whether your finances are strong enough to cover your social engagements. Try to propose outings to inexpensive yet quaint nightspots, or throw a BYOB party.
Virgo Horoscope (Aug. 23 - Sept. 22)
♥ Financial creative visualization
Tuesday is a perfect time for some career-focused brainstorming. Out-of-the-box thinking can lead to a financial income boost.
☹ Brain drain
While you are on fire at work, your energy could be diluted by demanding family members and needy lovers. Try to stay focused on success.
Libra Horoscope (Sept. 23 - Oct. 22)
♥ Time to break free
Explore new paths of knowledge, spirituality, and adventure on Tuesday. Getting out of your safety zone will fill you with confidence and motivation.
☹ Not following orders
Colleagues will do anything to slack off from workplace duties, including tuning out all your perfectionistic demands, leaving you drowning in chores.
Scorpio Horoscope (Oct. 23 - Nov. 21)
♥ The escape song
If you like pina coladas and walking in the rain, hideaway with your sweetie on Tuesday, reconnecting in a warm embrace.
☹ Strictly business
No matter how hard you try to sort out your finances, you find it hard to create a budget that allows you to pamper your children and lover.
Sagittarius Horoscope (Nov. 22 - Dec. 21)
♥ Amorous amity
If single, a strong friendship could develop into a committed relationship. If in a couple, spending time out socializing with others will breathe fresh life into your relationship.
☹ Cheer up
Your family and lover may be worried about your extended solemnity. Loosen up and try to forget your problems.
Capricorn Horoscope (Dec. 22 - Jan. 19)
♥ Strategizing your way to the top
This is a great week to chart out your business plan, so you can climb to the top of your profession. Higher-ups will be impressed with your focus and strong ideas.
☹ Not what it seems
While you may be a whiz at the office, it is masking your true inner-sense of isolation and pessimism. It doesn't help that you find it hard to verbalize your angst.
Aquarius Horoscope (Jan. 20 - Feb. 18)
♥ Long-distance romance
If you are single, you may be crushing on someone who lives far from you. It can work, if you decide to join them on a new journey. Maybe it is time to make a move -- both romantically and geographically.
☹ Trapped by judgment
Unfortunately, people in your social group may look down on your romantic life, pressuring you and trying to block you from following your heart. Don't let them.
Pisces Horoscope (Feb. 19 - March 20)
♥ Feather your nest
Tuesday is an excellent day to improve your house, take out a new lease, choose a roommate, or spend time bonding with family.
☹ All work, no fun
You feel your life is just work and sleep, with nothing going on outside the office or hanging out at home. You have until December to make a massive mark in your career, so keep plugging away.