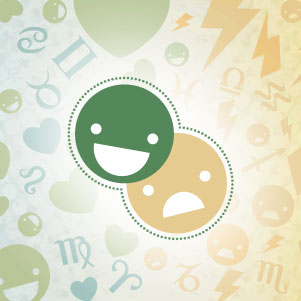 There's not much going on this week, but what is going on is a doozy! Good things first: a cheery Sun sextiles up-for-anything Uranus on Tuesday, while charitable Venus enters compassionate Cancer on Friday.
But then, a rare, disharmonious aspect rears its head at the end of the week when cold, silent Saturn squares easily duped Neptune -- the establishment's spin machine may be working overtime in the background in order to maintain the status quo.
Here is a general overview of this week's energy, valid for all. Then keep reading for the Hearts and Hates for YOUR sign this week!
♥ Play hard, care hardTuesday is tailor-made for superficial fun and blowing off steam. Starting Friday, the collective conscious turns to making the world a better place and caring for the less fortunate.
☹ Something's rotten in the state of...You don't have to live in Denmark to feel that some fishy trickery is stinking up the joint when Machiavellian Saturn pulls the wool over clueless Neptune's eyes on Friday.
Your sign's Hearts & Hates Weekly Horoscope:
Aries Horoscope (March 21 - April 19)
♥ Chatty RammyIf you are seeking inspiration, pick up the phone, send an email, or log on to Facebook on Tuesday. You have a myriad of opportunities to network with fascinating people who will motivate you to try new things.
☹ Dreams versus realityYour idealistic visions will be discounted as utopian unicorn fairytales by stodgy pragmatists on Friday. Don't stop believing.
Taurus Horoscope (April 20 - May 20)
♥ Smoke signalsIf you have grown estranged from neighbors or siblings, light up and pass the peace pipe from Friday, when diplomatic Venus enters your communications zone until mid-July.
☹ The friend who cried wolfYour generosity may finally hit the road on Friday when you grow tired of tall tales from fake friends who repeatedly come asking for a handout.
Gemini Horoscope (May 21 - June 20)
♥ Where's the party?You will be the hub of spontaneous good times on Tuesday when the radiant Sun in your identity zone sends a vibrant sextile to festive Uranus in your social sector.
☹ Whose life is it anyway?Your nagging partner may want you to give up your idealistic career dreams in order to take on a more realistic -- and soul-crushing -- job that pays the bills. You must decide what will bring you long-term happiness.
Cancer Horoscope (June 21 - July 22)
♥ Back on the sceneGetting out of your self-imposed isolation by spontaneously socializing with friends on Tuesday will help you remember you are not alone. By Friday, you'll really be back and ready for the world.
☹ Work addictThe world can be a scary place, and you may be using work as a way of self-medicating away your anxiety of living a truly fulfilling life. If you are experiencing a life imbalance, garner up the courage to try new things.
Leo Horoscope (July 23 - Aug. 22)
♥ Social studiesHanging out with friends, old and new, on Tuesday can renew your faith in life. While some people can be cynical and selfish, even more can be fascinating and inspiring -- these are the people who can easily enter your orbit at this time.
☹ Disjointed bankingA calculating lover could be after your savings. Behind a cold, can-do exterior could lay a squanderer of epic proportions. Keep money and investments separate.
Virgo Horoscope (Aug. 23 - Sept. 22)
♥ Windfall bonusYou may finally garner up the courage to negotiate better terms for benefits on Tuesday. Go for it before the feeling fades.
☹ Unblended familyFor a while, it has been clear that your family and lover do not get along. To stop a disruptive, passive-aggressive, non-stop war of manipulation, it may be better to just keep them separate for your own sanity.
Libra Horoscope (Sept. 23 - Oct. 22)
♥ Bonnie and ClydeHit the road for a spontaneous, unplanned adventure with your sweetie on Tuesday. It will invigorate your relationship with excitement, fun, and passion.
☹ Loss for wordsYou may have legitimate distrust for certain colleagues at the workplace, leaving you flummoxed as to what to say to protect your interests. For now, it may be best to keep quiet while you gather evidence documenting their smear campaigns.
Scorpio Horoscope (Oct. 23 - Nov. 21)
♥ Booster prizeYour innovative solutions at the workplace could lead to a boost in benefits on Tuesday. If you are seeking to renegotiate contract terms, now is an auspicious time.
☹ It's all about money, honeyYour sweetie requires a lot more moolah for decadent enjoyment than your stingy self wants to part with. Clashes over how to spend money on entertainment could sticky up the relationship.
Sagittarius Horoscope (Nov. 22 - Dec. 21)
♥ Level upTuesday is an excellent day to take a casual relationship to the next level. If you are in a committed pairing, schedule a date night to renew the romance.
☹ MiseryYou may feel trapped in a Stephen King movie starring Kathy Bates. Seemingly well-meaning family members may be keeping you in a state of vulnerability in order to gain the upper hand.
Capricorn Horoscope (Dec. 22 - Jan. 19)
♥ Foster careYou will be able to build strong, sustainable bonds with your family by actively volunteering to help each other out and lend a helpful hand on Tuesday.
☹ Nobody knows the real youYou are carrying around a lot more on the inside than anyone else knows. While your words can fool those around you, they are not fooling you. Hiding your pain will not heal it.
Aquarius Horoscope (Jan. 20 - Feb. 18)
♥ Say you love meYou may receive news of a cutie who is crushing on you on Tuesday; let them know that the feeling is mutual.
☹ Superficial acquaintancesYou are not that into material things, yet you are surrounded by people who judge status by monetary success. Something needs to change: your ideals or the company you keep.
Pisces Horoscope (Feb. 19 - March 20)
♥ Good housekeepingSpending a little money feathering your nest will instantly transform it into a cozy abode that makes you feel safe and inspired.
☹ Sweep the floor, CinderellaYou long to be successful in your career, but an unrealistic attitude may be keeping you from putting in the blood, sweat, and tears necessary to get to the top. The road is long, tough, and grueling. You have the talent to get there; it's your attitude that needs realignment.