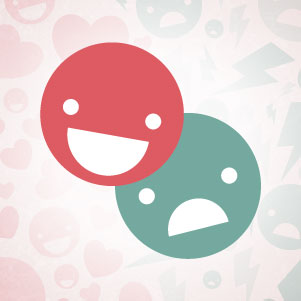 The Sun and Mercury join forces shortly after entering the motherly sign of Cancer on Wednesday, followed by an empathy-drenched New Moon on Friday, also in Cancer. Doting Venus trines single-focused Pluto on Saturday, making the entire week the perfect moment to provide care and love to those we hold dearest to our hearts.
It is time to take the spotlight off ourselves, and put it on those people in need of encouragement, support, and assistance. We can all make a difference in the world by making at least one other person's life better.
A less diplomatic energy prevails on Sunday, when bellicose Mars squares off against tinder-keg Jupiter. People could blow up at the tiniest slight, and any attempts at diplomacy will only add fuel to their fire. Do not apologize when you have done no wrong; instead, keep a wide berth of overly sensitive people with axes to grind.
Here is a general overview of this week's energy, valid for all. Hearts and Hates for your sign follow below!
♥ Nanny state
Nurturing abounds this week. We will be thinking about how to best care for the emotional needs of our family and those we hold most dear.
☹ Trigger warning
Small annoyances could explode into major conflict on Sunday. Try not to let things spin out of control or take it personally.
Your sign's Hearts & Hates Weekly Horoscope:
Aries Horoscope (March 21 - April 19)
♥ Fixer upper
Use your extra time and energy to make improvements around the home, either through repairs or redecoration.
☹ Brawl in the family
Your lover could be at odds with your family, especially at the weekend. It's best to keep the two parties separate to avoid fights and confrontations.
Taurus Horoscope (April 20 - May 20)
♥ Sing hallelujah!
You will be filled with awe and inspiration of the world at large, ready to sing the praises of the universe to anyone nearby. Get out of your set routines, try new things, and prepare to be amazed.
☹ Need some help here
You may be so overburdened with chores and tasks that you lash out in anger at those standing idly around you.
Gemini Horoscope (May 21 - June 20)
♥ Bump it up
This is one of the best weeks of the year to strategize and implement the changes necessary to boost your income. Backroom negotiations could bring major benefits.
☹ More pimp than player
If you think you can impress your lover by throwing money at them and making a display of your material possessions, think again. Try some tenderness and understanding, instead.
Cancer Horoscope (June 21 - July 22)
♥ Personal renaissance
You are feeling revived and rejuvenated. This is a perfect week to revamp your style or get a beauty makeover. A friend could be crushing on you -- Saturday is a good day to return the feelings.
☹ The ties that bind
As a Cancer, you live for family, but, this week, you will feel like a rebellious teenager, fighting to break free from an all-consuming domestic scene.
Leo Horoscope (July 23 - Aug. 22)
♥ Take a time-out
Take plenty of time to rest and recuperate. It will help you regain an inner sense of purpose and inspire you to go after your career dreams.
☹ Feeling cut off from the world
While a little introspection can charge your batteries, it is also keeping you from connecting with others, and could lead to feelings of frustration.
Virgo Horoscope (Aug. 23 - Sept. 22)
♥ Network connection
You will be at a 2-year peak in terms of socializing and meeting new people. Your charisma will allow you to draw many dynamic, positive contacts to your side.
☹ Spending spree
You may be feeling so gregarious that you take your eye off your budget and squander a significant amount more than planned on social engagements.
Libra Horoscope (Sept. 23 - Oct. 22)
♥ Superstar
This is one of the best weeks of the year, workwise. If you're in a less-than-ideal job, it's time to make the change to something that lets your true skillset shine. If you already enjoy your job, take on a role that allows more leadership.
☹ It's not easy being king
While you have a tremendous ability to move ahead in your career this week, the pileup of responsibilities also brings an enormous amount of stress.
Scorpio Horoscope (Oct. 23 - Nov. 21)
♥ Free your mind
It is time you open your intellect and spirit to inspirational new ideas. Enroll in a course or take a yoga class -- it will make you motivated and filled with renewed energy.
☹ Closed borders
You long to roam free and live an insouciant existence, but you have put up existential walls, keeping your focus on your internal problems, instead of the joys of the world.
Sagittarius Horoscope (Nov. 22 - Dec. 21)
♥ Open up
If you dare to create a more intimate, sharing bond with your partner, much passion awaits you, along with a boost in confidence.
☹ Top billing
You may try to break free from your solitary moodiness by going out for hedonistic nights on the town, only to find you charged up too much debt in the process.
Capricorn Horoscope (Dec. 22 - Jan. 19)
♥ June bride
There couldn't be a more auspicious week for taking a relationship to the next level. Spend as much time on love and romance as possible. Singles could meet "the one," so get out and mingle.
☹ Scheduling conflict
You have so much work on your plate that you could find it hard to give your full focus to passion, which could leave your romantic partner petulant and pouty.
Aquarius Horoscope (Jan. 20 - Feb. 18)
♥ Taking care of business
Roll up your sleeves and set to clearing out that build-up of chores that has accumulated around you. You will be able to whiz through even the most mundane tasks with energized vigor.
☹ Summertime shut-in
You may have so many duties on your plate that you do not have enough time to get out and enjoy the outside world, leading to feelings of frustration at the weekend.
Pisces Horoscope (Feb. 19 - March 20)
♥ Love is in the air
Romantic opportunities abound this week. If you are single, do not let this auspicious energy go to waste; seeds you plant now can blossom over the course of the next year. If in a couple, this is an excellent time to conceive.
☹ Check your neediness at the door
Your desire to take a romantic relationship from zero to sixty in under a minute could come off as suffocating to potential suitors, and you risk scaring them off. The same goes for those in a relationship -- if codependence is your thing, your partner could finally have enough, leading to massive arguments at the weekend.