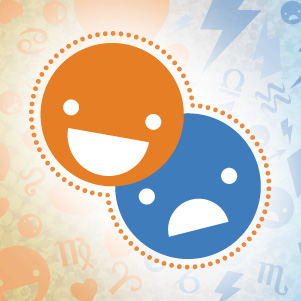 The heavy-hitting planets Saturn, Neptune, and Jupiter have been loosely squaring off against each other since early spring. Mercury joins the fray during the first half of this week, creating a Grand Cross in the Mutable signs from Monday to Wednesday. It is time to ponder about the greater meanings of life: independence vs. security, trust vs. healthy skepticism.
At the Full Moon on Monday in Sagittarius, trine Uranus in Aries, it may be time to let go of situations that are no longer nourishing your life and start something new.
After several weeks of rare disharmonious aspects, Sunday sees a rare beautiful-and-beneficent trine between Jupiter and Pluto that's bursting with power and positivity. Even though this trine happens on a Sunday, its energy is so strong it is valid all week. Hooray!
Here is a general overview of this week's energy, valid for all. Then keep reading for the Hearts and Hates for YOUR sign this week!
♥ If you believe it, you can achieve it
Plot your road to success during the rare trine on Sunday between Jupiter and Pluto in the industrious Earth signs of Virgo and Capricorn.
☹ Pulled in too many directions
You may need to ponder how to bring your life's direction into greater focus early this week. Too many conflicting influences can be causing massive confusion.
Your sign's Hearts & Hates Weekly Horoscope:
Aries Horoscope (March 21 - April 19)
♥ Work together for personal success
You can't make it to the top by yourself. You have the capability now to pull together a motivated team who will work double time to ensure you reach the pinnacle of achievement and glory.
☹ Dear diary
It is time you confront all the conflicting issues that are tearing you apart. Your enthusiasm and idealism are being placed in a straightjacket by your current dull living situation. Try to write out your feelings to escape confusion.
Taurus Horoscope (April 20 - May 20)
♥ Love is lifting you higher
Romance can offer an almost spiritual union that will elevate you out of the mundane world into an experience of enlightenment and faith. If you are single, look for love in unlikely places; it could lead you to a soulmate.
☹ Bank account
You've been squandering money on profligate friends, lovers, and children for the past several months, and this wastefulness is starting to take a bite out of your savings. It's time to create a firm budget and start saying no.
Gemini Horoscope (May 21 - June 20)
♥ Family matters
Even if your kinsfolk are a bunch meddlers, it only is a sign that they truly care for you. You will draw significant strength from your nearest and dearest this week; if you pool together your resources for a family project, it can lead to success and bonding.
☹ Drown out the chatter
It is time you start listening to your own voice and stop being influenced by family and romantic partners, especially in terms of your quixotic career choices.
Cancer Horoscope (June 21 - July 22)
♥ Love alters not with his brief hours and weeks
You will possess more verbal swagger than the great Bard himself on Sunday. Sit down to write a sonnet or let your sweetie know that your love will bear out even to the edge of doom.
☹ Tears of a rapper
You may be suffering from hurt feelings and confusion because, outside of love, no one seems to be buying your rhymes -- maybe because you insist on interminable freestyling sessions instead of a few hard-hitting lines.
Leo Horoscope (July 23 - Aug. 22)
♥ Gold mine
Your hard labor and non-stop toil will finally tap a vein this week. Look to be financially awarded for work well done.
☹ Table for one
You can finally afford a seat in the VIP lounge with full bottle service -- but what good is it if you are drinking alone. During the first half of the week, make an effort to reach out socially to recover from your workaholic ways.
Virgo Horoscope (Aug. 23 - Sept. 22)
♥ The power of love
Romantic bliss will give you a major boost of confidence and self-esteem this week. If you're single, your incredibly vibrant and inspiring personality can pull a soulmate to your side.
☹ Work/life imbalance
During the first half of the week, you may need to figure out a long-term plan to juggle conflicting demands between career, family, and love.
Libra Horoscope (Sept. 23 - Oct. 22)
♥ There's no place like home
Even though you may be dealing with an inner psychological tornado, you take solace in knowing that you have firm, supportive roots back in your own private Kansas.
☹ Say anything
You may be feeling out of sorts with the world, and a big part of the reason is due to your uncharacteristic silence. You are normally one of the chattiest signs of the zodiac; it's time to start opening up and sharing ideas -- and yourself.
Scorpio Horoscope (Oct. 23 - Nov. 21)
♥ Party line
This would be a great week to have a get-together at your home or organize an evening out for a diverse group of people. Festive invitations could lead to increased networking opportunities and powerful connections.
☹ Play the long game
Your meager money has been going toward romance, children, and social outings. If you want financial security, you need to start thinking about investing and saving for the future.
Sagittarius Horoscope (Nov. 22 - Dec. 21)
♥ Overworked and overpaid
You have a crushing workload -- there is no doubt to that -- but fortunately, your bank account will also be bombarded by all the cash you are pulling in for a job well done.
☹ Labor of love
The huge amount of time you are spending on business is taking away from family bonding. Your lover could be feeling especially salty and resentful early in the week.
Capricorn Horoscope (Dec. 22 - Jan. 19)
♥ Born again
Opening your eyes, mind, and spirit to the endless variety of the world can bring a profound sense of rebirth now. Do not spend a lazy Sunday tinkering about the house; get out and explore, learn, and travel.
☹ Idle hands
You may be living in your own personal inferno due to spending too much time brooding on your inner demons. Get back to the workshop; focusing on job-related tasks will help you forget your existential despair.
Aquarius Horoscope (Jan. 20 - Feb. 18)
♥ Kickstarter
Pull yourself up by your bootstraps by actively going after your dreams. Ask for help and support from others who will be happy to invest in your powerful ideas.
☹ No fun
Focusing on money, status, and stodgy friends is not your idea of a good time. It's time you realize that and try to realign the situation to something more joyous.
Pisces Horoscope (Feb. 19 - March 20)
♥ Power couple
You and your partner will be highly sought after this weekend, as you rocket to A-list, must-have status. If you're single, you may meet a potential partner at a party or gathering.
☹ The mamas and the papas
You have enough going on in terms of career and love that you don't need your family getting involved. The thing is, they may have a detached, rational view of your situation that could be of great help, but you prefer to feel lost in the woods.