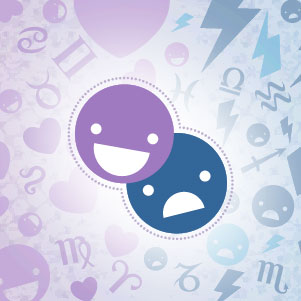 There is a dreamy, wonderfully escapist vibe to this week's energy, making it a great moment for an impromptu summer road trip, even if it's just for a day or evening.
Adventurous Mars and fanciful Mercury send out positive vibes to whimsical Neptune on Monday and Tuesday before joining forces in Cancer on Wednesday. You may need to think up innovative ways buck authority and grab freedom, however, due to Mercury's extended T-square of Jupiter and Pluto from Tuesday to Thursday.
Here is a general overview of this week's energy, valid for all. Hearts and Hates for your sign follow below!
♥ Dream big
Let your creativity run wild. This is a great week to plot out and start a creative project or entrepreneurial endeavor.
☹ Must be Machiavelli
You need to figure out how to fight the establishment if you want to win big in life and come out on top. It won't be easy, and you may need to realize that the ends justify the means. Just remember, brains are better than brawn.
Your sign's Hearts & Hates Weekly Horoscope:
Aries Horoscope (March 21 - April 19)
♥ Kick back and relax
Don't be ashamed to lazily lounge around your home on your time off. Good times can be had with family, or simply through daydreaming or watching a good movie.
☹ Fight for "me" time
You may need to con your way to some alone time, as demanding bosses and lovers are expecting you to be at their beck and call 24/7.
Taurus Horoscope (April 20 - May 20)
♥ Play date
Spend time with good friends, not doing anything too structured, just being silly and goofing around; it will allow you to reconnect with the carefree fun you used to have in childhood.
☹ Outwitting the fox
You will need to figure out a plot to save your skin as you fight against a conniving, power-mad colleague, who insists on hogging the glory. Try to smooth-talk fellow coworkers to your side.
Gemini Horoscope (May 21 - June 20)
♥ Shoot to the Moon
If you reach for the stars, you can finally forge your dream career, complete with an out-of-this-world salary.
☹ Cut the strings
A romantic lover or child could be treating you like their financial puppet. You need to figure a way to stop the generosity without looking like a Scrooge.
Cancer Horoscope (June 21 - July 22)
♥ Live your dream
People often say that you can be anything you put your mind to -- but this week, this is actually true. Figure out who you really want to be and how you want to live, and go for it!
☹ Florence Nightingale had needs, too
You are an incredibly nurturing person, so much so that demanding romantic partners and needy family members may forget you need care and support, too. Make sure they know this.
Leo Horoscope (July 23 - Aug. 22)
♥ Seek funding for your goals
If you are looking for an investment, scholarship, or grant for a dream project, such as an entrepreneurial endeavor, college, or artistic project, this is an excellent week to seek out financial assistance.
☹ Too tired to talk
You are feeling overworked, leading to physical and psychological exhaustion. You are in no mood for idle chitchat, or catching up via email or phone.
Virgo Horoscope (Aug. 23 - Sept. 22)
♥ Friendly fire
An existing friendship could ignite into an epic true love saga. If you are crushing on someone, dare to let them know the depths of your feelings.
☹ Keep it in your pants
You need to keep your cash deeply in your pockets, instead of squandering it trying to impress romantic possibilities.
Libra Horoscope (Sept. 23 - Oct. 22)
♥ Time to climb
Put on your thinking cap, and strategize your way to the top. Your ability to create a long-term action plan and work hard to make it a reality is at a 2-year high.
☹ Feeling frazzled by family
You have a lot of work on your plate, yet your family keeps piling on more and more demands for your time, leading to feelings of stress. Career opportunities that abound at this time will not reappear anytime soon, so stay focused.
Scorpio Horoscope (Oct. 23 - Nov. 21)
♥ Extended weekend
There's no reason to have the romance end just because you need to go back to the office on Monday; your heart will still be with your sweetie, so make sure to spend your free time exploring new horizons and trying new things.
☹ Bully pulpit
If you insist on imposing your ideological views onto everyone around you through long-winded diatribes, don't be surprised if people grow weary of your company.
Sagittarius Horoscope (Nov. 22 - Dec. 21)
♥ Feather your nest
This is the perfect week to make your dream home a reality. Take out a mortgage or a new rental lease. Your decorating aesthetic will be on point.
☹ Go for broke
Remember that your credit card is just made of plastic even if it says platinum. You could run up debt quickly this week if you don't put the brakes on while socializing.
Capricorn Horoscope (Dec. 22 - Jan. 19)
♥ How do I love thee
You will have the words of Barrett Browning and the passion of Casanova, making you an unstoppable force of all-natural love. This is a great week to take things to the next level.
☹ War of the roses
Your romantic life may be so hot that your lover will seethe with jealousy over the amount of time you spend at the workplace. Try to achieve balance.
Aquarius Horoscope (Jan. 20 - Feb. 18)
♥ Dreamweaver
Your ambition, intellect, and ability to get things done will help you work hard and make money doing something you love.
☹ Down-low despot
You may seem chilled-out on the surface, but it's all appearance. Your insistence on doing things your way could lead to a reputation as a tyrant and fights with colleagues.
Pisces Horoscope (Feb. 19 - March 20)
♥ Tinder to a flame
A small spark could lead to full-blown passion, sweeping you up into a conflagration of true love.
☹ Sneaking around
You may decide to keep your romance on the down-low, forcing you to lie to friends, who can tell that something is up and grow angry at your deception.