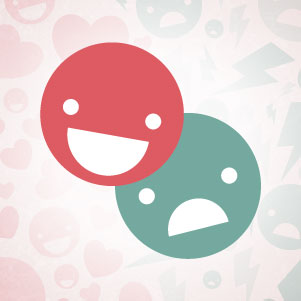 This week has a storybook ending -- and beginning -- with Venus and the Sun trining fairytale Neptune on Monday and Sunday. Be lazy, be social, be happy, and dedicate your free time to romance and art.
Other good news occurs when Mars turns direct in Scorpio on Wednesday. Energy has been stagnant and moving at a snail's pace since the red planet turned retrograde in mid-April; now, projects start buzzing speedily along once more.
The week's hiccup comes on Thursday when a sensitive Venus in nurturing Cancer is plowed over by know-it-all Pluto in Capricorn. Don't allow yourself to get hurt by needless drama.
Here is a general overview of this week's energy, valid for all. Then keep reading for the Hearts and Hates for YOUR sign this week!
♥ And they lived happily ever after...
Dedicate Monday and Sunday to the softer side of life. These are also good days to forgive and make peace.
☹ Don't feed the troll
Authoritarian types will bowl over meeker spirits Thursday. Don't get sucked into arguments you can't win. It's better to hit "ignore" and they will go away.
Your sign's Hearts & Hates Weekly Horoscope:
Aries Horoscope (March 21 - April 19)
♥ Financial relief
You have been preoccupied with unresolved economic issues for the past few months, but starting Wednesday money stresses start to dissipate, giving you more time to pamper your family and relax at home.
☹ Boss Daddy
Wearing the big-boy pants around the office may keep underlings properly intimidated, but you may want to change into less threatening attire once you arrive home.
Taurus Horoscope (April 20 - May 20)
♥ Peace on Earth
Reach out to estranged friends on Monday and Sunday to rapidly repair damage caused by silly sleights. As an added bonus, your romantic partner will also cast off old grudges and be up for renewed passion.
☹ Cult leader
You may feel bullied into accepting the dogmatic preachings of an intellectual bully on Thursday. Don't allow yourself to get drawn into exhausting ideological arguments.
Gemini Horoscope (May 21 - June 20)
♥ Monetization magician
Put on your thinking cap Monday and Sunday, because you can easily conjure up ingenious ways to make a living off something you truly love.
☹ Checks and imbalances
Beware of not-so-strangers who come bearing gifts on Thursday. Offers of money and gifts will be tied up with strings, which could lead to a loss of power and control.
Cancer Horoscope (June 21 - July 22)
♥ Grail quest
All heroes must wander into enchanted forests to fulfill their epic and romantic destinies. On Monday and Sunday, you have the chance for storybook encounters if you explore new territories.
☹ Where's the off ramp?
For you Crabbies in committed relationships, your significant other may demand it to be their-way-or-the-highway on Thursday. Luckily this is but a fleeting roadblock, so seek out the nearest rest stop and wait for better traffic conditions.
Leo Horoscope (July 23 - Aug. 22)
♥ Art therapy
Allow your spirit to be swept away and inspired by genius works of art, literature and film on Monday and Sunday.
☹ Diaper booty
Don't allow fleeting feelings of low self-esteem to push you into making massive no-going-back cosmetic changes to your body on Thursday, or you may end up with a bottom line that looks faker than Kim Kardashian's.
Virgo Horoscope (Aug. 23 - Sept. 22)
♥ Butterfly collector
Those swirling feelings in the pit of your stomach are butterflies acting up every time you are around that certain special friend. Instead of vague feelings of flirtation, why don't you let things finally fly on Monday or Sunday.
☹ Friends with no benefits
Your platonic friends may be totally fed up with playing second fiddle to your love life on Thursday. Make an effort to remember their needs.
Libra Horoscope (Sept. 23 - Oct. 22)
♥ Master tailor
You will be able to artfully weave thoughts and ideas into a mantle of sweet success this week. Think outside the box and be willing to collaborate.
☹ House of intrigue
A family member may be jealous of your career success on Thursday. Do not let them trip you up or make you second-guess your professional choices.
Scorpio Horoscope (Oct. 23 - Nov. 21)
♥ Romantic comedy
Your love life could feel like it is lifted straight from a Hollywood blockbuster on Monday or Sunday. If single, going on a weekend roadtrip could put romance on your path.
☹ Watch your mouth
You are surrounded by so much love and positivity; make sure you don't ruin it all with your uncontrollable anger on Thursday.
Sagittarius Horoscope (Nov. 22 - Dec. 21)
♥ Home is where the heart is
Invest your emotional and monetary currency in your house and family on Monday and Sunday. Peace and love will be the ROI.
☹ Easy target
Your heartstrings will be making the decisions over the purse strings on Thursday. You may end up dishing out more money than you meant to, you old softie, you.
Capricorn Horoscope (Dec. 22 - Jan. 19)
♥ Mutual appreciation society
You and your romantic partner just can't stop gushing about the depth of your adoration toward each other. Let the feelings flow.
☹ Loss for words
You are undergoing profound external and internal experiences, and feel confused because you have a hard time verbalizing what you are going through.
Aquarius Horoscope (Jan. 20 - Feb. 18)
♥ Smells like team spirit
You can boost your earnings potential by being a willing team player at the office. Your laidback charm helps everyone get along and work together in harmony.
☹ Stop beating yourself up
Battling your inner demons can lead to low physical energy on Thursday.
Pisces Horoscope (Feb. 19 - March 20)
♥ On the wings of love
Fly off to soaring new heights of romance on Monday and Sunday, when a dashing and chivalrous lover makes you feel like a fairytale character.
☹ Tea for two
Keep your romantic life private on Thursday, or you could unwittingly serve up a pot of gossip to bullying friends who are resentful of your amorous bliss.