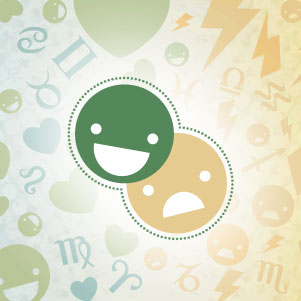 This is a week defined more by shifting energies and planetary changes, as opposed to any major astrological aspects.
On Tuesday Venus enters Taurus, promoting professional teamwork and creativity throughout June. Also on Tuesday, Mercury zooms into Gemini, offering many occasions in the upcoming weeks for socializing, networking and communication. Jupiter turns direct on Friday, signaling a return to good luck and optimism.
The only other major auspicious aspect this week is a mild sextile between Venus in Taurus and Mars in Cancer on Friday, making it a good day to deal with children and home issues.
On the "Hate" side, the only negativity darkening the skies this week is Friday's Sagittarian Full Moon that is near Saturn and square to Neptune; this can be a day when we allow pessimism to squash our adventurous spirits, leading to confusion and making choices based on fear, instead of desire.
Here is a general overview of this week's energy, valid for all. Hearts and Hates for your sign follow below!
♥ Some like it chill
This is a really low-key week, astrologically. The mild, pleasant skies offer a week of enjoyment and relaxation.
☹ Narrowed outlook
The week's lazy energy could lead to a crisis of confusion on Friday. There may be so many possibilities, that it could be irksome to make choices as to which paths to follow.
Your sign's Hearts & Hates Weekly Horoscope:
Aries Horoscope (March 21 - April 19)
♥ Tango & Cash
You have plenty of opportunities for getting in touch with people, new and old. Reach out to far-off siblings and look for work. Make sure to reward yourself with a little personal shopping.
☹ Pearl in the shell
The world will not be your oyster. While you are brimming with innovative ideas, you may need to let them go when they are not received with a warm welcome from the stuffed shirts surrounding you, leaving you perplexed by the stodgy status quo.
Taurus Horoscope (April 20 - May 20)
♥ Comfort and joy
You will be brimming with charm and good feelings this week, so go ahead and splurge and pamper yourself with an indulgent "me" present. Your financial life is purring along nicely, and you could even dream up new income sources.
☹ Scrooge McBull
Confusion over money could come between you and a friend. Even though they may call you stingy to anyone who will listen, protect your resources and set boundaries.
Gemini Horoscope (May 21 - June 20)
♥ Enjoy life's pleasures
Kick back and chill out this week; being a little lazy can do much to boost your emotions. An overwhelming romance that burned out could flame back to life starting Friday.
☹ Enough is enough
For Geminis in a committed relationship, your lover continues to deter your career goals, perhaps by manipulating you and undermining your confidence. Someone from the past could be waiting in the wings, if you dare to call it quits.
Cancer Horoscope (June 21 - July 22)
♥ Take some downtime
You have been working like mad, but the upcoming weeks are auspicious for outside-the-office activities. Reconnect with friends and family, and take time to sort out your life's true meaning.
☹ Pin the tail on the donkey
Colleagues at work may be piling you up with all the boring tasks, while shutting you out of more creative endeavors. It is time to put an end to this, once and for all.
Leo Horoscope (July 23 - Aug. 22)
♥ People magnet
Both socially and professionally, you will ooze charm and charisma, allowing you to draw new contacts into your orbit and work together as a team.
☹ Keep out
While your social life is lively, your arms may be empty. Past hurts could be making you feel vulnerable and guarded. It is time to break down the walls surrounding your heart.
Virgo Horoscope (Aug. 23 - Sept. 22)
♥ Problem solver
You are on fire at the workplace, allowing you to come up with innovative solutions to get things done. If you have been waiting on a delayed payment for services rendered, cash may finally arrive starting from Friday. Make sure to plan a weekend getaway or cultural excursion this month.
☹ Something's gotta give
Family and career obligations could be shutting down your love life. You need to cut down on domestic caretaking to allow some romantic time.
Libra Horoscope (Sept. 23 - Oct. 22)
♥ Divine inspiration
Seeking knowledge through travel, learning, or spirituality will expand your consciousness and help bring you closer to those you love.
☹ Alone with your thoughts.
You are normally a very chatty sign, but have had communication fatigue lately. Your lack of verbal outreach is causing alienation and confusion, especially with colleagues, who are not interested in the things that you find fascinating.
Scorpio Horoscope (Oct. 23 - Nov. 21)
♥ Cuddles and coins
The upcoming weeks offer many opportunities for tender romance with your partner; singles can take a dating situation to the next level of true commitment. Your financial radar will also be perfectly tuned, so revise your investment strategy.
☹ Austerity plan
It is time to reorganize your finances by cutting down drastically on the amount of money you spend on children or romantic partners.
Sagittarius Horoscope (Nov. 22 - Dec. 21)
♥ Take it easy
Get off the treadmill and relax. Sometimes a little rest and comfort food can be better for your body than crushing workouts. In love, there is much joy to be had, so make sure to spend quality time together. Singles, strategize a plan to find your soul mate, and stick to it.
☹ You are worrying everyone
You have been extremely stressed out for a long while now, and much more low-key and brooding than your usual upbeat nature. Your lover wants to just chill out and enjoy life, and your family is growing concerned. Try to look on the bright side and have some fun.
Capricorn Horoscope (Dec. 22 - Jan. 19)
♥ Dream catcher
With starry-eyed Venus in your romance sector and go-for-it Mars in your commitment zone, June is one of the best months in years for finding love and making it last.
☹ Work can't erase your problems
To escape the inner angst you are feeling, you may try to throw yourself into your work. Unfortunately, even though you enjoy the tasks at hand, you still need to deal with what is causing you unhappiness.
Aquarius Horoscope (Jan. 20 - Feb. 18)
♥ Choose happiness
You will be able to make good, clear-headed decisions in your love life, instead of allowing your inner passions to be ruled by drama or games.
☹ Not enough money to spread around
New opportunities for romance may require you to redirect your spending from socializing with friends to pampering your partner, leaving some pals feeling ditched and deserted.
Pisces Horoscope (Feb. 19 - March 20)
♥ You charmer, you
Your communications skills will be on allure-overdrive. This is a great period to send out your resume, pitch projects, or increase your social media following.
☹ Learn to unplug
Your desire to get to the top of the career ladder could be causing massive burnout and confusion, as you are tiring of your tedious tasks. Take some time off to relax at home or with family.