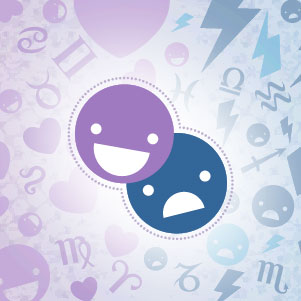 Schedule get-togethers early in the week, because people grow grumpy as time passes. The week starts off on a high note, when two extremely social planets, the Sun and Venus, join up in witty Gemini.
Come Thursday and Friday, though, a manipulative Mercury, aggressive Mars, and overly sensitive Moon form a T-Square of frustration and stubbornness. Luckily, a lazy, fun-only sextile between Venus and Uranus chills things out on Sunday.
Here is a general overview of this week's energy, valid for all. Then keep reading for the Hearts and Hates for YOUR sign this week!
♥ Happy together
Monday is a 5-star day for socializing when the ebullient Sun conjuncts decadent Venus in bubbly Gemini.
☹ Nothing's gotta give
An extremely rigid T-Square in the Fixed signs on Thursday and Friday means everyone is calculating to gain an advantage, but no one is up to being gamed.
Your sign's Hearts & Hates Weekly Horoscope:
Aries Horoscope (March 21 - April 19)
♥ Sunny and clear
You will face nothing but blue skies on Monday, making this an excellent day to apply for jobs as well as network, both professionally and socially.
☹ Kid gloves
Children may use emotional manipulation to wrap you around their finger on Thursday and Friday, but you -- and your bank account -- will be having none of it. Get set for tantrums.
Taurus Horoscope (April 20 - May 20)
♥ Indulge yourself
Even a practical, hard-working sign such as yours deserves a little material decadence every once and in a while. Treat yourself to a well-deserved pressie on Monday.
☹ Stand off at the Not OK Corral
Your family may feel uncomfortably caught in the crossfire of you and your partner's obstinate dueling on Thursday and Friday.
Gemini Horoscope (May 21 - June 20)
♥ King of the world
You will be feeling on top of your game on Monday. Your charm and vibrant personality will be able to pull everyone easily into your orbit -- and, luckily, there isn't even an iceberg in sight.
☹ De-escalation unit
You may be surrounded by frustrated colleagues who could crack at any moment on Thursday and Friday, forcing you to think twice about anything you say.
Cancer Horoscope (June 21 - July 22)
♥ Universal love
They say you have to love yourself before you can love anybody else. On Monday, your buoyant sense of inner self-esteem allows you to emanate compassion and kindness to others.
☹ Friends or lovers
You mind is on spending your money to socialize with friends on Thursday and Friday, but your diva-like lover is demanding all your attention and time, making you feel torn about what to do.
Leo Horoscope (July 23 - Aug. 22)
♥ Let the good times roll
Organize a happy hour on Monday, because you will be in an extremely social mood, making you the center of attention for old friends and new.
☹ Screaming for your attention
Your mind continues to be on work, leaving family members angry, frustrated, and ready to fight to get you to notice them on Thursday and Friday.
Virgo Horoscope (Aug. 23 - Sept. 22)
♥ Talk your way to the top
Why climb the ladder of success, when you can breeze to the C-suite based on your charm and personality on Monday?
☹ Moody mumblings
Fleeting feelings of emotional and existential despair could cause you to lash out with cross words on Thursday and Friday. Don't take out your malaise on others.
Libra Horoscope (Sept. 23 - Oct. 22)
♥ Widened horizons
You will be in an expansive mood on Monday, making this a perfect day to break from routine and explore new neighborhoods, as well as soak in art and culture.
☹ Go for broke
Frustrations about money and finance could cause you to rebelliously overspend on social activities on Thursday and Friday. Pay heed to the running tab.
Scorpio Horoscope (Oct. 23 - Nov. 21)
♥ Cozy up
Run home after work on Monday, because it is one the best nights of the year for cuddles and coos. You and your sweetie can create strong bonds of intimacy while lingering in each other's warm embrace.
☹ Collateral damage
Your workmates may have to take the brunt of your misplaced aggression against your romantic partner on Thursday and Friday. Keep your disgruntled feelings out of the office to protect your reputation.
Sagittarius Horoscope (Nov. 22 - Dec. 21)
♥ Renew your vows
Monday can be like a second honeymoon for you and your sweetie, so clear the calendar and make time for just two. If you are single, this is a 5-star day to declare your love to a potential suitor or to take a previously casual relationship to something more committed.
☹ Parked in the garage
Your uncharacteristically low drive is killing your desire to cruise the open roads on Thursday and Friday. Better to stay in and recuperate.
Capricorn Horoscope (Dec. 22 - Jan. 19)
♥ Taking care of business
Your empathy and kindness toward colleagues won't go unnoticed on Monday, when others will appreciate everything you do for them.
☹ Stuck in the middle
Your lover may not enjoy the company of your friends and could be strategizing to keep you all to themselves on Thursday and Friday, tearing your loyalties in two directions.
Aquarius Horoscope (Jan. 20 - Feb. 18)
♥ Love, exciting and new
Book your ticket for the Love Boat on Monday. When Venus and the Sun swish together in your romance zone, you can be swept off on a wave of tender emotion.
☹ Blind ambition
Lovers and family could feel cast aside as you put your entire focus on career on Thursday and Friday. Try to widen your gaze to include them at the weekend.
Pisces Horoscope (Feb. 19 - March 20)
♥ Homey and heartfelt
Schedule in family time on Monday. Loving Venus conjuncts a Sun exploding with positivity in your domesticity zone, promising that all time spent with your nearest kin will prove supportive and fun.
☹ Shackled to your desk
You long for adventure and a dynamic existence filled with glamour and excitement, but you are stuck doing thankless chores on Thursday and Friday, leading to feelings of melancholy and ennui.