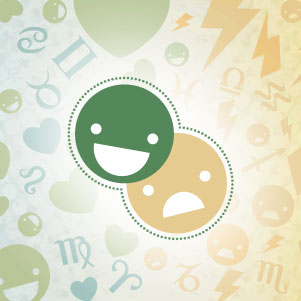 Mercury enters Aries on Monday, making this the perfect week for thinking big and brainstorming about ambitious projects! You can find others to help you construct your grand visions over the weekend when Mercury conjuncts creative, team-spirited Venus. But a square between the Sun and Saturn makes for a grueling Friday when control freaks refuse to let anyone else shine.
Here is a general overview of this week's energy, valid for all. Hearts and Hates for your sign follow below!
♥ Focus on peace and harmony
Logic, compassion, better judgment, and empathy all join forces on Saturday, making this the perfect time to clear up misunderstandings.
☹ Collective control
Individualism will be squashed by the traditional powers-that-be on Friday. This is not a good day to fight the establishment.
Your sign's Hearts & Hates Weekly Horoscope:
Aries Horoscope (March 21 - April 19)
♥ That old Aries charm
Don't laze around the house this weekend; your charm and wit is at its peak, ensuring you will be magnet of interest and seduction.
☹ Dis-integration
No matter how hard you try to let loose the real you, you may feel segregated from the conservative busy-bodies surrounding you.
Taurus Horoscope (April 20 - May 20)
♥ Blossoming of your inner lotus flower
If you dare to look deep inside your soul, you will be able to reconnect with the truly nourishing things that make you tick, leading to feelings of psychological renewal and healing.
☹ Tied up by your purse strings
You want to be freewheeling and generous to those in your social group, but your pragmatic views on finance will prevent you from truly sharing the wealth.
Gemini Horoscope (May 21 - June 20)
♥ Reach out to old friends
If any friends have fallen off the radar due to distance or time, make an effort to catch up over the weekend to solidify your bonds.
☹ Smothering your shine
While you may be on fire at the office, your significant other will go out of their to make you feel insignificant by ignoring and diminishing your success.
Cancer Horoscope (June 21 - July 22)
♥ Cozy colleagues
Use logic and charm to win co-workers and bosses to your side. Your problem-solving and peace-making abilities shine, especially if you put in some overtime at the weekend.
☹ All work, no play
You are buzzing with new ideas, but colleagues will not be impressed, leaving you drowning in drudge work.
Leo Horoscope (July 23 - Aug. 22)
♥ Global warming
Get out and explore new pastures this weekend by taking a trip to points unknown. If you can't travel, seeking out new knowledge through a course or a book will make you feel like part of the glorious universe.
☹ Counting pennies, not kisses
Your intense focus on work may be bringing in the moolah, but it has isolated you from finding love and affection. Try to realign the balance.
Virgo Horoscope (Aug. 23 - Sept. 22)
♥ Focus on philanthropy
While you are normally very pragmatic with your spending, you shouldn't hesitate to help out a loved one in need financially this weekend.
☹ Model home
Your lover may find your domestic life too controlled and anti-septic. They may long for something messy and comfortable, yet your need for order and tidiness could be killing the passion.
Libra Horoscope (Sept. 23 - Oct. 22)
♥ Remembering why you fell in love
Dedicate this weekend 100% to your sweetie -- long talks and cuddles will take you back to the early days of your relationship. If you are single, this would be a good time to reach out to an ex and start afresh.
☹ It takes two to talk
Giving colleagues the cold shoulder will not win you any brownie points. In order to negotiate in business, all sides must be open to constructive dialogue.
Scorpio Horoscope (Oct. 23 - Nov. 21)
♥ Pamper your way to good health
If you have been a bundle of nerves, take the weekend to set up a new wellness plan. Create a schedule filled with nutritious food, home spa treatments, and plenty of time for sleep and rest.
☹ Mother Hubbard's cupboard
Financial austerity may prevent you from doting on children or lovers; you need to show you care in ways that don't require money.
Sagittarius Horoscope (Nov. 22 - Dec. 21)
♥ Rediscovering romance
Set your mind to bringing love to the forefront of your life. Get out and date, make up with an ex, or do something romantic for an existing partner.
☹ Rob who?
You may feel like you are surrounded by a Kardashian-like family of narcissists fighting for the spotlight, while making sure you and your needs stay hidden in the shadows.
Capricorn Horoscope (Dec. 22 - Jan. 19)
♥ Caring kinsfolk
Spend this weekend with family. If you have grown estranged from any of your kinfolk, this is an excellent time to make peace.
☹ Not up for opening up
While your neighbors and siblings may reach out for a good chinwag, you have no desire to participate in idle chitchat. Just make sure you do not alienate yourself further by pushing others away.
Aquarius Horoscope (Jan. 20 - Feb. 18)
♥ The 411 on romance
Do not be afraid to dial up romantic prospects and let them know how you feel. If a certain someone slipped out of your life, a reunion could be in order -- make contact on Saturday.
☹ Haters gonna hate
The more money or possessions you accrue, the more your friends seem to judge and shun you. Stop caring about what they think and enjoy your achievements.
Pisces Horoscope (Feb. 19 - March 20)
♥ Happy birthday to me
It's your birthday month, so splurge on an indulgent pressie just for you. If there is any little luxury item you have been longing for, go shopping for it on Saturday.
☹ The drudge report
There is no such thing as overnight success. Even though you are overflowing with ideas, you must first lay the groundwork for your professional advancements, even though the work may be grueling and uninspired.