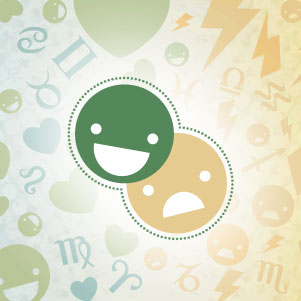 If March comes in like a lion and goes out like a lamb, so does this week. The start of the week is all sorts of passive-aggressive harsh with Mercury and Venus in Pisces squaring Mars and Saturn in Sagittarius on Monday, and Mercury opposing judgmental Jupiter on Tuesday. Things soften up considerably by Wednesday, when feel-good Jupiter sends a rare trine to regenerative Pluto. With the Sun entering Aries and Venus conjunct Neptune on Sunday, the weekend offers both extroversion and chilled-out charm.
Here is a general overview of this week's energy, valid for all. Then keep reading for the Hearts and Hates for YOUR sign this week!
♥ Together we're stronger
Wednesday's rare trine of Jupiter and Pluto shows that strength and harmony can out-trump division and discord.
☹ Projections of guilt
Judgmental suspicions abound and can easily get blown out of proportion on Monday and Tuesday, leading to emotional manipulation in order to gain the upper hand.
Your sign's Hearts & Hates Weekly Horoscope:
Aries Horoscope (March 21 - April 19)
♥ Coronation day
All your hard work can finally pay off during a rare trine between Jupiter and Pluto in your work sectors. Get ready to take on the mantle of success.
☹ All work and no play
The unending pile of thankless tasks you have to deal with early in the week could be overwhelming, making you feel trapped -- but keep your nose to the grindstone because you are close to breakthrough recognition.
Taurus Horoscope (April 20 - May 20)
♥ Coming in and out of your life
That one true love that got away could make a stunning return from exile when Jupiter retro in your romance zone trines soulmate Pluto on Wednesday.
☹ No team no!
Your friends and your lover just can't get along -- and each side is blaming you for lack of support when, in reality, you just don't want to choose sides.
Gemini Horoscope (May 21 - June 20)
♥ Home owner
Wednesday sees a powerful trine between bountiful Jupiter in your home zone and stalwart Pluto in your finance sector. This is a 5-star day to seek out a mortgage or look for a new residence.
☹ What starts with an "L"?
With your full attention turned to work and family, you may have forgotten about your lover, who may feel completely cut-off from your life.
Cancer Horoscope (June 21 - July 22)
♥ How do I love thee?
If you start counting the ways you adore your sweetie, you may never stop. Wednesday is an amazing day for a heart-to-heart adoration session.
☹ Office drone
If you insist on babbling on and on and on at the workplace on Monday and Tuesday, you risk alienating colleagues and garnering a bad reputation.
Leo Horoscope (July 23 - Aug. 22)
♥ Bingo!
Your workaholic ways will finally pay off when bonanza Jupiter in your earnings zone sends an extremely rare trine to obsessed Pluto in your sector of chores and labor.
☹ Starving artist
The money needed to get a creative project off the ground could leave you feeling fed up and frustrated on Monday and Tuesday.
Virgo Horoscope (Aug. 23 - Sept. 22)
♥ Could it be you're falling in love?
Swooning Jupiter in your identity zone hooks up with karmic Pluto in your sector of blossoming romance on Wednesday. If you are single, keep your eyes open for potential suitors.
☹ Guess who's coming to dinner?
Disapproving and dismissive relatives could cause emotional pain to your sweetie on Monday and Tuesday. Let them know they have your unconditional love.
Libra Horoscope (Sept. 23 - Oct. 22)
♥ Home of the brave
Spending time with your family on Wednesday will boost your confidence and make you feel like you can tackle anything.
☹ Does not compute
You may suffer from crossed-wires and flare-ups with colleagues on Monday. Effective communication could be frustratingly difficult, so it is better to schedule important meetings for later in the week.
Scorpio Horoscope (Oct. 23 - Nov. 21)
♥ Network connection
With jovial Jupiter in your networking sector sending a rare trine to self-assured Pluto in your communications zone on Wednesday, you will be able forge powerful alliances, so get out and market yourself.
☹ Penny wise, pound foolish
Children or lovers may bulk at your spendthrift ways on Monday, but they will also be able to send you on a guilt trip that causes you to splurge far more than your better judgment.
Sagittarius Horoscope (Nov. 22 - Dec. 21)
♥ Wage inflation
Your career expertise is your most bankable asset, and it can lead you to long-lasting financial security. Wednesday is one of the best days of the year to negotiate for better pay.
☹ Cell Block H
A house is not a home -- in fact yours may feel more like a prison on Monday when difficult family members finally cause you to explode in rage.
Capricorn Horoscope (Dec. 22 - Jan. 19)
♥ Conscious enlightenment
Free your mind, and the rest will follow. An extremely rare trine occurs on Wednesday when transcendental Jupiter in your zone of cosmic awareness trines formidable Pluto in your identity sector. Open yourself to new experiences, learning and travel.
☹ Passive AGGRESSION
You may use every side-handed, manipulative trick in the book in order to covertly vent your inner rage and frustration. The cold shoulder, the guilt card, shame-and-blame: these are the many tools in your arsenal that are guaranteed to cause strife and alienation with those around you.
Aquarius Horoscope (Jan. 20 - Feb. 18)
♥ Power in numbers
Your sense of inner control and authority will be fortified through receiving a loan, grant or investment capital. Nothing bolsters one's worth more than when someone believes in you and your plans so much that they are willing to give you financial backing.
☹ Misers meet Midas
Your stingy, conservative friends may be raining on your parade because they never want to do anything extravagant. On Monday, you may overspend just to show them what sticks-in-the-mud they are.
Pisces Horoscope (Feb. 19 - March 20)
♥ Friends and lovers
Get out of your couple bubble on Wednesday. Hanging out with friends will take the ego clash out of your relationship and allow you to just enjoy each other's company. For singles, this is one of the best date nights in recent memory. You may even want to "inadvertently" bump into the one that got away -- and make sure they stay this time.
☹ Torn between two lovers
Your heart is currently being torn in two directions -- your love for your romantic partner and your desire for a worthwhile career. Be careful you do not take out your frustration at the office on Monday, or your choice may be made for you.