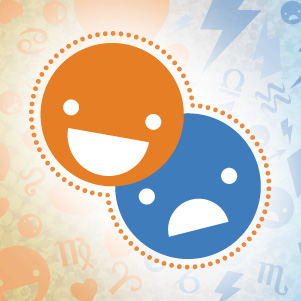 The Sun bursts into ebullient Aries on Monday, marking the official start of spring and the Astrological New Year. A reawakening to the social world will stir in the upcoming weeks and especially at the weekend, when the Sun conjuncts harmonious, affable Venus and Mercury joins shake-it-up Uranus, also in Aries.
On Thursday and Friday, however, grumpier energy prevails due to a T-square that pulls in Mercury, Jupiter, and Pluto. Get ready for a clash of egos and control freaks!
Here is a general overview of this week's energy, valid for all. Hearts and Hates for your sign follow below!
♥ Wild weekend
Crazy shenanigans abound, as people will be up for anything due to Saturday's joyous, boundary-pushing energy filled with pure joy.
☹ Grandiose and unrealistic
Everyone will be tapping into their inner narcissist, concocting grand schemes and biting off more than they can chew, as well as fighting off the competition through cutthroat machinations.
Your sign's Hearts & Hates Weekly Horoscope:
Aries Horoscope (March 21 - April 19)
♥ Intoxicating personality
Your charm and infectiously joyous personality will be stronger than Jack Daniels this weekend. Get out and enjoy spontaneity and adventure.
☹ Feeling fenced in
Me-first lovers and domineering bosses may be making you feel constrained and mentally confined.
Taurus Horoscope (April 20 - May 20)
♥ Inner renaissance
By tapping into your personal creativity and inner beauty, a fully formed, awe-inspiring new you can emerge from its shell, rivaling Botticelli's The Birth of Venus.
☹ Nervous tension
Piles of backed-up chores, combined with being surrounded by ideological zealots, could fill you with anxiety and the fear of saying the wrong word.
Gemini Horoscope (May 21 - June 20)
♥ Prince of parties
Get out and mingle this weekend! Your charm, flair, and outrageous personality will ensure many memorable, slightly transgressive, moments.
☹ The high cost of the high life
While your social and romantic lives are on fire, your bank account is at risk of burning dry. Try to stick to a budget.
Cancer Horoscope (June 21 - July 22)
♥ Cubicle crusader
Your ability to think outside the box and rally the forces can lead to an inspiring and forward-thinking work environment. Do not be afraid to put in extra hours at the weekend, as you will garner brownie points.
☹ Burned by the midnight oil
Lovers and family members may resent all the time you are spending at the office, so brace yourself for their wrath and brimstone.
Leo Horoscope (July 23 - Aug. 22)
♥ Spontaneous combustion engine
Get ready to blow your mind through travel, study, and spontaneity. Once you start actively seeking enlightenment by getting out of your comfort zone, inspiration will be everywhere.
☹ Competitive colleagues
Machiavellian colleagues may be threatened by your innovative ideas and try to spread gossip behind your back. Be careful not to divulge your project's details in conversations with those you don't fully trust.
Virgo Horoscope (Aug. 23 - Sept. 22)
♥ Putting lipstick on your piggybank
You can spruce up your savings by seeking out new investment strategies that lead to long-term gains.
☹ Squandering soulmate
Your lover may have a Svengali-like grip on your better judgment, especially regarding finances. Do not allow yourself to overspend on high-maintenance mates.
Libra Horoscope (Sept. 23 - Oct. 22)
♥ Excitement and allure
Love and glamour go hand-in-hand. Keep your partner interested by surprising them with gifts, outings, and passion.
☹ Who's the boss?
Family members and romantic partners may be trying to constantly undermine your authority and confidence in order to gain control. Don't fall for their manipulations and games.
Scorpio Horoscope (Oct. 23 - Nov. 21)
♥ Get fit
Your quest for wellness continues. Working out and eating well will help burn off anxiety and stress.
☹ Stressed out and surly
You have a lot on your plate, which could cause you to lash out verbally in uncontrollable fits of rage, especially toward colleagues, who will be slow to forgive and forget. Try to keep your emotions in check.
Sagittarius Horoscope (Nov. 22 - Dec. 21)
♥ Brief encounter
A chance encounter could lead to an intoxicating, epic romance. Keep your eyes open while out and about, and do not be too shy to strike up conversations.
☹ Marx brother
Your friends and lover may have mistaken your generosity for a non-stop financial free ride. You may want to switch over to a more market-based economy.
Capricorn Horoscope (Dec. 22 - Jan. 19)
♥ Giving love in a family dose
Happy times abound around the homestead this weekend. Forget about errands, duties, and friends; use this time for a down-home family get-together.
☹ Tyrant-osaurus Rex
All hail the supreme ruler of the Capricorns! Your authoritarian nature may cause family members and fellow colleagues to rebel against your controlling ways. Try to tone it down.
Aquarius Horoscope (Jan. 20 - Feb. 18)
♥ Hello, I love you
If you are crushing on someone, stop thinking and start talking. Let them know how you feel at the weekend, when your charm is running on all cylinders.
☹ Flying projectiles
Your tendency to project your fears and resentments onto the free-spirits around you could lead to a clash of ideologies and words.
Pisces Horoscope (Feb. 19 - March 20)
♥ You can't take it with you
You have been puffing up your savings recently, but you also deserve some here-and-now decadence. Spontaneous splurges at the weekend will make all your hard work seem worthwhile.
☹ Social climbing trip-up
You may have powerful friends in high places, but you do not have the bank balance to keep up with their high-flying socializing. Spend within your means to avoid the build-up of debt.