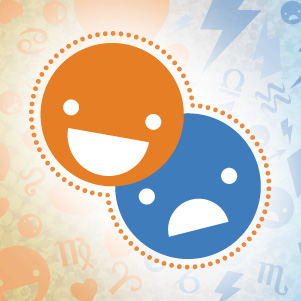 Wednesday is an extremely tense day. A Lunar Eclipse opposes Mercury, effectively tossing logic out the window, while Saturn and Jupiter square up, as the status quo and anti-establishment vie against each other for power. By the time Venus forms a T-square with Saturn and Jupiter on Friday, all gloves are off. Luckily, buoyant energy on Saturday allows every one to tap into harmony and enthusiasm once again.
Here is a general overview of this week's energy, valid for all. Then keep reading for the Hearts and Hates for YOUR sign this week!
♥ Thrill seeking
Spontaneity and adventure will lead to fun and harmony on Saturday. Sometimes the best way to bond with others is by taking a walk on the wild side together.
☹ Anti-establishment sentiment
People are standing up to the old guard this week, wanting change. Will they turn out and vote for it, though?
Your sign's Hearts & Hates Weekly Horoscope:
Aries Horoscope (March 21 - April 19)
♥ Invigorated and in control
The worldly malaise you have been feeling lately will dissipate on Saturday. Dare to do new things and get out of your comfort zone.
☹ Didn't see that coming
You have been so caught up in your own navel gazing and existential angst that your partner's emotional outburst in the days leading up to Wednesday's eclipse could catch you totally off guard.
Taurus Horoscope (April 20 - May 20)
♥ Divide and conquer
On Saturday, keep friends and lovers separate in order to maintain harmony and good relationships. Exploring new horizons and neighborhoods will re-establish affection with wayward social companions, while staying in for sexual healing with your sweetie will reignite the spark.
☹ Put your mind on the task at hand
Ruminating on problems with finances, friends, and romance could cause you to flake-out at work and make costly mistakes through Wednesday. Concentrate!
Gemini Horoscope (May 21 - June 20)
♥ Join the party
Take advantage of Saturday's energy, because, for once, your stodgy soulmate will be willing to get out and socialize.
☹ Old ball and chain
Your current romantic focus is on duty, stability, and proper choices. Your lack of a passionate love life could cause an explosion of jealousy against friends who seem to be having nothing but fun.
Cancer Horoscope (June 21 - July 22)
♥ Pat on the head
All your hard work at the office will not be overlooked, and recognition and accolades may await you by week's end. If you are asked to put in hours on Saturday, don't say no, as your team spirit could impress higher-ups.
☹ Separate home and work
Your heavy workload could cause an emotional temper tantrum with ignored family members on Tuesday, if you insist on airing your personal troubles with colleagues, you could find your workmates ignoring you.
Leo Horoscope (July 23 - Aug. 22)
♥ Feeling frisky
With your unrelenting focus on work and money, you haven't had much time for fun and romance. That changes on Saturday with one of the most festive and sexy days of the year so far. If you are single, dare to date!
☹ Hit delete rather than send
Frustration over success and money not arriving fast enough for a work project could lead you to write off-the-cuff communications that transmit your bad mood and ultimately send the wrong message. Save to drafts until Thursday.
Virgo Horoscope (Aug. 23 - Sept. 22)
♥ Home improvement
Spend time on Monday sprucing up your homestead. Investing your earnings in your family and residence will invigorate you, making all the workplace confusion you currently must deal with worthwhile.
☹ Bear market
Your financial situation has been on a rollercoaster ride for the past few years, with periodic ups and downs. Financial anxieties are heightened by the Lunar Eclipse in your earnings sector on Wednesday, when you may lose a source of revenue -- but if you put your mind to it, you can bounce right back.
Libra Horoscope (Sept. 23 - Oct. 22)
♥ Joy heals all
Instead of internally freaking out over your lover's unpredictable nature, let them know how you feel -- but most of all, stop taking things so seriously, have a laugh, and enjoy being together this week.
☹ Mutual confusion
Anxiety over your lover's capricious ways can lead to tight-lipped hyper emotionality at the eclipse on Wednesday, causing a state where each of you is bewildered and baffled by what the other is up to.
Scorpio Horoscope (Oct. 23 - Nov. 21)
♥ Rolling in the deep
Your ambition and personal charisma can pave the way to a significant influx of cash. Instead of timewasting on Saturday, put in some extra hours at work or spend your time applying for jobs.
☹ Wine and roses cost money
Your lover may put up a fuss on Friday because they want to go out somewhere extravagant, and you aren't up for spending so much on frivolity.
Sagittarius Horoscope (Nov. 22 - Dec. 21)
♥ Bursting with love
Saturday is one of your best date nights of the year so far. If you are single, opportunities abound for spontaneous meetings, so don't sit home alone. If you are in a couple, doing new things can reignite the passion.
☹ Friendship fail
There may be someone in your social group who is envious of your romantic success and trying to undermine your relationship through gossip or manipulation. The Lunar Eclipse on Wednesday would be a good time to move on from their toxicity instead of believing the best.
Capricorn Horoscope (Dec. 22 - Jan. 19)
♥ Safety zone
Your family and home will act as a kind of buffer between you and the outside world on Saturday. Instead of being out and about, you may prefer to kick back and regenerate indoors.
☹ Fenced in
Being too attached to your home base could cost you an interesting career opportunity at the eclipse on Wednesday. The world is beckoning you, but you are afraid to open your eyes to wondrous new pastures.
Aquarius Horoscope (Jan. 20 - Feb. 18)
♥ Sometimes silver is better than gold
Your historic friends may be stable, but they can also be stultifying. You have the opportunity to meet exciting, adventurous, and inspirational people on Saturday, so get out and mingle!
☹ Say hello, wave goodbye
It may be time to let go of a judgmental, uptight friend at the Lunar Eclipse on Wednesday. Once you do, your self-confidence will return.
Pisces Horoscope (Feb. 19 - March 20)
♥ Pretty paycheck
You have been working hard since last autumn, but your ambition goes on overdrive on Saturday, and you can finally start turning your labor into cold, hard cash.
☹ Pay for your own bus ticket out of there
Monetary independence could be the key to breaking free from a lover who does not support you in your professional advancement. The Lunar Eclipse on Wednesday may finally be the point when you decide to move on.