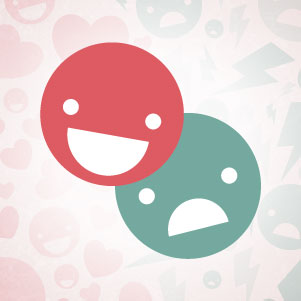 The week starts off with a nostalgic and harmonious New Moon close to Venus Retrograde in Aries, on the same day that Mars sextiles Neptune in Pisces. This makes Monday a perfect day for daydreaming and getting in contact with those you hold dear.
Thoughts turn to getting things done on Wednesday when detail-oriented Mercury trines focused Saturn. Then Mercury enters Taurus on Friday, while Venus slips into Pisces on Sunday; the upcoming weeks will be a time when intellectual rigor and artistic imagination co-exist compatibly.
The week's sore spot is a rare square between Jupiter in Libra and Pluto in Capricorn on Thursday, bringing up a clash between control and freedom, as well as ideology and entrenched power.
Here is a general overview of this week's energy, valid for all. Hearts and Hates for your sign follow below!
♥ Plans and progress
If you want to get a project off the ground, Monday is a great day for creative visualization, while Wednesday is the time for problem solving and working out the fine details.
☹ It's springtime for despots
Thursday's square between the heavy-hitting outer planets Jupiter and Pluto is a rare event when zealous ideologists and establishment authorities clash in a grab for power.
Your sign's Hearts & Hates Weekly Horoscope:
Aries Horoscope (March 21 - April 19)
♥ Study session
If your library card has been getting dusty, this is an excellent week to nourish your mind through learning and exposure to new ideas.
☹ Undermining your success
Your egocentric significant other may be seething with envy at your success in the workforce. Do not let them hold you back; believe in yourself.
Taurus Horoscope (April 20 - May 20)
♥ Fearless finances
Set your mind to sorting out investments in order to establish firm foundations for your future. This is also a good time to seek funding for dream projects you want to get off the ground.
☹ Overwhelmed and unenlightened
You could be drowning in work and chores, keeping you from expanding your horizons through knowledge and travel.
Gemini Horoscope (May 21 - June 20)
♥ From friend to true love
You may suddenly see someone from your friendship circle through the charming glow of rose-colored glasses, leading to the realization that this may make a great, lasting romance.
☹ Prisoner of history
You want a brighter romantic future, but could be extremely intertwined economically with an existing partner, who uses shared resources and history as leverage to keep you from breaking free.
Cancer Horoscope (June 21 - July 22)
♥ Brother's gonna work it out
Your brain is on fire, giving you the ability to problem-solve and get things done at the office. Superiors are sure to be impressed at your work ethic and resolve.
☹ Mamma mia!
The demands of family and home could be causing problems with a self-centered romantic partner who wants your full attention.
Leo Horoscope (July 23 - Aug. 22)
♥ You will meet a tall, dark stranger
If you get out of your comfort zone and explore new horizons, you could meet someone who you click with emotionally and intellectually, and who could be a stable influence in your life.
☹ Tinder keg colleagues
Everyone is under a lot of stress at the office, which could lead to angry outbursts and downright verbal shouting matches, as people fight for their ideas to be chosen.
Virgo Horoscope (Aug. 23 - Sept. 22)
♥ Feathered nest
This is an excellent week to sort out investments, loans, and mortgages that will directly affect your family and housing situation. If you feel your finances have been precarious in this sector, you can finally achieve lasting stability.
☹ Playing the markets
Beware beguiling and bewitching romantic partners who fill your off-time with sugar-sweet fun and games -- they may be playing for your pocketbook.
Libra Horoscope (Sept. 23 - Oct. 22)
♥ Words and wooing
Opportunities abound to connect with your partner, both verbally and through lingering cuddles. If single, Wednesday is a good day to make a casual fling more committed, while Monday is the perfect time to seek new love, especially by rekindling with an ex.
☹ Toto, there is no escape from Kansas
You feel confident and self-assured, yet your dysfunctional family keeps you from skipping off down the yellow brick road to full independence.
Scorpio Horoscope (Oct. 23 - Nov. 21)
♥ Slow and steady
The easiest way to financial stability is through hard work. Offer to pick up the slack at the office or volunteer for overtime -- it will help you achieve security and grounding.
☹ Social justice warrior
You have strong ideals and ethics, and won't be afraid to tell everyone around you to act according to your credo, which could lead to arguments and alienation.
Sagittarius Horoscope (Nov. 22 - Dec. 21)
♥ Secret to self-improvement
Spending heartfelt moments with your sweetie or children will make you feel needed and give you a sense of greater purpose. If single, make Monday a date night or dare to get back in contact with the one who got away.
☹ Money for nothing
If you cut loose financially and go on an over-the-top partying binge, you could be left with nothing to buy the aspirin you need to nurse your aching head.
Capricorn Horoscope (Dec. 22 - Jan. 19)
♥ Hang loose at home
Use the evenings this week to relax and refresh at home. Spending time with family or sprucing up your abode will also make you fill grounded and confident.
☹ Battle of the egos
You are most comfortable being completely in charge, but this week, colleagues may stand up to your authority, leading to headstrong clashes where no one backs down or seeks compromise.
Aquarius Horoscope (Jan. 20 - Feb. 18)
♥ Call up forgotten friends
You may be surrounded by a lot of uptight people in your daily life, but this is a great week to catch up with warm friends who live at a distance or you haven't seen for a while.
☹ Cleopatra in chains
Traveling to far-flung places or opening your mind to new ideas will leave you feeling outside your comfort zone, raising sensations of doubt and powerlessness. It may be better to stay closer to well-worn paths this week.
Pisces Horoscope (Feb. 19 - March 20)
♥ Five-star negotiations
Your ability to comprehend contracts and state your case regarding money makes this a great week to discuss terms of employment and salary, as well as close deals with big-league clients.
☹ Mix drinks, not money and friendship
You may be tempted to break out the credit card in order to finance social spending this week. Resist, or you could get yourself quickly into debt. Likewise, do not loan or borrow money from a friend.