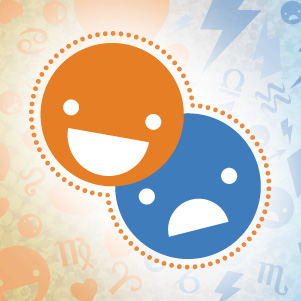 Mercury, Mercury, Mercury! All this week's major aspects involve Mercury, the planet that rules communication and thinking. Tuesday is a great day for problem solving, while creative ideas can spring out spontaneously on Thursday. Wednesday is a day for resentment and grudges, so try to keep positive!
Here is a general overview of this week's energy, valid for all. Then keep reading for the Hearts and Hates for YOUR sign this week!
♥ Brain over brawn
If you have a long-standing problem, use your brain to think your way toward a lasting solution.
☹ Thinking the worst
An air of envy and spite abounds on Wednesday. People may be secretly calculating how they can topple their adversaries, so keep your guard up for the day.
Your sign's Hearts & Hates Weekly Horoscope:
Aries Horoscope (March 21 - April 19)
♥ Organized and out-of-the-box
You are on fire this week. Your mind is working at one hundred miles an hour, yet you will have no problems keeping everything in order.
☹ Et tu, Brute?
Unfortunately, in order to climb to the top of the ladder of success, you may need to topple your mentor. On Wednesday, you will be plotting as if it were the Ides of March.
Taurus Horoscope (April 20 - May 20)
♥ Thoughts turn to gold
You will be able to strategize your way to financial success this week, if you put on your thinking cap. Secret, backroom dealings are especially advantageous.
☹ You and you against the world
You may feel misunderstood and ahead of your time on Wednesday. The establishment powers just don't get you or your renegade ways. Too bad for them, because you are on to something.
Gemini Horoscope (May 21 - June 20)
♥ Hello, stranger!
Be on the lookout for new networking opportunities all week. A chance encounter could even lead to a solid romantic relationship.
☹ Your investment advisor hates you
Opportunities for fun -- and social spending -- abound this week, which could divert money from savings to the barroom. You may want to sock some away, before you drink it all away.
Cancer Horoscope (June 21 - July 22)
♥ If it could always be this easy
Your ability to concentrate and be inspired at work will help you tackle a huge backlog of chores quite effortlessly.
☹ Who's the boss?
A business partner may be threatened by your original and insightful ideas on Wednesday. Watch your back.
Leo Horoscope (July 23 - Aug. 22)
♥ Bring your creativity to the world
This is an excellent week to publish an artistic project, or to seek out representation. You have the ability to craft something of extremely fine quality that also inspires.
☹ Success is 99% perspiration
Even though the creativity is flowing, you still need to buckle down and do the heavy lifting on Wednesday.
Virgo Horoscope (Aug. 23 - Sept. 22)
♥ Roots
You can achieve domestic stability if you pool your financial resources together with family members. You could also receive a loan or mortgage that will help you in residential matters.
☹ The high cost of romance
Squabbles over money could erupt between you and your sweetie on Wednesday. Perhaps it is better to keep finances separate for the sake of the couple.
Libra Horoscope (Sept. 23 - Oct. 22)
♥ Model UN
You and your partner can work through all long-standing issues harmoniously by calmly stating your positions and seeking a peaceful resolution.
☹ Domestic dispute
Your live-in partner may feel that there are too many rules governing the homestead, and raise a voice in protest on Wednesday.
Scorpio Horoscope (Oct. 23 - Nov. 21)
♥ Spread the wealth
Volunteering for others or donating to charity will fill you with enthusiasm and revitalize your mind.
☹ State your authority
You will have no trouble telling colleagues who is in charge at work on Wednesday -- only problem is that they will know exactly who to rise up against.
Sagittarius Horoscope (Nov. 22 - Dec. 21)
♥ Chance encounter
You could meet an exciting lover this week who could lift you out of the doldrums, so don't be afraid to chat up someone new. Internet dating could be especially fortuitous on Friday.
☹ Bad wager
Keep away from the gambling tables on Wednesday, as your luck will not be a lady on that night. You could also waste a lot of money on mindless frivolities, spoiled children, or gold-digging lovers.
Capricorn Horoscope (Dec. 22 - Jan. 19)
♥ Comfort food
Reminiscing about fond childhood memories can stabilize your inner emotions and give you a grounded feeling this week. Thoughtful family members can also help you sort out an emotional problem on Tuesday, so do not hesitate to ask for advice.
☹ Afraid to cut the apron strings
You may be afraid to change a certain domestic situation, even if doing so would give you a greater feeling of control and direction in life. On Wednesday, you could feel especially frustrated.
Aquarius Horoscope (Jan. 20 - Feb. 18)
♥ We all need someone to lean on
You may have been culling your acquaintance circle lately, learning that quality is better than quality. This is a great week for deep conversations with true friends.
☹ Repress or let it out?
There may be something you want to get off your chest on Wednesday. If you do, you could come off as a verbal bully, so think before you speak.
Pisces Horoscope (Feb. 19 - March 20)
♥ Business plan
Tuesday is a good day to create a budget and business plan, especially if you are an aspiring entrepreneur hoping to get your dreams off the ground.
☹ Beware the green-eyed monster
Green -- the color of money and envy. On Wednesday, you may be hating on friends who have more than you, instead of concentrating on working toward your own success.