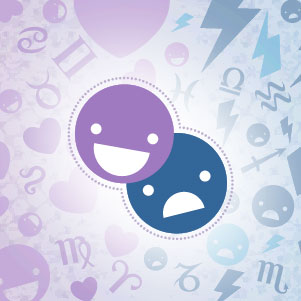 The week starts off with the Sun and Mercury joining forces in Pisces, bringing a sense of clarity and purpose mixed with idealism and creativity. These two forces go on to send harmonious vibes to Pluto in get-it-done Capricorn, making it an ideal time to put new projects in motion, especially once ambitious Mars enters hard-working Taurus on Thursday.
The weekend could be a bit emotional due to a Full Moon T-square that draws in Saturn, the Sun, Mercury, and Chiron. Old wounds could be opened, leading to resentment, judgment, and petty squabbles.
Here is a general overview of this week's energy, valid for all. Hearts and Hates for your sign follow below!
♥ Straight to business
The Sun and Mercury in imaginative Pisces send a creative sextile to Pluto in problem-solving Capricorn. With get-it-done Mars moving into workhorse Taurus, tremendous progress can made in work projects this week.
☹ Passive regression
This week's Full Moon in shy, yet judgmental, Virgo forms a loose T-square with critical Mars and censorious, repressed Saturn, creating a perfect storm of passive aggression.
Your sign's Hearts & Hates Weekly Horoscope:
Aries Horoscope (March 21 - April 19)
♥ Go for the gold
Dare to dream big and make your career goals a reality. Taking risks to move ahead professionally can lead to a boost in income.
☹ Drained by dreary
For the past few years, it's been hard for you to find inspiration from your conservative surroundings, making you feel tapped out and run-down this week.
Taurus Horoscope (April 20 - May 20)
♥ Bromance before romance
Spending quality time with friends will fill you with motivation and personal strength. Leave your lover at home and focus on cultivating platonic connections.
☹ Scrooge McBull
Your desire to create a firm financial future requires you to just say "no" to friends and lovers who want you to splurge on frivolities.
Gemini Horoscope (May 21 - June 20)
♥ Taking care of business
Focusing on career building and investments will help you set the groundwork for future financial stability, as well as fill you with an inner sense of confidence and motivation.
☹ A quarterback without a cheerleader
You are trying your hardest to make your idealistic career dreams come true, unfortunately hyper-practical romantic partners and worried family members offer no support.
Cancer Horoscope (June 21 - July 22)
♥ On the wings of love
Make sure you and your sweetie take time this week to go on adventures and explore unknown landscapes; it will draw you together and cement your bonds.
☹ Boxed in by your cubicle
Your mind and spirit want to roam free, yet your conservative, stressed-out work environment is hemming you in, which could lead to catty conversations with colleagues.
Leo Horoscope (July 23 - Aug. 22)
♥ Career opportunities
There will be no end to the heavy lifting you can do at the workplace this week. Moreover, your charisma and charm can help you move, shake, and make an outstanding impression.
☹ No time for love
Your focus on finances is blinding you to romance. While career building and establishing financial security will bring you economic peace in the future, it will not magically bring love. Start looking now.
Virgo Horoscope (Aug. 23 - Sept. 22)
♥ Two for the road
Get out of your comfort zone by exploring new intellectual or geographic territory; it can enhance your current love life or bring new romance to your world.
☹ House of shards
Battles between family members and romantic partners could leave you emotionally cut and wounded; try not to get too involved.
Libra Horoscope (Sept. 23 - Oct. 22)
♥ It takes a village
Pull together as a family to help each other out with chores or financial obligations. Working as a team will ease the burdens and stress everyone is feeling.
☹ No energy for small talk
This weekend you may be feeling introspective and emotional, leaving you too tired to engage in idle chit-chat.
Scorpio Horoscope (Oct. 23 - Nov. 21)
♥ Taking it the next level
Want to pop the question or move from dating to something more committed? This is a great week to work up the courage to let your feelings be known.
☹ Monetary chastity belt
Lovers and friends may grow exasperated at your lack of generosity, as they try desperately, and futilely, to get into the wallet in your pants for just a little largesse.
Sagittarius Horoscope (Nov. 22 - Dec. 21)
♥ Home improvement
Break out the credit card and head to the hardware store. If you have been putting off repairs or redecoration around the house, you will finally be able to get things done.
☹ Home is where the head is
Mind games and manipulations on the home front could cause you to take your eye off the ball at work, leaving you exasperated and grumpy.
Capricorn Horoscope (Dec. 22 - Jan. 19)
♥ Smooth-talking Casanova
Your charismatic magnetism is on overdrive this week. If single, this is an excellent time for courtship, both online and in real life. If in a relationship, talk things out to rekindle the passion.
☹ No escaping your thoughts
Conversation will not be a release for the deep thoughts you are feeling. If anything, it will only serve to increase your sense of metaphysical isolation.
Aquarius Horoscope (Jan. 20 - Feb. 18)
♥ Economic clarity
You will be able to cut through the fog of your financial idealism to create a plan that helps establish a firm home base for you and your family.
☹ Economically alone
Your idealistic outlook regarding finances could draw disapproving side-eyes from materialistically-minded social acquaintances. Do not be pressured into believing that money equals worth.
Pisces Horoscope (Feb. 19 - March 20)
♥ Grassroots organizer
You will be the center of the party this week. Make sure to reach out and organize events and get-togethers for your friends to mix and mingle.
☹ Sacrificing love for career
Your extreme focus on career over the past few years has called for a certain re-alignment in your love life, and you may need to move on from am unsupportive partner. Do not get discouraged, as you will see firm professional results in the not-too-distant future.